Around the State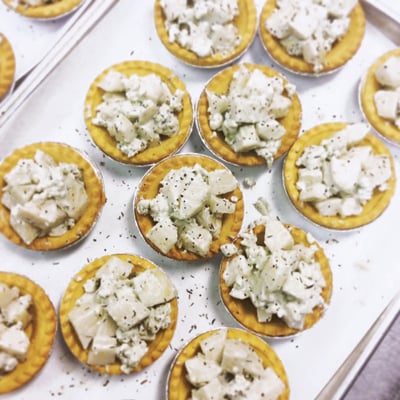 NORTH
If you're wandering into Rosemary's Kitchen in Ruston on a hot afternoon, do yourself a favor and first order the ultra refreshing Rosemary Mint Tea. This refreshing herbal elixir is made with rosemary-mint syrup and garnished with fresh mint and lemon – an unbeatable combination. The portions in this comfortable, casual eatery are generous and beautifully presented. Tempting daily specials and "everyday favorites" grace the menu, including wraps made with chicken salad; shrimp or tuna salad; pimiento cheese, honey ham and turkey breast.
On Monday, dive into the creaminess of the loaded baked potato soup – or tomato and basil pesto quiche. Tuesday offers beef and onion enchiladas with Mexican corn and refried pinto beans – or a spicy pasta salad on greens with grilled chicken, smoked gouda, tomatoes and fresh basil. Celebrate Hump Day with a plate of the Rosemary and garlic glazed pork chops served with sweet potato casserole and collard greens, or the sweet potato and black bean quesadilla. The beef shepherd pie prepared on Thursdays features local beef and vegetables in a cream sauce with the dish's signature topping of mashed potatoes kicked up a notch by a good helping of melted cheddar. The green chili cheese grits with grilled shrimp and a cream sauce with tasso ends the workweek perfectly. In addition to the variety of food offered, this eatery features a grocery area with prepackaged meals using only the finest, hand-picked local ingredients, including beef, handcrafted butters and cheese, local honey, fresh-baked breads and salad dressings.
Rosemary's Kitchen
400 S. Bonner, Ruston
(318) 202-5951.
RUSTON
Festival of sounds
The New Music on the Bayou Festival kicks off its inaugural festival at the Dixie Center of the Arts in Ruston, with some events likewise taking place in Monroe at various venues over a four-day period. Over 20 performers will join together – most of whom are college faculty in the school of Music at UL Monroe and high school bandleaders or orchestra directors. They will perform their own compositions and the work of other contemporary composers as well as invite submissions. A few months before the festival, a jury directors reviewed submissions and selected performers to participate. Featured artists include the Implosion Percussion Ensemble and the Black Bayou Bass trio. The summer festival aims to provide contemporary music creators with opportunities to work alongside accomplished, professional musicians during the rehearsal course. They also get to experience the thrill of having their compositions performed by a professional ensemble during the four-day course of the festival. This string of concerts provides a gratifying opportunity for newcomers to shine. Paying tribute to the Black Bayou Wildlife Refuge, the celebration offers a $500 award to the composer whose work strikes the most perfect nexus between music and the pristine world of nature. The winning composition, judged by a panel of musicians, will be played during the final concert at the Dixie Theatre.
New Music on the Bayou
Dixie Center for the Arts, 212 N. Vienna St., Ruston.
(318) 257-5470, newmusiconthebayou.com
---
Cajun Country
Welcome to the Hotel Alligator
Alligators fill me with an odd assortment of sentiments that include affection, followed by terror, then by respect and finally, amusement, at the perpetual sly smile they seem to wear (as though the darlings are already contemplating taking you down in a death roll). But once – to my surprise – alligators filled me with tenderness, the day I held a baby alligator near the Creole Nature Trail. I was surprised that the little critter felt like the treads on a rubber tire, not slimy, and its little underbelly was almost as soft as a puppy's. I completely melted.
In Jennings, the Gator Chateau allows you to interact with live baby alligators and emerge unscathed. This establishment is a kind of alligator orphanage that provides a home to orphaned baby gators who have been rescued from an early grave. Mature alligators are also on the premises, but the main objective of le Chateau is to act as foster parents for the poor lost little reptilians until they're mature enough to be released back into their natural habitat.
Visit the Gator Chateau and an alligator docent will teach you an informative course on Alligator 101 as you're guided through the site. Here the tiny, orphaned alligators are hand-fed, and you can holding them in your own hands and take photos Open year-round, the public alligator feeding times are held from June though September each Friday at 3:30 p.m.
Gator Chateau
Louisiana Oil and Gas Park, 100 Rue de l'Acadie, Jennings, (337) 821-5521.

LACASSINE
HOME RUM
Following the tradition of fine microbreweries that have popped up in the Bayou State since the 1980s,the newer trend of establishing local rum distilleries is fermenting in a most pleasant way.
Bayou Rum Distillery, located in Lacassine, is unquestionably a state of the art distillery handcrafting exquisite rums brewed in the old sugarhouse way. This process involves a traditional copper pot and using completely natural unrefined Louisiana cane sugar and molasses. The sweet sugar cane in Louisiana springs from the rich alluvial soils of the Mississippi delta. With pure cane yeast acting as the fermenting agent, copper pot stills bubble away like voodoo cauldrons. When finished, the cane elixir sleeps for a while in American Oak. Resting in the heat of Louisiana that draws forth flavors, it emerges with a silken finish and multi-layered aroma that make sipping a sublime experience.
The same rich alluvial soil that yields such high quality sugar cane also produces Louisiana satsumas; combine the juice from this succulent citrus fruit with the delectability of Bayou Rum and a refreshing liqueur emerges perfect for warm spring evenings or Sunday brunches.
There are sipping rums, and then there are cocktail rums. Since it's getting to close to mojito and daiquiri season, the Silver Bayou Rum delivers a pure and subtle rum flavor to cocktails, made from fresh water that's been filtered in triplicate. It's also delicious by itself, poured over ice.
Bayou Rum Distillery was the 2015 recipient of the Louey from the Louisiana Travel Promotion Association for Attraction of the Year. Set on 22 acres complete with a 109-year-old farmhouse, cane fields, ponds and tours that feature the rum-making process from fermentation to bottling and ending with a visit to the tasting bar are offered.

Bayou Rum Distillery
(337) 821-5532, bayourum.com
---
Central
Worth the trip
By Jeanne Frois, Photo By Mike Moreau
Some Louisianians drive two or more hours to reach this cotton gin in the middle of nowhere in Boyce. The cotton gin, converted to Janohn's restaurant serves dishes made of local ingredients. Owner and chef Aaron Anderson, a graduate of Le Cordon Bleu culinary academy in Austin, Texas helms the eatery, and creates appetizers and entrees well-worth any long drive.
The small plates are not only beautiful, visually speaking, but also the compilation of textures and flavors provide a new facet to dining in Louisiana. Fried Gulf shrimp tossed in the velvet cream of a hot sauce comprise the "Firecracker Shrimp." Another must: baked brie, coddled in a puff pastry with blackened shrimp and served with toast points for dipping. The fondue, served in a cast-iron skillet, is accompanied by popcorn crawfish and French bread. If, like me, you buy raw honey with the honeycomb in the jar, you must try the honeycomb: a combination of the raw bee nectar, Fuji apple and blue cheese. If you seek something heavier, you can't miss the oyster brie – boudin atop French bread baked with Brie cheese; or opt for the short ribs braised in Guinness and accompanied by beer-battered fried broccoli in a Jack Daniel's cream sauce.
Seguing into the entrees after the excellent small plates will not disappoint. Shrimp and grits, a dish whipped together using artisan grits, creamy tasso, pepper and shrimp; and the grouper crusted with pecans overs crab risotto in a cane syrup, sweet-tangy beurre blanc sauce are two exceptional seafood dishes. Boneless beef short ribs braised with porter ale served with mashers make up the hearty 48 hour ribs. For hearty red meat-eaters, the Bayou Rib Eye is a chargrilled steak topped with shrimp, mushrooms, bacon and demi-glace sauce.
Janohn Restaurant
410 Pacific Ave., Boyce,
(318) 793-5080.
ZWOLLE
LOGGING IN
The town of Zwolle in Sabine Parish is famed for its Tamale Festival with good cause, yet since 1995, area citizens have paid tribute to the forestry industry – where their roots deeply grow – by hosting the Zwolle Loggers and Forestry Festival. Zwolle, part of the Toledo Bend area, was a vibrant center of the forestry industry. In an area blanketed by trees, Sabine Parish was a hub of felled trees; log rolling and sawmill production in the late 19th and early 20th centuries.
The festival pays tribute to this heritage and the people who lived it for two days each May as arts and crafts are purchased, live music plays, carnival rides are enjoyed and the incomparable Zwolle tamale is consumed. Eager attendees participate in the logger's activities such as skidding and arm wrestling. A Blessing of the Fleet is held, the fleet being a score of log trucks. Forestry exhibits abound and a parade pleases the crowds. Each year the highly anticipated Mud Bogging competition is watched with bated breath. Mud Bogging is an activity wherein a vehicle drives into a complete morass of muddy; the driver attempts to get through this mucky sucking pit set with a specific length. He or she who drives the greatest distance through the pit before being hopelessly stuck is the winner. It's a Southern thing.
Zwolle Loggers and Forestry Festival
Zwolle Festival Grounds, Main St., Zwolle, (318)-256-5880. May 13-14
---
Plantation Country
Bayou Country Superfest
I associate country music with some of the happiest, most carefree times in my life: beautiful road trips through the mountains of Tennessee on my way to the mountains of Virginia with Loretta Lynn; Willie Nelson; Johnny Cash; George Strait; Waylon Jennings, Reba McEntire; the two Hanks (Sr. and Bocephus), among others filling the car with twangy, desperado music. And then there were the songs' lyrics: Doug Supernaw's "Four score and seven beers ago / I told her I'd be home;" Barbara Mandrell's "You must think my bed's a bus stop / the way you come and go;" and my personal favorite: Bobby Bare's "Dropkick me, Jesus, through the goal posts of life."
Festival producer Quint Davis, who has spent decades bringing the upper echelon of performers to the New Orleans Jazz & Heritage Festival, does an equally fine job booking the Bayou Country Superfest performers. The festival is held at Tiger Stadium in Baton Rouge from May 27-29, and the 2016 lineup reads like a country fan's wish list.
As the beer flows and the scent of barbecue wafts from the tailgaters in the parking lot, Luke Bryan; Lady Antebellum; Eric Church; and A Thousand Horses will rock Tiger Stadium over the entire Memorial Day weekend. Also slated to perform is Little Big Town, nominated for five Country Music Awards with two wins (Vocal Group of the Year and Single of the Year for "Girl Crush"). Thomas Rhett also shows up to keep things lively, as do Cole Swindell, Jason Aldean, Frankie Ballard and Dierks Bentley. Most of these artists are fresh from new releases and will showcase their musical creations in the open air of Death Valley. There's a paradox connected with Country Music – somehow even the saddest songs can fill you with a sense of celebration. Plaintive and pure, rocking and rollicking, it always comes straight from the heart.
In addition to the legendary tailgating tradition of LSU football, attendees can enjoy the Bud Light Build-A-Bar area; the Visit Baton Rouge Infeaux on the Geaux cart that offers tourism information; DJ's, games, contests and an artist meet-and-greet area that allows fans to hobnob with artists.

BAYOU COUNTRY FEST
bayoucountrysuperfest.com

BATON ROUGE
KNOCK KNOCK MUSEUM
Rising along Dalrymple Drive near the BREC's City Brooks Community Park is the Knock Knock Children's Museum Building. After 10 years of planning and fundraising, this interactive learning venue for children will sprawl atop a hill providing hours of fun and education. One of the featured learning venues is a sturdy storybook climber that will allow children to crawl on top of book pages as though they are rising through stories.
There are 18 planned learning zones that are still awaiting sponsors; however, Dow Chemical Company has sponsored a water venue that will allow children to fish while Associated Food Stores sponsors a mock pantry where kids can shop for groceries.
So far, $11.6 million have been raised to facilitate the 30,000 square foot building. One of the projects still needing sponsorship is a studio that will allow children to dress up and act before cameras along with a story tree where books can be paged through. The proposed learning zones will enable children free play with educational stimulus, creativity and practical skills. Led by Aza Bowlin, the Museum's board of directors' chairwoman, the group, in effort to get the word out, has engaged McKinley High School students to create a phone app for the museum and an "imagination playground" made of mobile playground toys and blocks.
knock knock museum
knockknockmuseum.org
---
Greater New Orleans
Boogaloo Down Bayou
The Mothership Found-ation, a nonprofit that aims to promote positive social change through the virtue of arts, fun and culture, hosts its annual Mid-City Bayou Boogaloo celebration on the banks of Bayou St. John in the springtime. This three-day event geared towards families teems with fun outdoor activities that celebrate the laid-back but spirited culture of the city and its hosting neighborhood.
In addition to enjoying food, live music, arts and crafts, festivalgoers can also participate or watch the Paddle Battle presented by Bryan Subaru. These paddle races take place on the glassy yet murky surface of Bayou St. John at Lafitte Street. At the intersection of Orleans and Moss Street, you might just find the Abita Root Beer Float Float, sponsored by Friends of Lafitte Corridor. There's not much that can beat a foamy root beer float on a warm spring afternoon. There are plenty of snowballs to slurp and stain your tongue with as participants in the 5K Walk/Run whiz (or saunter) by.
The arts market teams with stained-glass works; sculpture; jewelry; photographs; soaps and Kabuki design, to name a few. Food offerings in the past have been as diverse as Louisiana and have included brats; Jamaican cuisine, stuffed shrimp bread, crawfish beignets; alligator; falafels; fried chicken; smoked duck boudin; yaka mein; fried smoked oysters; condensed milk snowballs. Vowing to go on come rain or shine, this popular celebration was founded during the evacuation of Katrina and remains a stalwart symbol of support for all that's best in the Crescent City. The event takes place May 20-22.
Bayou Boogaloo
thebayouboogaloo.com
New Orleans
JUNE AND THE MOON
On June 3, the Crescent City will lie under the platinum scimitar of a waning crescent moon. As Bayou St. John slowly flows along to Lake Pontchartrain in its mesmerizing rhythm, not far the magic of City Park will take on a new dimension as the June Under the Moon celebration commences just before nightfall. This annual celebration is admittedly geared to bring out the inner lunatic in all adults as the Carousel Gardens are laid opened to adults 21 and older. Beer flows like a fountain and epic vodka snowballs are constructed. The exquisite, ancient carousel has been repaired and a menagerie of sculptured animals waits to carry you on their backs for a transcendental ride. A spin on the towering Ferris wheel gives you a romantic view of the New Orleans skyline radiantly clothed in city lights as it rotates to its apex. The beloved, yet tame Ladybug Roller Coaster has returned for the enjoyment of all in the sweet scent of a summer night.
Rides under oaks dripping with moss in the miniature train are available in the darkness of a June night. Similar to Disney's teacups, you simply must take a spin in the Slime Buckets, Tilt-a-Whirl and Bumper Cars. A DJ provides nonstop music as you slip down the Fun Slide, and photo booths will snap you for posterity's sake as you recall nocturnal trips to the rides and midway at Pontchartrain Beach. The entrance fee covers all rides, brews, operatic vodka snowballs, mini meat pies, dogs, and wings.
This event sells out quickly and tickets must be pre-printed.
june under the moon
neworleanscitypark.com/events/june-under-the-moon
---
Comments
comments