Around The State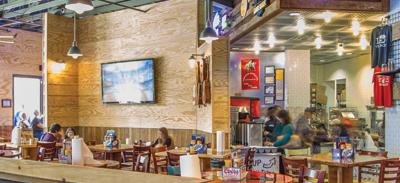 NORTH
Twistedly Delicious in Shreveport
Sampling the menu of the Twisted Root Burger Company merits serious exploration and tasting. The atmosphere alone somehow strikes the perfect balance between the casualness of a burger joint with Bohemian ambience. On any given day of the week depending on the season, patrons can get venison, elk, lamb, ostrich, rabbit, camel, duck, boar, kangaroo, emu or gator burgers. Good buffalo, however, is always available.
The variety and quality of the beef burgers keeps the clientele loyal. The Western burger is comprised of a fresh bun holding succulent beef, pepper jack cheese, bacon, fried onions strings, with jalapenos added to all that for some heat. The Kevin Bacon burger has three pieces of bacon and Danish blue cheese. Flavored with garlic baby bella mushrooms, the Lots-A-Shroom burger is perfectly completed by melted Swiss cheese.
For the health conscious, the Vegabond is a patty blended with house-made chickpeas, black beans, brown rice and quinoa served with sliced avocado and sriracha on wheat. Having said that, you might well be tempted to have the Freshman 15 — a beef burger topped with smashed french fries, melted cheddar cheese and fried egg with bacon.
The hand-spun custard shakes include the Fat Elvis, which is a concoction of chocolate, peanut butter, banana and bacon. Adults can sip on the banana and Bailey's; Oreo and amaretto; or crème de menthe and chocolate custard shakes. For happy hour, sample the exclusive Herman Marshall whiskey, this small batch bourbon is a light, smoky blend of caramel and butterscotch.
The restaurant also sponsors the annual Highland Jazz and Blues Fest on Sept.17.

Twisted Root Burger Company
8690 Line Ave., Shreveport
318-868-6410
twistedrootburgerco.com/shreveport

---
Shreveport
HARVEST HOME
At DixieMaze Farms, a few miles outside of Shreveport, you'll find acres of land covered with orange pumpkins and stately green stalks of corn. From late September to Halloween, the Fall Festival begins with the opening of the pumpkin patch and corn maze, or should we say, maize?
The latter is an area to be traveled by foot and covers eight acres of land and carries on for roughly four to five miles. If you have a particularly adept sense of direction, it can be finished in about 45 minutes; others have been known to take longer as they get lost amid the corn. Over at the pumpkin patch you can pick your own Halloween jack-o-lantern or fodder for pumpkin pie straight off the vine. Both the maze and pumpkin patch are accessible via the absolute pleasure of a hayride. Vendors provide treats ranging from funnel cakes to hamburgers.
On Halloween, activities include pumpkin carving, crafts, storytelling, pumpkins flung from the Pumpkin Chunker and the pumpkin drop from a 40-foot tower.
As evening approaches during this night when the veil between the living and the dead becomes thin, the delightful combination of spooky stories smores, costumes contests, and a horror movie shown on the outdoor screen keeps the Halloween spirits flying.
DixieMaze Farms Fall Fest and Great Halloween Fest
9596 Sentell Road
Shreveport
Sept. 24 through Oct. 31
318-703-2870
dixiemaze.com

---
CENTRAL
Which Way is Witch in Natchitoches
The Main Street Program in Natchitoches is a popular celebration of the city's beautiful historic district. Some of these aged buildings are reminiscent of the French Quarter in New Orleans, with wrought iron balconies rising over the smooth waters of the meandering Cane River. Lined with shops and eateries, this quaint little enclave lends itself to celebrations of every season. When Halloween winds blow, it wears a most bewitching mantle.
Each Halloween, the riverbank is surrendered over to people of ages scurrying through a darkening night lit by jack-o'-lanterns and lampposts. Witch Way to Main Street, is an event that fills the air with the happy sounds of that revered autumnal ritual — trick-or-treating. Costumed little ghouls (or princesses, cowboys and superheroes) are turned loose on the streets to gather Halloween goodies from downtown businesses and sponsored booths.
The Natchitoches gendarmes are on hand for safety. Face painting, a haunted house, greetings from the canine mascot of the fire department and games add to the haunting festivities.

Witch Way to Main Street
Natchitoches
3 to 7 p.m., Oct. 31.
---
Moreauville
Marlboro Man
It's possible he rises from the concrete pillar believed to be his grave and walks across the iron truss bridge straight to the historic Adam Ponthieu Grocery Store, and mingles with visitors. But we're getting a head of ourselves.
Once, the Big Bend area in Avoyelles Parish was at the mercy of floodwaters. The mighty culprits were the Mississippi, Atchafalaya and Red Rivers; The chartreuse colored Bayou des Glaises meandered through this rural community and was a conduit funneling water straight into homes and fields.
In the second decade of the 20th century construction on a steel truss bridge over Bayou des Glaises at Sarto Lane in Big Bend began. The bridge would provide Avoyelles Parish dwellers swift evacuation from floods but proved to be catastrophic for one man.
As construction progressed, legend claims one worker fell into a pillar of wet cement where he remains entombed. The Sarto Old Iron Bridge, now a pedestrian pathway, welcomes visitors to the historic site. They often feel that someone unseen is watching them. The boards creak, apparently when no one is walking. The center concrete pillar of the bridge bears the image of a man standing up. Locals report he looks eerily similar to, The Marlboro Man.
Across from the bridge in the Adam Pontheiu Grocery Store and Big Bend Post Office Museum, the peculiar activity continues. Manager Jimmie Bernard says he sometimes hears unexplained creaking. Visitors who wander into certain areas of the store describe experiencing a sudden chill rush through their body. Bernard himself reports he often feels a presence standing behind him, looking over his shoulder.
8554 Hwy. 451, Big Bend, 318-717-4007 Moreauville

---
CAJUN COUNTRY
The French Press in Lafayette
Near a beautifully twisted oak tree in Lafayette, the atmosphere of the acclaimed French Press Restaurant has a Bohemian charm. Chef Justin Girouard is a master creator of breakfast, brunch and lunch. The breakfast sandwich — a combination of egg, bacon, boudin and cheese — mingle together on Evangeline Maid grilled Texas toast making for a deliciously savory bite. The French toast is like a delectable dessert — stuffed with bananas and cream cheese, served with berry-champagne compote, why not order that extra scoop of house-made vanilla ice cream to complete your breakfast decadence?
There's nothing like the smell of cholesterol in the morning; if you're in the mood to binge a little after too many breakfasts of oatmeal, chicken fried steak and eggs are perfect — a crisp chicken fried steak and two eggs all served with sausage gravy, breakfast potatoes and buttermilk biscuits will do nicely.
For lunch, it's hard to resist the meatloaf sandwich; 12-grain bread brushed with sun-dried tomato mayo is the base holding sliced bacon and beef meatloaf, onions, arugula and tomatoes, all topped with melted Swiss cheese. The traditional French sandwich, the Croque Monsieur, crusty toasted bread filled with Black Forest ham, grilled Gruyere cheese and herbed aioli, gets kicked up a notch if you add the richness of a sunny-side-up egg and the velvet creaminess of a Bechamel sauce.
The French Press Restaurant
214 E. Vermilion St.
Lafayette
337-233-9449
thefrenchpresslafayette.com
---
Scott
Trail of Fears
Debra LeBlanc's mission the past few years has been to waylay the scary downtrend threatening an important practice — reading. As president and founder of Literacy, Inc., LeBlanc faced a metaphorical Mount Everest when it came to achieving her goal of placing an eReader into the hands of every public high school student in Louisiana. The cost of this noble crusade is a whopping 14 million dollars and literacy — compared to the importance placed on sports and other political pork barrels — was at a totemic low when it came to priorities. The slow pace of small donations trickling in to achieve the monetary goal was daunting.
Driving past a long abandoned tract of wooded land in Scott, near Cameron Street, with her partner, Rich Hanf, veteran of the haunted attraction industry, the idea to raise money rose like Dracula from the grave. The two created Fright Trail, a haunted trail of horrors open to the public. It features 20 acres of brush filled with eerie, rustic buildings. Over 60 actors portray zombies, fiends, loup garoux, clowns, corpses gashed and gored, with haints, howls, screams and ghostly moans galore lying in wait for the timid traveler. All on a dark, night-shaded path, with branches that grab you like claws as you pass. Visitors have been known to refuse to leave the trail, paralyzed by fear as actors are told to, "never break character."
Fright Trail, benefitting Literacy, Inc., opens the first weekend in October and availability to prove your courage — or not — on this spooky trail lasts through the month. Sturdy shoes or boots are a must.
Fright Trail
5401 Cameron St.
Scott (Every weekend in October)
frighttrail.com
literacyinc.com
---
PLANTATION COUNTRY
Baton Rouge Native Toni Graphia
here are two TV series over the years I always rank at the top of my list of favorites. They are "Doctor Quinn, Medicine Woman," (a most dreadful title for such a good series), and the present day Starz series, "Outlander." A name prevalent in the credits of both series (and many others), as writer, co-executive producer or executive producer was that of Toni Graphia.
Graphia, it turns out, is a native of Baton Rouge. In retrospect, when I remembered the warmth, color and emotional depth of her work, her roots seemed completely apropos. In "Outlander," Graphia — also the executive producer — wrote some of the most moving and emotionally evocative scripts that I, as a jaded viewer, never thought I'd see. Part of the story's setting takes place in 18th century France with productions blooming with an almost Mardi Gras, carnival-like richness of color and indulgence of senses along with intensely personal plotlines.
The daughter of a well-known Louisiana judge, Anthony J. "Tony" Graphia, she patterned the character of Judge Luther Charbonnet on the short-lived 1997 series, "Orleans," after her father. Graphia created, wrote and produced by the show. Charbonnet was played by Larry Hagman, whom she handpicked for the role.
A graduate of Baton Rouge's Woodlawn High School, Graphia attended Louisiana State University for two years and then graduated at University of California, Santa Barbara. Starting as an researcher on the series, "China Beach," she was then promoted to screenwriter, and has since worked on notable series like "Battlestar Gallactica" (Peabody award for season 2005); "Grey's Anatomy;" "Carninvale," and "Terminator: The Sarah Connor Chronicles."

---
Baton Rouge
The Thirteenth Gate
Halloween is in full swing in the Bayou State, land of the loup garou, Marie Laveau, haunted plantations and other things more frightening than mere bumps in the night.
The Thirteenth Gate, a haunted attraction considered one of the top scary venues in the nation, unfolds like a night of dreams following pizza eaten at midnight white watching a Freddy Krueger marathon. Acclaimed by the Travel Channel and USA Today, it is seriously not recommended for the pregnant or those with a pre-existing heart condition.
Visitors venture forth like sitting ducks of the terror stricken through 13 realms of the horrific. Precise in detail, filled with the manic actors, macabre set designs and effects, you descend into a malevolent maelstrom straight from the mind of Vincent Price. Top on my list to avoid is the actual snake-infested Louisiana Swamp and claustrophobic cellars found on the premises
Each night a voodoo tableau is held, designed to make one lose their soul, or sanity, whatever is the first to depart. Subterranean passages, and traipses through a prehistoric ice cave taunt your senses. Crawl through the confines of a crematorium oven and an old hearse, and get lost in pitch-black underground tunnels only to find yourself standing on a rickety bridge overlooking aforementioned snakes. Adrenaline junkies and thrill seekers will want this at the top of their to-do list.

The Thirteenth Gate
(open year round)
832 St. Philip St.
Baton Rouge
225-389-1313.
---
GREATER NEW ORLEANS
Oktoberfest in Kenner
For three weekends each October, the charm of Rivertown in Kenner is enhanced by Oktoberfest presented by Deutsches Haus, an organization representing the Teutonic culture and presence in New Orleans and the Gulf South. Oktoberfest does the Germanic heritage proud as Williams Boulevard is filled with a Bavarian spectacle of dirndl dresses; laced bodices; traditional dances; Lederhosen; and Alpine hats with signature plumes pointing skyward.
Let us not forget the beer; the first keg tap marks the festival opening as golden nectar flows from a barrel. Sixteen varieties of German beer are there for the sipping along with 20 varieties of Schnapps getting everyone in the spirit for the chicken dance. Oompah music resonates as the laughter and sounds of enjoyment mingle with the occasional blast of a horn from a tanker or tugboat on the Mississippi.
Savory, hearty German food items like sauerbraten, brats, schnitzel meatloaf, pork loin, sauerkraut, German cheeses and oversized Bavarian pretzels keeps everyone fortified for the ongoing fun. Like any good festival that allows you to overeat, the opportunity to salve your conscience and save your figure is presented in the form of the Oktoberfest 5K run/walk.
Each day the Masskrugstemmen, the beer stein holding contest, is held and a souvenir shop offers German-themed wares. For me, the crowning event of the entire venue is the Dachsund Dash, held on the last day of the festival. Sixty to 75 weiner dogs, some adorned in Lederhosen and caps, race down Williams Boulevard ears flopping, paws bouncing and crowds cheering them to the finish line.

Oktoberfest
October 7, 8, 14, 15, 21, 22
Rivertown, Williams Boulevard
Kenner
---
New Orleans
An Oddity in the City
There is an old, three-story, red brick building in the 700 block of Jackson Avenue in New Orleans, with an interesting, varied past — but not quite as interesting as the creature that stands suspended on one of its walls high above the street. Clinging to the bricks with a trio of limbs edged with talons, a gargoyle grips the severed head of Medusa in his free hand.
Gargoyles were mainly used as ornamental gutters in medieval buildings, and stem from the legend of St. Romanus, chancellor of the Merovingian king Clotaire II. St. Romanus saved the city of Rouen from a dragon-like creature called La Gargouille. When the head of the dragon would not burn, it was placed on the walls of a newly constructed Catholic church to ward off evil.
New Orleans, of course has its roots in France, but we're a long way from la cathédrale Notre-Dame. This Jackson Avenue building dates from the 1860s and was once a synagogue named Sha'are Tefilah (Gates of Prayer). Ultimately, the congregation left and the building functioned as a school. The owner added two stories right away, then the third level in later years. This level, filled with windows, was deemed a target for vandalism, and of course, the owner added the gargoyle.

---
Comments
comments