Around The State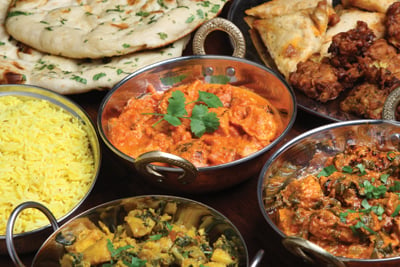 NORTH
A Taste of India in Monroe
A Taste of India restaurant offers rich and spicy Indian cuisine. Lamb and chicken dishes emerge from clay tandoori ovens, flavored by a marinade of herbs and spices. The Indian cheese, paneer, adds unforgettable flavor to dishes like paneer tikka kebab, a vegetarian dish prepared with cumin, coriander and turmeric.
Other entrees include chicken vindaloo, hot and tangy from goan style curry with potatoes and tomatoes; lamb do pyaza wherein tender lamb morsels blend in a heavenly mélange of ginger, onions, bell peppers and tomatoes.
A personal favorite is the saag paneer. This silky concoction of spinach, herbs and Asian spices are beautifully highlighted and balanced by the incomparable milky flavor of the paneer cheese.
A meal at Taste of India with warm, spicy food is perfect for cold winter days or nights and as smooth as a silken sari.
A Taste of India
903 North 4th St.
Monroe
318-651-8999
---
FILLING EMPTY BOWLS
In a state known for its exquisite cuisine, restaurants, chefs and cooks, it's somewhat stunning to know that in Northeast Louisiana alone, over 72,000 people, mainly children and the elderly, face brutal hunger on a regular basis.
By waging an altruistic war against hunger in their area, the Food Bank of Northeast Louisiana is working to solve this problem. Quick to spot resources for solutions to feed the hungry, FBNELA has been successful in garnering community support from both local citizens and businesses.
One of their greatest foundations for supplies comes from retailers with surplus food sources as well as appealing to local businesses. With support from Sam's Club and Wal-Mart, the food bank is able to obtain 90,000 pounds of surplus food. That equates to three quarters of a million meals given to those in need. It also saves the business money by cutting costs of warehousing and inventory.
Everyone is welcome to give, not just large corporations. The people of Monroe have willingly embraced this cause, making the food bank a success.
Late in January, the Empty Bowls — A Serving of Art, Food and Music benefit will be held at a venue to be announced. Local artists have been asked to create and donate beautiful bowls to the event. For a $30 ticket, guests can take home one of the creations. Signature dishes from area chefs will be offered, along with music and a silent auction. All proceeds go to FBNELA to help feed the hungry.

Empty Bowls — A Serving of Art, Food and Music,
Jan. 28, 2017, 11 a.m. to 2 p.m.
Venue TBA
318-322-3567
---
Central
Critic's Choice in Alexandria
A self-described "Mom and Pop" Italian eatery, Critic's Choice Restaurant has two locations in Alexandria that also serve grinders, hoagies, and burgers in addition to marinara and parmigiana. Wickedly delicious and garden fresh, the appetizers are a blend of light crust and hearty crunch such as the fried string beans served with a side of tangy Ranch for dipping. Onions rings and mushrooms fried in a beer batter, fried zucchini sticks and broccoli cheese balls are other tempting appetizer choices.
Parmigiana sandwiche creations include huge spicy meatballs cooked in tomato sauce and topped with melting mozzarella cheese fill a long Italian roll. Tender veal, breaded, fried, and baked in aforementioned mozzarella and tomato sauce fills an Italian roll for a sandwich layered with mouthwatering texture and flavor. Eggplant, hot sausage and chicken combined with sauce and mozzarella, and an Italian roll, are additional sandwich choices.
The classic BLT is thick with the glory of copious crisp bacon. If you're in a bit of a volcanic mood, the Stromboli sandwich — Italian luncheon meats, cheeses and pepperoni baked in delicious seasoned dough and topped with Mom's impeccable marinara sauce — might be the perfect choice. The New Yorker is a mile high sandwich of thinly sliced New York corned beef, Russian dressing and tangy coleslaw resting between rye bread and punctuated by a tangy Kosher dill spear.
For dinner, a plate with an ocean of tomato gravy and pasta, either angel hair, penne or spaghetti spreads before you in a savory taste experience accompanied by choices of Italian sausage, eggplant, chicken or veal parmigiana. There's always a side of garlic bread and a small garden salad. The lasagna is a layered mosaic of pasta, cheese, sauce and meat baked together in a most delightful ooey-gooey way.


Fried Chicken Salad
Critic's Choice Restaurant
415 Murray St., 318-442-3333
5208 Rue Verdun, 318-445-1680
criticschoicecenla.com
---
NATCHITOCHES
FLAG WAVING
In Central Louisiana, the town of Natchitoches steadfastly keeps Old Glory's stars and stripes proudly waving, and all for a good cause. Sponsored by the Natchitoches Lion's Club, this patriotic movement named The Bob Wangenstein American Flag Project was born in 1973. The late Wangenstein, a World War II veteran, was also a native New Yorker who resided in Natchitoches from 1979 to 1985. He spearheaded the project and eventually succeeded in garnering 200 local businesses that proudly fly Old Glory throughout Natchitoches on seven holidays per year: Veterans Day, President's Day (third Monday in February), Armed Forces Day, Memorial Day, Flag Day, Independence Day and Patriot Day.
An annual $50 donation from each participating business supports several worthy programs such as the Louisiana Lions Camp for mentally and physically disabled and diabetic youth. Added beneficiaries include the Louisiana Eye Foundation; The Louisiana Lions Eye Bank; Natchitoches Club Special Olympics; the Women's Resource Center and two scholarships for Northwestern State University freshmen each year.

---
Plantation Country
Ready, Set, Geaux!
Established in 2012 with the intent to be a major winter racing venue entwined with a celebration of Louisiana culture, The Louisiana Marathon now welcomes runners to Baton Rouge from around the world.
The 26.2 mile-long course starts in downtown Baton Rouge at the foot of the state capitol building, skirting the Mississippi River. Runners jog past the glassy waters of the University Lakes, the sprawling beauty of the LSU campus and then through quaint and historic neighborhoods along oak-lined streets filled with shade amid soft morning light. The January temperatures provide a temperate, cool run. Runners are able to choose the full, half, quarter or 5K run.
Spectators line the streets to cheer the participants who fly past in colorful running gear and shoes as festive as a Mardi Gras parade. Considered to be more than just a race to carry on the tradition of Pheidippides, the Louisiana Marathon is a running festival. At the end of the course, lagniappe awaits participants in the form of flowing ice-cold Abita beer and zydeco music. Once the finish line is crossed, runners are awarded with the awesome aroma of Cajun cuisine (boudin, jambalaya, gumbo, among others) awaiting them.
The flat, fast surface of the race path is runner-friendly, and the course is officially considered a Boston Qualifier route.

---
DARROW
PLANTATION BRUNCH
Every year, when the three-month long excitement that begins with Halloween, and ends on New Year's Day, January doldrums are bound to arrive. I've always found a trip along the River Road outside New Orleans in Plantation Country to be a delightful remedy, especially if you journey to Houmas House Plantation for Sunday brunch.
Brunch appetizers include Eggplant Belle Rose upon which saffron cream sauce is ladled over a crisp, fired eggplant medallion topped with lump crabmeat. Cool temperatures are perfect for a bowl of the signature soup; bisque of curried pumpkin, crawfish and corn. Or chase away any chills with a bowl of classic chicken and andouille gumbo.
Entrée choices include Eggs Creole; poached eggs and a soft shell crab resting on a light as air biscuit and creamed spinach. The crawfish and brie omelette consists of three eggs, brie cheese and spinach with a side of applewood bacon. Pork Chop Preston is a tender, thick, grilled piece of pork crowning rosemary garlic mashed potatoes and drizzled with bacon cream sauce.
From the River Road Buffet, you can fill plates or bowls with bisque, rosemary garlic mashed potatoes, veal grillades, roast duck, grits, bourbon shrimp or fried catfish.
If you wish to turn your meal in to a champagne brunch, bubbly in the form of Simonnet Febre Brut, Adriano Adami Prosecco and Veuve Clicquot are waiting to pop their corks.
Houmas House Plantation
40136 LA-942, Darrow
225-473-9380
houmashouse.com
---
Cajun Country
The "Shadeaux" Knows in New Iberia
There are a few things besides cute rodents connected to Groundhog Day that make me laugh. For instance, the singer Melanie wrote a song called, "Groundhog Day" because she was coming out of retirement. I have a relative who married his ex-wife on Groundhog Day, and I never could decide if that was symbolic or not. As Feb. 2 rolls around, the nation turns its weary eye to the little fuzz buckets in breathless anticipation that winter will end soon. Or not.
In New Iberia, Pierre C. Shadeaux, a nutria and resident of the Zoo of Acadiana (Zoosiana) in Broussard, made a pilgrimage to New Iberia last year to fulfill his duties as the Cajun Groundhog. The New Iberia Cajun Groundhog ceremony, attended by the mayor, other dignitaries and the good citizens of the area, takes place at Bouligny Plaza. Last February, he did not see his shadow as he emerged from his custom built Cajun cottage, which of course meant an early spring. Punxsutawney Phil concurred with this finding way up there in Pennsylvania.
The ceremony includes children's essay presentations, choirs and civil proclamations.
When he is not acting as weather prognosticator, Pierre can be seen performing during the "Zoo Live" show at Zoosiana with male siblings, Boudreaux and Thibodeaux.
New Iberia Cajun Groundhog Celebration
Feb. 2, 2017, 7 to 8 a.m.
Bouligny Plaza (gazebo)
102 W. Main St., New Iberia
337-365-6773
---
"ALLONS MANGER!"
Marie Ducote-Comeaux is proud to be a Cajun, a denizen of Lafayette and a devotee of anything belonging to Acadie. She is especially proud Lafayette was named the "Tastiest Town in the South," by Southern Living magazine Assuming the role of a gastronomic ambassador of sorts, to tell the world about it, she quit her job as a schoolteacher, bought a bus and started running a new business: Cajun Food Tours. The aforementioned bus is a glorious chariot on which to ride during the All-Inclusive Taste Tour. Painted the color of crawfish with complementary food murals, the cozy interior is fittingly festooned with tiny bottles of McIlhenny Tabasco sauce.
Six designated eateries out of 20-plus possibilities (including meat shops, specialty grocery stores and bakeries) are visited during each epicurean odyssey. Among these are Johnson's Boucaniere serving succulent, smoked meat and Deano's South, a restaurant that offers pizza with a decidedly Cajun flair, like the Marie LeVeaux made with Blue Point Crab, or the Cajun Canaille covered with shrimp, jalapenos and smoked sausage. There's even a blackened shrimp pizza. Indulge, Lafayette's breakfast and dessert restaurant, offers biscuits stuffed with smoked boudin or white sausage gravy for breakfast.
All along this popular tour, there's plenty of gumbo, links of boudin and plates of red beans and rice to be enjoyed as you literally consume the delightful culture of South Louisiana, and thus become a bon vivant for a day. Add to that Gulf seafood and cracklins. Good times, warm hospitality and great food — all hallmarks of the vibrant Cajun culture, are beautifully realized here, as rich and satisfying as a cup of café au lait.

Cajun Food Tours
337-230-6169
cajunfoodtours.com
---
Greater New Orleans
Book Review: The Battle of New Orleans in History and Memory
Jan. 8th marks the 201st anniversary of the Battle of New Orleans. According to author Laura Lyons McLemore's newly released book, "The Battle of New Orleans in History and Memory," the two centuries that have since passed have seen a perpetuation of myths not necessarily rooted in fact. For the sake of clarification, the book is a collection of well-written essays, edited by McLemore, written by various scholars and historians that explore several societal, military and cultural aspects of the conflict. But it is McLemore's brilliant introduction that sets the stage, giving a concise timeline of incidents that led to the War of 1812, covering negative public opinion, a thwarted desire to invade Canada, and how the United States was caught between a rock and hard place by the war between France and England and its impact on maritime activities — all culminating on that dark January morning in Chalmette.
Some of the essays dispel the myths about the War of 1812 and deserve exploring by any interested reader. The collection covers a spectrum of social and military issues of the time — the negative attitude towards African Americans' participation in the war and the subsequent demise in race relations that followed as well as military leadership lessons learned from the battle that are applicable to this day. A fascinating essay written by Joseph Stoltz III chronicles the centennial anniversary of the battle in 1915, and the surprising opposition of New Orleanians against it.


photo by cheryl gerber
---
NEW ORLEANS
TET
After the fall of Saigon in 1975, as more and more Vietnamese sought shelter in the United States, the diverse culture of the Crescent City bloomed with a beautiful new dimension. At the heart of this thriving local Asian community lies Mary Queen of Vietnam Catholic Church. Located in eastern New Orleans, it has proved to be a vital link between fellowship, worship, social services and homecoming as two cultures willingly embrace one another.
One of the most important holidays is the Vietnamese New Year called TET. Each year Mary Queen of Vietnam Church celebrates the highly popular and consistently well-attended Tet New Year Festival for three days straight, drawing people from across the country like a family reunion.
The celebration usually begins with a Mass. Then comes the colorful and mystical Dragon Dance. The belief of the people is that they are descended from both a dragon and a fairy — the fiery creature brings rain and abundant agriculture. Fireworks explode like flowers across the sky and traditional Vietnamese dances and folksongs are performed as the brilliant colors of the ao dai, or tunics, shimmer like rainbows.
Several of the church ministries spend days preparing food offerings such fried bananas; egg and spring rolls; grilled corn; Vietnamese poor boys and plenty of pho in multiple forms. For those who may not be inclined toward the traditional foods, hot dogs and nachos are also available.

Tet New Year Festival
February 10 – 12
Mary Queen of Vietnam Church
14001 Dwyer Blvd.
504-254-5660
---