Around The State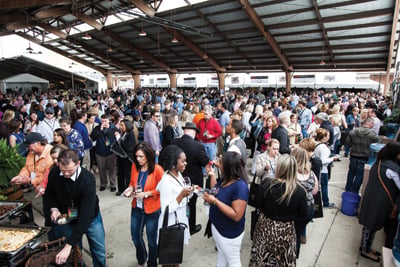 NORTH
Shreveport
Red River Wine Revel
Cork, a Red River Revel Wine Event is a perfect way to spend a Saturday afternoon in early April. Restaurants from the Shreveport-Bossier area provide sumptuous food as you saunter through Festival Plaza sipping and tasting. Corks are popped on 80 varieties of fine wines from across the world, followed by an outflow of ruby or pale green-gold streams of wine splashing into waiting glasses. Live music accompanies the sipping and nibbling.
Wine tasting seminars are conducted and cover the essentials of wine pairing, types of wine, how sparkling wine differs from champagne and choosing cheeses to accompany an assortment of wines. The event is sponsored by Eldorado Resort Casino and all proceeds benefit the Red River Revel Arts Festival.
Cork, a Red River Revel Wine Event
April 1
Festival Plaza
Shreveport
corkwinefestival.com
---
Touring and Tasting
One of the less difficult duties the Louisiana Legislature was tasked with two years ago was to sign into effect Resolution 88, officially and unanimously designating The Official Meal of North Louisiana. For consideration of this honor, Minden native, accomplished chef, and one of Louisiana Life's recent Louisianians of the Year, Hardette Harris created and presented the Legislature with a medley of traditional, down-home North Louisiana dinner dishes created by herself. Main course choices included barbecued chicken, smoked sausage, ribs, baked ham, crispy fried chicken or catfish. Cabbage, collard, turnip and mustard greens cooked with smoked neck bones and ham hocks comprised the vegetable choices. Traditional North Louisiana legumes — purple hull, black-eyed peas, pinto and butter beans (cooked with the aforementioned smoked neck bones and ham hocks) — were among the many food choices served by Harris. Condiments included mayhaw and plum jelly, cane syrup and hot pepper sauce, while side dishes consisted of baked sweet potatoes, rice with gravy, potato salad and fried okra.
Harris proudly promotes the cuisine of the North Louisiana culture in which she was raised, offering food tours, cooking demonstrations and tastings to expose people to the delicious food of the region. Greens swimming in smoky pot liquor, biscuits and cornbread light as air and succulent fried chicken are a few menu choices you might create and taste with her help. Us Up North Food Tastings, Tours and Demonstrations is a perfect venue to enjoy another fine dimension of Louisiana's diverse and supreme culinary heritage.
Us Up North Food Tastings, Tours and Demonstrations
Chef Hardette Williams
318-639-0022
foodtourslouisiana.com
---
CENTRAL
Natchitoches
When Pasta Meets Gumbo
Maglieaux's on the Cane is a dining venue, that, in addition to an exquisite river view, offers a repertoire of dishes that pays perfect homage to two venerable dining cultures, Creole and Italian food.
Appetizers like the Italian nachos — fried lasagna noodles served with black olives, Alfredo and meat sauces, Parmesan and mozzarella cheeses — are on the menu next to spicy mini meat pies accompanied by remoulade.
Depending on what type of food you crave, you can choose the lasagna pappardelle in which hand cut pappardelle pasta coddles layers of tomato meat sauce while buffalo mozzarella, fresh spinach, ricotta, Parmesan, black olives and fresh basil.
If your taste requires a more Bayou State flavor, and you've already enjoyed a hearty bowl of hen and andouille gumbo, a plate of creamy crawfish étouffée with fried okra on the side just might hit the spot as a follow-up. Or, opt for the shrimp and grits entree, which includes creamy garlic grits topped with velvety gratin and grilled Gulf shrimp accompanied by fried okra.
Maglieaux's on the Cane offers an exceptional variety of Italian and Creole cuisine, from fried to seafood to cannelloni, with the occasional steak added for good measure that, taken as a whole, represents premium dining.
Maglieaux's on the Cane
805 Washington St., Natchitoches
337-354-7767
maglieuxs.com
Alexandria
Glass Reflections
Sitting in the basement, as it seems all really good bars in cities above sea level do, of the refurbished and historic Bentley Hotel, The Mirror Room, an upscale, but not snooty, bar offers signature cocktails, liquor, wines and beers. Seasonal vodkas and rums from exotic places are also on the menu. Complete with murals, leather-bound book spines, tin-plated ceilings and soft light, it is the perfect place in Alexandria to sip, tete-a-tete, and unwind. Mirrors arise behind glass shelves filled with bottles of premium alcohol used for signature cocktails like the tangy Winter is Coming Cosmo, which is made by mixing 360 Sorrento lemon vodka, Fleur elderflower liqueur, white cranberry and lime juice.
The Ginger Snap is a palate awakening, if somewhat sense-dulling potion (in the most delightful way), made from Cathead vodka, Domaine de Canton (French ginger liqueur) and cinnamon syrup.
Legend has it that Eisenhower and Patton imbibed in this historic bar.
The Mirror Room
Hotel Bentley
200 DeSoto St.
Alexandria
318-704-6111
historicbentley.com
---
PLANTATION COUNTRY
New Roads
Hot Tails
Outside of Baton Rouge, if you take a certain fork in the road that veers to right off of Highway 61, you'll soon find yourself in the little town of New Roads, rising in tiers above the glassy False River. Hot Tails Restaurant is a local eatery offering crawfish bread, crabmeat croissants and a fried pork chop sandwich served on Texas toast among other items. It also has a distinctive cocktail menu with a completely Louisiana flair.
The Istrouma Buzz, made with juice from Louisiana navel oranges, strawberry fig preserves, lime, Creole bitters, candied ginger, Aperol, Dolin Rouge Vermouth and Oryza Gin, Swamp Pop Jean Lafitte Ginger Ale, B & B liqueur and dry champagne features a honeycomb garnish with raw sugarcane. It's smooth and biting, sweet and sour all at the same time, and unforgettable. The Levee Break features Louisiana blackberries doused with Hendricks gin shaken with simple syrup and lemon juice. Topped with champagne, it boasts a cognac floater. Decadent as all hell, the Morganza Mud-tini, named for the nearby spillway, is a rich little potable made with Godiva liqueur, marshmallow vodka, all shaken with cream and dusted with cocoa.
Hot Tails Restaurant
1113 Hospital Road
New Roads
225-638-4676
hottailsrestaurant.com
St. Francisville
Best in Pilgrimage
At the very edge of Plantation Country lies the town of St. Francisville, a charming locale for the area's cultural history. Each March when the nearby gardens of Afton Villa, The Myrtles, Rosedown, Grace Episcopal Church and Oakley blaze with riotous fuchsia azalea blossoms, curling purple wisteria vines, lilies and yellow daffodils, the town holds the Audubon Pilgrimage. This event honors John James Audubon who arrived at Oakley to teach art and beautifully the countless bird species of Louisiana in his spare time on canvas.
Children dressed in period clothing dance around a maypole throughout St. Francisville. Living history features, tours of area plantations, gardens, graveyards, churches and the rustic pioneer skills demonstrated at the Rural Homestead are conducted. Candlelit strolls at dusk with fireflies beneath the oaks provide enchantment, as Light Up the Night — the Saturday evening soiree features music, dancing and dinner. Ladies, children and guides dressed in the Empire period style of the 1820s, when Audubon first arrived, provide ongoing stories and education in a loving community effort.
Audubon Pilgrimage
March 17 to 19
West Feliciana Historical Society
Box 338, St. Francisville
225-635-6330 or 225-635-4224

---
CAJUN COUNTRY
Kaplan
Crawfish Odyssey
Crawfish Haven/Miss Rose's Bed and Breakfast is a leap back in time to my childhood visits to the country during Easter vacation. This open and airy, sugar-white, century-old home with its wraparound porch surrounded by sprawling fields exudes peacefulness and Louisiana charm. One of the rooms is replete with a handmade cypress bed.
If you've never had the pleasure of boiling fresh crawfish that just came from your own net, this B&B will be happy to show you how it's done. Offering crawfish excursions in an area surrounded by ponds, their distince boat and guide will help you haul in filled with the crustaceans to be boiled for your own personal feast. Ask for Barry.
Crawfish Haven/Miss Rose's
Bed and Breakfast
6807 LA Hwy 35, Kaplan
(near Abbeville), 337-652-8870
btoups4692@gmail.com
Scott
A Hidden Jewel
Somewhat unknown, Le Maison de Begnaud, flying under the radar, the town of Scott's Visitor and Heritage Interpretive Center, is a charming microcosm of the rich cultural heritage of Cajuns and the Lafayette area. The free, Friday night Cajun music jam sessions are sure to have you dancing the two-step. CDs are available for purchase. This enriching enclave is located in the Boudin Capital of the World, with plenty of delicious Cajun links in nearby stores to savor and enjoy.
Le Maison de Begnaud
110 Benoit Patin Road, Scott
337-269-5155
begnaudhouse.com
Lake Charles
Food Trucking In
A self-described, "savory slop chariot," The Sloppy Taco, one of the newest mobile eateries in the Lake Charles area is also considered one of the best. People line up to the window to order and relish items such as the chipotle shrimp taco. This dish is a divine marriage of chipotle simmered shrimp, fried green tomatoes, shredded cabbage and pico de gallo with the added dash of cilantro ranch dressing and queso fresco in a taco shell. There's a bit of an Asian fusion going on here as well. This food truck offers extras like queso, guacamole or salsa (all homemade of course), with a serving of fried wontons instead of tortilla chips.
The Sloppy Taco
Semi-permanently located at 2500 Kirkman St.,
(check website for locations
and closures)
Lake Charles
337-602-6364

---
GREATER NEW ORLEANS
New Orleans
Best in Pralines
After enjoying a café au lait, its surge of caffeine pleasantly softened by warm foamy cream, and a hot, crisp beignet dusted with powdered sugar from Café du Monde on Decatur Street in the French Quarter, perhaps you've wandered next door to Aunt Sally's Creole Praline Shop.
In copper pots, praline masters stir the rich mixture of cream, butter, pecans, cane sugar, vanilla and other flavorings, creating a delightful epicurean fragrance. Poured from the kettle to harden on parchment paper atop a marble slab, these pecan studded delicacies come in a variety of flavors: Original Cream, Bananas Foster, Triple Chocolate and Café Au Lait.
The lovely shop is a fascinating delight to explore, filled with books on Louisiana's culture and cuisine, souvenirs, artwork and Louisiana music on CDs. If you can't make it there in person, order your sweet fix online.
Aunt Sally's Original Creole Pralines
800 Decatur St., New Orleans
800-642-7257
auntsallys.com
Arabi
40 Arpents of Beer on the Wall
Duckweed, Delacroix, New Basin Stout, Copasaw and Red Bean Ale are among the craft brews rendered by 40 Arpent Brewing Co. on the banks of the Mississippi in Arabi. Interwoven into the name and flavor of each beer is the history and culture of Louisiana. New Basin Stout, a dark, sweet brew pays homage to the Irish immigrants who suffered through the merciless summers of New Orleans and yellow fever epidemics to dig the canal near Lake Pontchartrain. Duckweed, a light, pale ale with citrus and herb overtones was named because the hops thrown in the brew kettle looked like duckweed floating on a bayou. Delacroix, "of the cross," was created to drink during Lent, a tribute to the Catholic Islenos of the Spanish Canary Islands, who settled on Delacroix Island.
Recommended to drink with a plate of red beans and rice on Mondays, Red Bean Ale, a summer seasonal, is a traditional red Irish brew. Camellia red beans have been thrown in for a taste of New Orleans, giving it a Creole kind of earthiness.
40 Arpent Brewing Co.
6809 North Peters St., Arabi
504-444-3972
40arpentbrewery.com