Art as a Saving Grace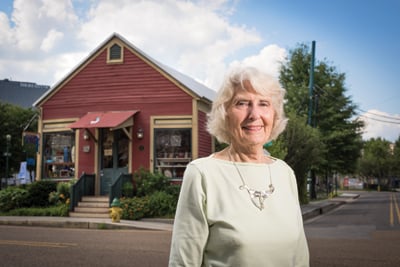 Broussard artist Annette Aucoin remembers being scolded as a child for drawing on her school papers when she was bored.
"I got punished several times," she says. "Art has been a part of my life for as long as I can remember."What started as a child's doodles would become a saving grace decades later.
At 13, an aunt gave Aucoin a set of pastels. "I kept those for years without messing them up," she says. "I was just meticulous and I wouldn't let my friends or my brother fool with them."
Aucoin creates a range of artwork, including copper sculpture, metal enamellings, etched copper and bronze, and metalworked jewelry. She's displaying work in galleries and museums around the region, including Ariodante in New Orleans, Acadiana Center for the Arts in Lafayette, Lafayette Arts Association, Alexandria Museum of Art, Barnwell Museum in Shreveport, Craftsmen of Mississippi Center, and the Alexandria River Oaks Museum. She's also one of four founding members of the Louisiana Crafts Guild, which connects member artists to galleries and provides other support and instruction.
Among her biggest accomplishments was traveling to the White House in 2002 to represent Louisiana with fellow artist Carrie Durand. Aucoin and Durand had been invited to handcraft Louisiana-focused ornaments to decorate the National Christmas Tree along with contributions from artists in the 49 other states. Aucoin's contribution, a silver pelican, is a part of the White House's permanent ornament collection.
Aucoin chalks up her success, in part, to her business background and knowledge of how to balance a budget, market one's work, and price objects competitively.
Aucoin originally went to school for far more practical reasons than to study art; she pursued a business degree in college and has worked as a bookkeeper off and on for decades. Once her children had finished school, she returned to college to pursue her first love: art.
Aucoin started her art career as a painter and printmaker, which she concentrated on from 1989 to 1994. But her work soon evolved into metalwork.
"I used copper plates for my prints and I just couldn't part with the copper," Aucoin says. "The prints just weren't as important as that piece of copper." So she returned to school and trained to become a metalsmith. Now, her portfolio includes silver fabricated jewelry and two-dimensional art pieces, many of which involve etched metal that is heat-treated with a torch to add color and then attached to cast glass or kiln-fired enamels.
Much of her work is inspired by nature, with her etchings often featuring images of oak trees and jewelry consisting mainly of leaves, butterflies, and flowers. "My yard has oak trees that are probably in excess of a hundred years old, so I'm just surrounded by trees," she says.
For Aucoin, art has become a sort of therapy. She suffered a small stroke in the spring but has recovered rapidly, thanks in part to art's ability to help the brain heal after trauma. Her art has been a helpful part of her rehabilitation process.
"I just think, 'Boy, I'm a lucky so and so,'" she says. And it's made her thankful for the bigger picture. "Art is such a wonderful thing to have in your life. It's something you can do until the day you die. There are no limitations."