Art: Dale Pierrottie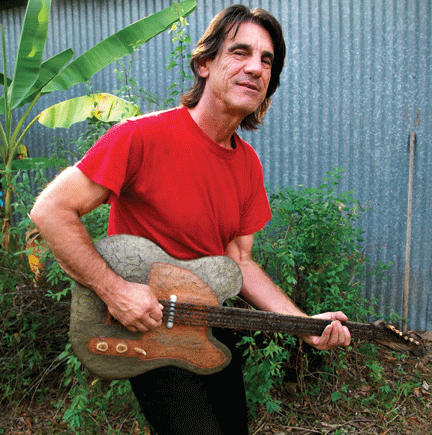 For centuries artists have explored their views of the world in paint, stone and wood. Others have used words and cameras for expression. Dale Pierrottie, an artist, musician and sometime-actor from Lafayette, uses clay and moss to give form to images that rise in his imagination and from his Acadian heritage.
Pierrottie (pronounced pair-o-t) has gained a considerable following for his art and historic restoration work that employs the ancient building method of bousillage, a mixture of clay and dried Spanish moss that was once popular among the early French-Canadian settlers in the lower Mississippi River Valley. In the 18th and early 19th centuries, these newcomers used materials available to them in building their homes, churches and public buildings. They brought with them from Canada – and Normandy before that – a method called colombage pierroté, whereby they would construct a dwelling with timbers or posts and then fill in the spaces between the posts with rubble, stones or bricks. Because those materials were not available to early settlers in Louisiana, they instead employed bousillage, learned from American Indians in the area.
The "self-taught, self-studied" 62-year-old Abbeville native who is part French, Italian and Chitimacha Indian resides with his wife, Denise Harding, on a wooded road east of Lafayette that has been in her family – the Martins and Moutons – since the early 1800s. Her 200-year-old family home sits just over the side fence. Harding writes Cajun and Creole cookbooks while Pierrottie demonstrates bousillage building techniques at the Vermilionville Living History Museum and Folklife Park in Lafayette.
When Pierrottie is not in Vermilionville, he can be found in an old corrugated metal shed behind his house, sculpting the clay-moss mixture into fantastical images of turtles, rock guitars, boats, African and Southwest American Indian masks, miniature chimneys, small voodoo and cucina dolls and imaginary "spirit houses" and kivas. Although he explores various themes, one piece, Delta Mounds, strikes a resonant chord. It is a post-Katrina homage to New Orleans. Cut into a flat greenish-blue slab of bousillage is an outline of the city of New Orleans, complete with bends in the Mississippi River and various canals that drain the city. Dispersed randomly about the surface are large mounds that resemble the earthen works of ancient American Indian cities such as Poverty Point in northeast Louisiana. It seems to imply doomsday for New Orleans and the modern era and a return to an earlier time.
To give texture and an ethereal spontaneity to creations such as Shrine to Kanan and Shrine to Crawfish King, Pierrottie works into the clay assemblages found objects such as deer antlers, sticks, blackjack vines, seeds, turtle bones, feathers, palmetto leaves, woven strands of cured moss or anything else that consciously or subconsciously insinuates itself into his imagination. Friends often bring him objects they think might interest him, such as the shell of a large sea turtle someone found on a beach. The shed's walls and makeshift tables are filled with these bits and pieces that lie about like unemployed actors awaiting an audition. Buckets of clay are tucked away on the floor, waiting for their turn.
The type and color of clay he uses depends upon the project. He mines red clay from Bayou Nezpique near Mermentau River in southwest Louisiana and Coulee Rouge near Opelousas. His black clay comes from the banks of Bayou Carencro north of Lafayette, and his brownish clay comes from Bayou Vermilion near Lafayette. He gathers moss that has fallen from trees, stacks it in piles, wets it down and leaves it to cure for a month or more. The cured moss sheds its outer gray husk, leaving behind a strong black fiber that local American Indians once braided into rope.
Pierrottie's first introduction to bousillage was in the early 1960s. As a young boy growing up in Lake Charles, he often spent summers with his maternal grandparents in Basile. One day he was sitting around watching his grandfather dig a well when up came a shovel full of red clay. His grandfather told him that when he was a young man, local folks built their chimneys with layers of clay mixed with moss packed around an ascending framework of sticks. "I knew then I wanted to do something with that," Pierrottie says, "but didn't. It stayed in my mind for years."
That opportunity came in 1985 when Louisiana filmmaker Glen Pitre was making the movie Belizaire the Cajun, a mid-19th- century story of an Acadian village healer, or traiteur, facing a changing world. Pitre hired Pierrottie to help make movie sets at the Acadian Village in Lafayette and to repair a bousillage chimney on an old Acadian cabin at Longfellow-Evangeline State Historic Site in St. Martinville. In rebuilding the chimney, he recalled his grandfather's story of the bousillage chimneys old-timers once made. In addition to playing a small part in the movie, which was released in 1986, Pierrottie made other bousillage props for the set. "It was the first time I used the media," he says, recalling how he made little gris-gris figures for Belizaire's cabin. "I began to see a connection between bousillage and my art. I later saw Clyde Connell's chimneys. She used papier-mâché, and I used bousillage. I started making objects in the late 1980s and selling them at festivals."
About the same time, he began receiving commissions to use the bousillage technique to restore historic houses around the state, including the 1790s Armand Broussard House in Vermilionville, Magnolia Mound in Baton Rouge, Oakland Plantation near Natchitoches and the early-19th-century Hebert House (also known as Green House) near Lake Arthur. Pierrottie applies the bousillage the same way it has been done for centuries. He fluffs up the cured moss and then applies layers of clay to each side. Once these patties have dried somewhat, he folds them over slats, or barreaux, that have been fastened between the posts. The dried bousillage is then covered with weatherboards. Sometimes he leaves the slats exposed for people to see. "I love the sense of time that shows," he explains. "It's an old medium that I'm trying to introduce again. It's green, and it helps in cooling the house in the summer and heating in winter." A sample of his bousillage and barreaux work can be found at the National Building Museum in Washington, D.C.
Over the years, Pierrottie has participated in numerous cultural festivals, including the New Orleans Jazz & Heritage Festival, the Festivals Acadiens et Créoles in Lafayette and the Magnolia Mound fall festival in Baton Rouge. His work, which he describes as "art-catecture," can be found in numerous private collections, including those of actors James Earl Jones and Mickey Rourke. It also appears on the cover of the Lost Bayou Ramblers' 2008 album, Vermilionaire.
For additional information about Pierrottie and his art, contact mossymudpies@yahoo.com.