Art: Good Juju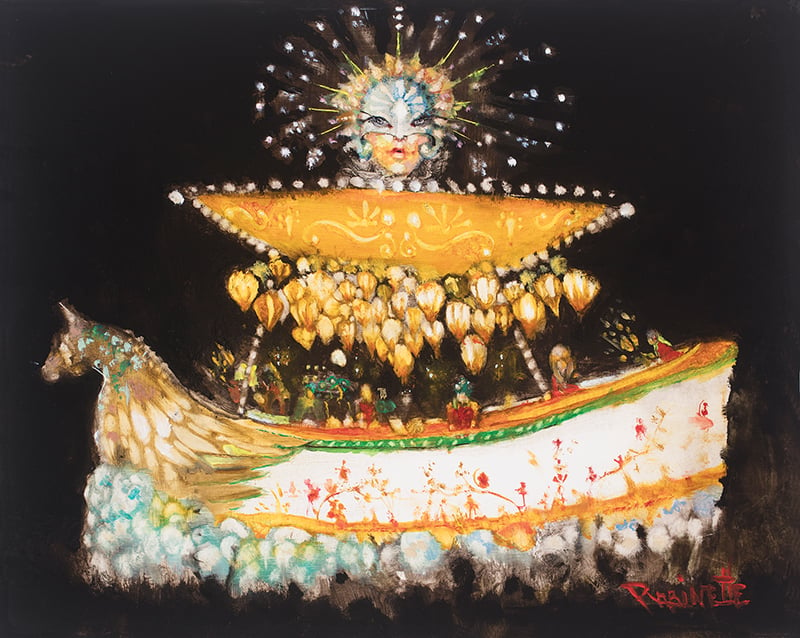 Mention the name Garland Robinette and most Southeast Louisiana residents over a certain age will recall the once wildly popular New Orleans TV news anchor during the 1970s and '80s or the no nonsense "Think Tank" radio talk show host who busted political heads in post-Katrina New Orleans. There is another Garland Robinette, however, one whose artistic talents will long outlast memories of his broadcasting career.
Robinette, who resides in New Orleans with his wife Nancy, is an exceptional artist who has come a long way from the microphone and his childhood along the bayous of South Louisiana.
Born in 1943 in Texas and adopted by an oil field worker and his Cajun wife, Robinette grew up in an oil camp in the swamps near the fishing village of Des Allemands. As a child he had asthma, which kept him home a good bit drawing pictures of friends and playing the piano. The family later moved to nearby Boutte where he attended high school. Then came LSU and 13 months in Vietnam where he was the only member of his crew to survive almost-daily patrol boat missions and firefights in the Mekong Delta. Shot twice, Robinette returned home with two Purple Hearts and post-traumatic stress disorders. Back in civilian life, he worked as a janitor at a radio station before charming his way into a broadcast job at WWL-TV in New Orleans. Young Robinette was on his way. And then there was his art.
During those years, Robinette refined his talents as a painter. Though primarily self-taught, he took lessons under Auseklis Ozols at the New Orleans Academy of Fine Arts and became friends with prominent New Orleans artists Henry Casselli and Rolland Golden. Both influenced his work. Casselli gave Robinette "courage" to express feeling in his work while Golden gave him "a sense of color, perspective and experimentation."
Those skills have served him well. Robinette is an accomplished portrait painter. One wall in his studio is filled with photographs of his portraits of prominent New Orleanians, including jazz clarinetist Pete Fountain and New Orleans Saints owner Gayle Benson. Loyola University also commissioned him to paint Pope John Paul II's portrait during his 1987 visit to New Orleans. His portraits are technically precise, aesthetically pleasing and palette true.
On another wall across the studio, hangs another type of portrait, one created with quick, energetic and expressive brushstrokes. In these paintings, his brush, dipped in paint, seems to move easily from the mortal to the mystical. Faces and images look out from the canvas like specters in a mist or in a dream. They reveal an artist with great inner passion and angst that finds release in his brushes, paints and canvas. And that's where he finds his peace, his "juju."
"Juju" is a belief in magical fetishes and powers of good luck and protection brought to the Americas, including South Louisiana, by enslaved West Africans. Over the centuries juju found its way into the Cajun culture and Robinette's childhood home.
Recently, Robinette has taken his art in a new direction. In 2017 he retired from his radio show after surviving a rare life-threatening autoimmune disease that badly damaged his voice. With a refreshed sense of life and purpose, he has turned his art inward to his Cajun roots, to nostalgic memories of his mother and his own good juju. He calls these new paintings his "Juju Doll" paintings.
"I told my wife, Nancy, that I need a break from the portraits," he said. "I knew there was something else deep in me. I grew up in the swamps, and there had to be a connection there. I started experimenting and then it dawned on me that my mother was a mega-Cajun who spoke with a strong Cajun accent. She would say, 'My chère, you make good juju, you. You are going to get good luck and protection.'"
Nancy, who handles the business end, suggested he focus on the small triangular sketches he enjoyed drawing. Great idea, he thought. He added legs, faces and arms. Before long, his "Juju Dolls" emerged.
Robinette experimented with the concept while Nancy put his paintings on the internet. Orders started coming in from across the United States and countries around the world. He couldn't keep up with the demand. A South African client wanted a cat in his painting. A Texan wanted a juju painting with a portrait of novelist Walker Percy. Others wanted paintings of their boats, cats and other objects that had meaning to them. Robinette also includes iconic New Orleans images of streetcars, Saints football players, Mardi Gras Indians and flambeaux carriers, anything that represents the culture of South Louisiana.
While painting, music plays in the background, music ranging from Keb' Mo' blues to Pavarotti, anything with emotion, he says. With the volume turned high, he paints to the rhythms and lets whatever is deep in his subconscious guide his brush. When that happens, he seems to retreat to his childhood and conjure images of jujus protecting the beauty of South Louisiana's natural landscape.
Robinette's "Juju Dolls" have become, in a friend's words, the artist's "Blue Dog," referring to fellow Cajun George Rodrigue's popular paintings. Demand has become so great that Garland and Nancy have hired a manager to oversee sales and promotions.
"I didn't think people would get it," he says. "I tried to explain it and I'd listen to people say, 'This feels happy and totally different'. "
To help viewers better understand the juju doll imagery, Nancy researches the topics and writes little stories to accompany each painting. In one titled "Evangelette: Protector of the Wetlands," she wrote:
"They call me Evangelette. I am the protector of all swamp life — from snowy egrets that fly above, to the moss backed gators and turtles that sun themselves on the banks, to the oysters snuggled deep in their beds on the swamp floor. You can find me surrounded by swamp lilies, darting between the cypress knees like a firefly in the moonlight."
Robinette's mother was a wise woman. Garland has juju.
"I always said I was the luckiest guy in the world," he says, glancing around his studio. "I was adopted and barely got out of high school and I was one of the few to come back from Vietnam. I went from a janitor to a television anchor, to a vice president of a major worldwide corporation, a radio talk show host, and now an artist. It's dreamlike. How did this happen?"
---
EXHIBITIONS
THROUGH SEPT. 28
Shreveport
Artspace. Shreveport Regional Arts Council presents "Neil Johnson's Still Photography." Johnson showcases never-before seen images and essays. artspaceshreveport.com
THROUGH SEPT. 29
Baton Rouge
LSU Museum of Art. "Matt Wedel: On the Verge." Ceramic sculpture by LSU School of Art visiting artist, Matt Wedel. lsumoa.org
THROUGH OCT. 6
New Orleans
The Historic New Orleans Collection. "Art of the City: Postmodern to Post-Katrina Presented by the Helis Foundation." Presents the work of 75 contemporary New Orleans artists. hnoc.org
THROUGH OCT. 13
New Orleans
New Orleans Museum of Art. "Bodies of Knowledge." Exhibition brings together eleven international contemporary artists to reflect on the role of language in defining cultural identities. noma.org
THROUGH OCT. 20
New Orleans
National World War II Museum. "In Memory of What I Cannot Say: The Art of Guy de Montlaur." Exhibit focuses on the art of French artist Guy de Montlaur, who fought with the French underground during the war. nationalww2museum.org