Art: Joseph D'Antoni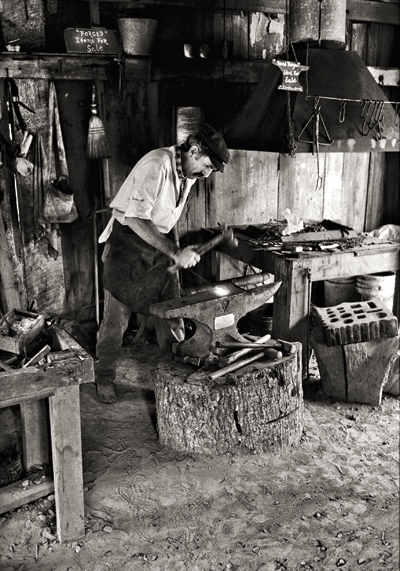 Novelist Thomas Wolfe wrote You Can't Go Home Again, but he often made the emotionally painful journey to his hometown of Asheville, N.C., in life and in his novels and short stories. So has New Orleans native Joseph D'Antoni, who left the city in the 1960s to attend college and to pursue a long career in forensic economics – and photography.
D'Antoni, who resides in Pasadena, Calif., has come home to Louisiana time and time again to create soulful portraits of his native city and the shadowy rivers, bayous and meadows of South Louisiana that are as real in his memories as they are in his photographs. These portraits of New Orleans and Cajun Louisiana are presented in D'Antoni's new book Louisiana Reflections, published in 2011, with a foreword by John Lawrence, a photographer and director of museum programs at the Historic New Orleans Collection. Here, D'Antoni gives viewers that often-spoken-of sense of place and time that are resilient but battered by hurricanes, floods, man-made calamities and suburbanization. His "reflections" are a silent soliloquy to a memory.
In his superbly framed, high-contrast black-and-white images, we see tourists and offbeat characters lounging about French Quarter streets, smiling waiters at Café Du Monde, a Lucky Dog vendor reading a paperback and a Clarence John Laughlin-styled surreal self-portrait of D'Antoni sitting and standing before the D'Antoni family crypt in Metairie Cemetery. Others include a stand of moss-laced cypress trees in the Atchafalaya Swamp, cows grazing around a dilapidated weatherboard church near Lafayette, the fingers of a Cajun fiddle player going about their business on the strings and frets and the hands of a weaver holding a shuttle before its next pass through the yarn. These are the faces, the hands, the places and the architecture that draw D'Antoni home again.
D'Antoni first left New Orleans in 1962 after graduating from De La Salle High School. He went on to get a bachelor's degree in agri-business at what is now the University of Louisiana at Lafayette and then an MBA in finance and economics at LSU. In 1972, he received a doctorate in business administration in behavioral economics from the University of Southern California, or USC, in Los Angeles. After college, he held a series of teaching posts at USC; California State University, Northridge; and Pepperdine University in Los Angeles. Beginning in the mid-1990s, however, he entered the business world first with the international accounting firm Deloitte & Touche and later with KPMG accountants. In 2001 the former New Orleanian formed Corporate Services Inc., a forensic and economic consulting firm in Los Angeles serving lawyers, government and private businesses. Three years later, he acquired Origin Laboratories, which manufacturers eco-friendly cleaners for optics and computer screens. All the while he pursued his photography.
Photography has been an important part of D'Antoni's life. "I must have been 10 or 11 when I got a hand-me-down camera from an uncle," he recalls. "I have always responded to visual imagery. As a young boy, I was attracted to beautiful pictures in magazines and books and wondered how they were captured. I started taking pictures of family members, the house and the dog and soon realized my images seemed part real and part unreal. . . . Curiosity and the mystery of it all kept me coming back. I wanted to understand how it all worked. I soon started reading everything I could on photography. I began studying well-known photographers' work and gravitated toward fine art images early in my career. Curiosity and my interest in learning more continued as my skill level grew."
Although D'Antoni has returned often to photograph New Orleans and South Louisiana, the images in Louisiana Reflections were taken between 1994 and 1996.
The book was his way of portraying certain moments about New Orleans and South Louisiana before they were traumatized by hurricanes Katrina and Rita and the Gulf oil disaster. "After Hurricane Katrina, Rita and the BP oil spill, I was moved by the horrific impact they had on my family, homeland and the lives of friends who had to relocate," D'Antoni continues. "I wanted to do something to help victims of these disasters and contribute in some small way to preserving what I had remembered as special times, places and life in New Orleans and Cajun Country before those events. As the concept of a book began to emerge, I realized I could accomplish my goal by sharing a part of my memories and contributing a portion of proceeds from the sale of the book to a victims' fund to help those still struggling from the devastation."
For his book, D'Antoni selected 90 images from the almost 2,500 photographs he had taken of New Orleans and South Louisiana during the 1990s. "The more time I spent with the images, the more a story began to unfold," he recalls. "As a fine art photographer I always respond to a subject artistically, without consideration of how that image might relate to other images or a project. Each image is a stand-alone response to an emotional voice inside me."
That "emotional voice" often responded to how much New Orleans and South Louisiana had changed since his childhood in the 1950s and '60s. "I tended to take shots of the older buildings as I remembered them growing up," he says. "If there was an older building or interesting architecture between two modern structures, I would be fixed on the older building as my subject. If something in the building triggered my memory of an earlier time, I would focus to that. There is one image in the book of a modern-dressed woman walking past a restaurant with a street musician on the sidewalk. In the window behind the musician is an Al Hirt poster that caught my eye. That scene said a lot to me about how the city had changed but was very much the same."
He also recalls how important the Mississippi River and waterways of South Louisiana were to his childhood in New Orleans. "I can't remember shooting in Louisiana that did not include river or water subjects," he says. "The river to me is the lifeblood of Louisiana. It was also the lifeblood of my family. My grandfather sailed down this river in a small boat to Honduras to start his banana business at the turn of the century, and as a child I used to see his ships docked on the river to unload their cargo. I rode my bike on the river levees to get away from childhood stresses. My mother learned to swim in this river, and I fished and hunted along the river and bayous throughout my youth."
In a way, D'Antoni's black-and-white images, especially those in Cajun Country, call to mind the documentary photographs by Elemore Morgan Sr. that appeared in the 1950 book All This Is Louisiana by Frances Parkinson Keyes. In both, we see Cajuns at work, old cabins along bayous and other cultural survivals that were still very much alive in the late 1940s but are almost nonexistent today except in local cultural heritage centers. As Lawrence notes in the foreword: "As photographs made before the great hurricanes of 2005, Katrina and Rita, and before the Deepwater Horizon spill in the spring of 2010, they give us a glimpse of things and people now taken by those events, never to return."
D'Antoni's Louisiana reflections are richer for the black-and-white images. Black-and-white photography, he says, "is all about giving reverence to the image itself. The eye and mind focus more intently and inwardly on a black-and-white image. It must find meaning in the details of white highlights and dark shadow. In many color photographs, 'color' becomes the image rather than the image itself. This is not to say there is not beautiful color photography. Our world is bombarded with the reality of beautiful high-definition color imagery. But in that world of color, black-and-white photographs seem to take us to a special
place of sanctity and contemplative reflection."
Indeed they do.