Art: Pea Patch Gallery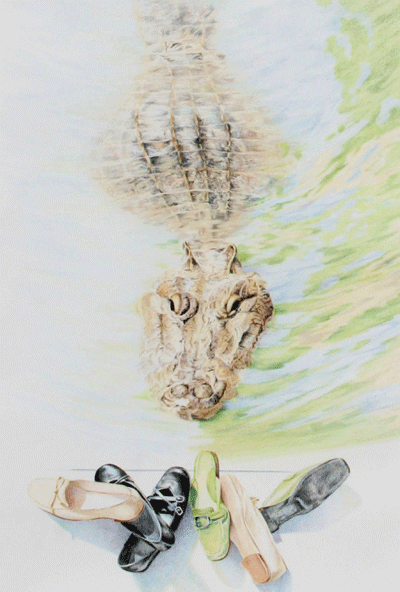 Most people would never associate the town of Winnfield in north-central Louisiana with the visual arts. To many, the town's name conjures ghosts of long-dead populist politicians such as Huey Long and his brother "Uncle" Earl Long in baggy white linen suits who ruled state politics for more than a half-century. It's no accident the city is home to the Louisiana Political Museum, a shrine for past and present Louisiana pols across the state.
But just a few blocks away at 109 S. Abel St., Gail Shelton – artist, teacher, Texas transplant and entrepreneur – or as she says, "artrepreneur" – has transformed an early-20th-century brick hardware store that once sold everything from wagons to coffins into a center of the visual arts. She has fittingly named her adventure Pea Patch Gallery, after Uncle Earl's legendary Pea Patch Farm, located just outside of town and once a political mecca for hopeful politicians and supplicant office-seekers.
With a good head for business, Shelton has designated one section of Pea Patch Gallery as a space to show her paintings and photographs. She conducts art lessons for schoolchildren and adults in another section and rents a portion of the floor space to locals who sell toys and children's clothes. Shelton also operates Uncle Earl's Pea Patch Café in the back of the large open room where one can have lunch, with daily specials, and hot blackberry cobbler on ice cream when the season is right. Her husband, Steve, a Winnfield native and pharmacist, owns a nearby drugstore.
Shelton becomes animated when she talks about her Pea Patch Gallery. "We bought the building in 1991," she says. "I was teaching school and teaching art, but I had nowhere to show my students' artwork. I always wanted a gallery, so we bought it and spent a year gutting it all. We took down the drop ceiling, took down all the old paneling and replaced everything with lumber from the local mills."
The gallery opened in 1992 with art and antique booths rented by local and out-of-town dealers. She added the café in 1995 "to get people in the door."
Gradually, the antiques booths closed as consumer tastes changed. "People our age," she explains, "are not buying antiques, and younger people aren't interested in them." This, of course, gave her an opportunity to start her own art school while pursuing her own art.
Over the years, the business has evolved. "In a small town," she says with a laugh, "you do whatever you have to do."
Shelton, a Texan by birth, came to Winnfield in a roundabout but not unusual way. In the 1970s, she attended the University of Texas at Austin where she majored in studio art. She planned to paint and sell her work on street corners in Austin, but a skiing trip to Winter Park in Colorado with a girlfriend in January 1978 changed her plans and life. There she met a college boy from Winnfield. Obviously smitten, she transferred that summer to Louisiana Tech in Ruston, and in November, they married. She later transferred to what is now the University of Louisiana at Monroe where she majored in art education with a minor in English. She's been here ever since.
Rather than trying to hawk paintings on the corners of Winnfield, she took a job in 1981 teaching art in the Winn Parish public school system, a position she held until she retired in 1991. "It was wonderful," she says, recalling her days going from school to school. "I traveled throughout the parish and got to touch a lot of kids' lives and expose them to things they wouldn't ordinarily see."
In recent years, Shelton's subject matter has changed as she combined her passion for painting and photography with travel, merchandising and teaching art.
Initially, she concentrated on popular subjects such as local wildlife scenes with ducks and deer and pen-and-ink drawings of local landmarks, including Uncle Earl's Pea Patch Farm, the old Winnfield Hotel and historic buildings in nearby Natchitoches. Although she is continuing with this genre, more landscapes and cityscapes from her travels are broadening her portfolio. There is a business side to this, however. Over the past nine years, Shelton has taken small groups of aspiring artists on travel workshops to Italy; Greece; Paris; Alaska; Key West, Fla.; the Grand Canyon; Charleston, S.C.; and Costa Rica. Another one is planned for Machu Picchu, Peru, in April 2012.
Shelton also has a little fun with her colored pencil drawings called Riddle Pictures. In essence, Riddle Pictures are visual puns. In Alligator Shoes, for example, we see an alligator and a pile of shoes. Others, such as Turtle Soup and Tiger Bait, are wordless images, leaving viewers to get the joke.
To Shelton, ordinary objects can have expression, if one looks closely. "All artists are intrigued by light and how it illuminates and gives form to our subjects," she wrote in her artist statement. "I like objects that reflect that light and have intricate shadow patterns. I have done a series of such things as sunglasses, glass door knobs and foil pinwheels because I was challenged by the patterns of light, shadow and reflections. I want my work to be enjoyed by my viewers. I want them to perhaps see something in a new way and thus appreciate it more. I believe this is a marvelous world that we live in, and if I can capture even a small part of it for others to appreciate, I have accomplished part of my purpose."
In addition to painting and drawing, Shelton is making greater use of photography in her art. Although she had always taken photographs to capture images for later paintings in her studio, photography has taken its place alongside painting and drawing as a primary art form. "Lately, I've gotten into digital photography and printing photo images on canvas," she says. "Digital photography has so much versatility." Like many Louisiana photographers, she is drawn to the state's marshlands and swamps. With her camera, she has traveled to Sabine Lake west of Winnfield and Blind River between Baton Rouge and New Orleans. She has gone deep into the wilderness at Lake Martin near Breaux Bridge. "Growing up in San Antonio, there's no such thing as a swamp," she explains. "We had hill country. But I was always intrigued by swamps. They're so timeless and primordial. I do love it." Passages from scripture or a line from a favorite song or old hymn often accompany her photographs. "Scripture changes the meaning for people," she adds.
Shelton may riff on about her love of art and things that inspire that art, but she has a definite practical side and bottom line – the art of making money. She is working hard to license her designs and drawings to manufacturers that make paper products. Last year, she took a workshop in New York at the Surtex
trade show for artists to learn how to present their work to manufacturers. She plans to make presentations at Surtex in May. "I have the art," she says. "I just have to market it in different ways. I'm an artist interested in making money to keep my doors open and to keep four employees."
But more important, Shelton says, "My faith in God and wanting my art to point to the beauty of His creation is really central to who I am."
To learn more about Shelton and Pea Patch Gallery, visit www.peapatchgallery.com