Art: Preserving (Art) History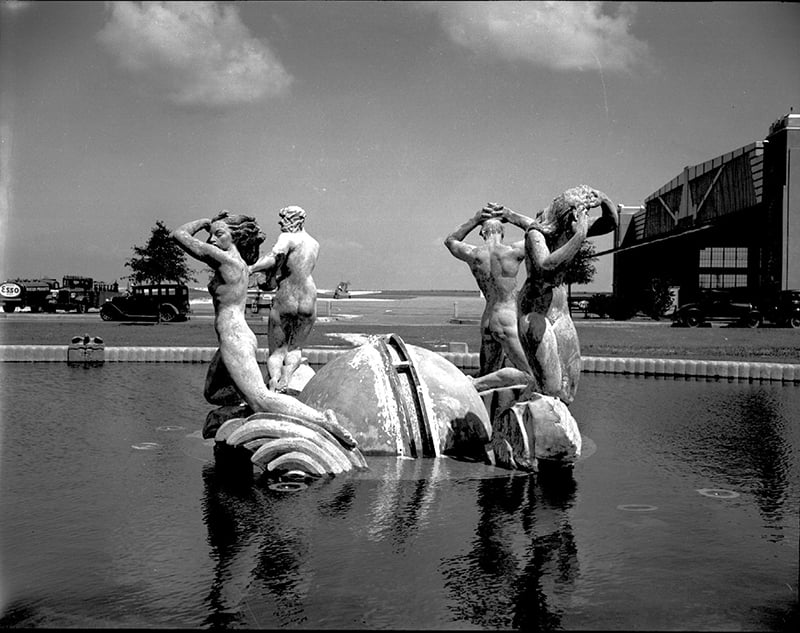 The long-neglected and nearly-forgotten "Fountain of the Four Winds" — one of Louisiana's most spectacular, yet controversial Great Depression-era New Deal works of art located at the New Orleans Lakefront Airport — is at last being restored to its former glory.
A masterpiece designed in a neoclassical style and built in the mid 1930s by the renowned New Orleans sculptor Enrique Alférez, the "Fountain of the Four Winds" is a tribute to the prevailing four winds. Yet only the North Wind is a male figure (explicitly so). To quote Hamlet, "There's the rub." But that can wait.
Alférez, who died in 1999 at the age of 98, was a prolific sculptor whose artwork graces public and private spaces throughout New Orleans, notably at the old Charity Hospital and New Orleans Lakefront Airport. The greatest collection of his art, including work for the Works Progress Administration, or WPA, is located in City Park's Helis Foundation Enrique Alferez Sculpture Garden, Tad Gormley Stadium and among the park's bridges and walkways.
The "Fountain of the Four Winds," is owned by the Orleans Levee District and undergoing restoration, thanks to a $180,000 post-Hurricane Katrina grant from the Federal Emergency Management Authority and $90,000 raised by Friends of the Airport. Heading the project is Lakefront Management Authority chairperson Wilma Heaton who also spearheaded the recent restoration of the historic Art Deco Lakefront Airport terminal. The fountain, she said, should be operating by spring.
"It was designed and built by a great sculptor during the Depression," said Heaton. "If we don't restore it, we will lose a piece of our history, and we can't afford to lose any more history."
Doing the restoration is Elise Grenier, an acclaimed art conservator with offices in Baton Rouge and Florence, Italy. Painstakingly working through an internationally approved conservation process, Grenier is restoring the statues and surrounding pool wall. At a distance, the four cast-concrete and cement-coated figures resemble weathered sandstone.
"My biggest challenge is staying true to the ethics of conservation," said Grenier. "It's like medicine. Do no harm. As a conservator, there should be nothing of yourself in it. It has to be all his work. I don't want people to look at it and say, 'Look, it's newly restored.' I want people to see it as it is and how it has aged."
Alférez's unmistakable imagery, inspired by the populist and aesthetic realism of his native Mexico, has brought elegance and grace to public art throughout New Orleans. His sculpted statues appear as stilled motion, like a dancer poised between calming phrases of music. At times, they are sensuous with an embracing passion or, as in his religious statuary, embrace a medieval purity.
Called "Rique" by family and friends, Alférez was born in 1901 in Mexico to a large family. His father was a European-trained artist. At 12, Enrique ran away, rode with Poncho Villa's revolutionary army, later escaped to Texas and, in 1924, enrolled at the Art Institute of Chicago. Five years later, on a trip back to Mexico, he stopped over in New Orleans, where he ran out of money and remained. Commissions came his way from local architects and later from the WPA. In the early 1930s, the Orleans Levee Board hired Alférez to create bas-relief friezes for the new Lakefront Airport, then called Shushan Airport.
The board hired him again to build the "Fountain of the Four Winds." Katie Bowler Young, who is writing a biography of Alférez, said the fountain was part of a $233,000 two-year WPA and Levee Board-funded airport beautification project that began in 1936. Alférez hit a snag when local WPA officials objected to the North Wind's exposed penis. They ordered him to chisel it off. He recounts the story in a 1989 University of New Orleans documentary written by Matthew Martinez and produced by Barbara Coleman.
"The director of the WPA here, a roughneck, said, 'I'm not going to let my men go there and stand in front of that indecent thing, the man with his ding dong hanging out'," Alférez said. "There was a meeting at the City Park board and WPA. They were horrified that I should have a nude man there. They said, 'What would your mother say?' I told them if my mother didn't know what it was, I would not be here."
Alférez reported the incident to his friend Lyle Saxon, head of the local WPA Writers Project and Saxon intervened.
"I told Saxon," Alférez continued, "they were going to go over there with a sledgehammer and chop off the penis of this figure. I said if they do, I'm going to be there with a 30-30 [rifle] and I'll shoot anybody and I have a right to do it because I think it's a right of an individual to protect the way he makes a living. I made up that law." Then Alférez laughed.
Alférez said Saxon wrote letters of appeal to President Franklin Roosevelt and his wife Eleanor. They responded, saying they had no objection to the statue. The WPA official backed off.
A bias against Avante Garde art emerging in the 1930s apparently existed in the local office of the WPA's Federal Art Project. Historian Richard Megraw notes in his history of New Deal art in Louisiana that project director Gideon Stanton's more conservative tastes in art caused tensions between him, local artists and more open-minded WPA officials in Washington.
"At every turn," Megraw wrote, "he resisted the egalitarian impulses of the project and frustrated the ambitions of local artists with the popular spirit, to organize and spread 'the people's art' along the avenues of the Crescent City."
Since the 1930s, the fountain slowly decayed, despite shoddy repairs, and it stopped working long before Katrina. Even more insulting, a prudish vandal took a hammer to the North Wind's privates. In 1991, the Levee Board hired Alférez to restore the fountain and to return the North Wind's pride.
In a recent interview, Alférez's daughter, New Orleans physician Tlaloc Alférez, discussed her father's career and art, especially the fountain.
"I think he thought it was one of the finest pieces he had ever done," she said. As insurance against future disasters, Dr. Alférez had 3-D scans made of the piece. She also hopes to have the statues cast in bronze for placement elsewhere and to create a museum in her father's honor.
Commenting on his own work in the 1989 documentary, Alférez said creating art is not mysterious.
"To me," he said, "it's an escape from the reality of the world around you. I would much rather enjoy the world I make."
Indeed, Alférez has created a world and an escape for us all to enjoy.
---
CAJUN
"The Art of Sir Winston Churchill."
Presented by the National Churchill Museum. Solo exhibition of paintings by Winston Churchill, through March 21. Paul and Lulu Hilliard University Art Museum, Lafayette. hilliardmuseum.org.
CENTRAL
"Connected Visions: Louisiana's Artistic Lineage."
Development of art in Louisiana through connections between artists and educators, through 2022. Alexandria Museum of Art. themuseum.org.
PLANTATION
"Soulful Journey: Randell Henry."
Paintings by Baton Rouge artist Randell Henry, through May 31. Louisiana Art & Science Museum, Baton Rouge. lasm.org.
NOLA
"Ear to the Ground: Earth and Element in Contemporary Art."
Influences of nature in creating contemporary art, through April 19. New Orleans Museum of Art. noma.org.
NORTH
"Create a Beautiful Life."
Features artist-residents of Holy Angels in Shreveport, through March 15. The R.W. Norton Art Gallery, Shreveport. rwnaf.org.
---