Art: Tragic Beauty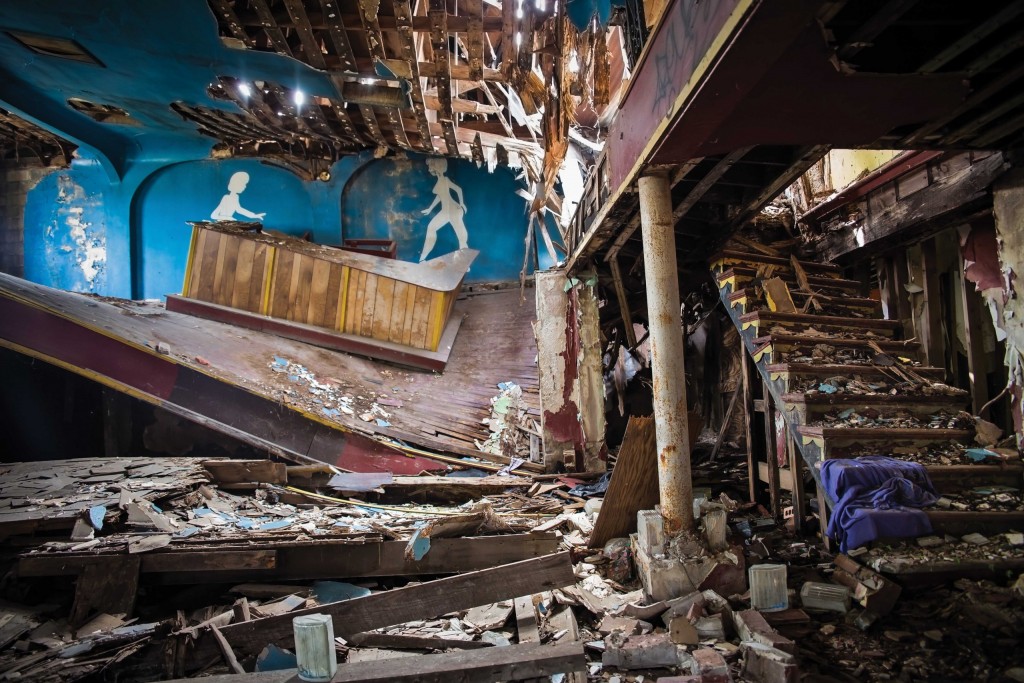 → For more information, visit jsdart.com
New Orleans photographer, writer and freelance journalist Julie Dermansky is on a worldwide journey and mission to capture images of social and environmental injustice and the effects of global warming on the natural and man-made landscape.
With that passion for humanity and justice, Dermansky has traveled to places such as Haiti after an earthquake, to the Nazi death camps at Auschwitz, and other troubled areas around the world where human rights are in jeopardy. It is a series she calls "Dark Tourism." Drawn to what she describes as the "ordinary and the extraordinary," Dermansky has photographed Donald Trump's campaign rallies and military-occupied Washington, D.C. during Joe Biden's inauguration. With her camera, she is a witness to human drama.
"Photography," Dermansky says, "allows me to interact with the world and reflect on what I see via my own visual vocabulary. Observing human behavior is part of my artistic process.
"I hunt for authenticity and the inherent irony that is part of human experience by seeking out a personal connection and understanding of history in my work. Examining mankind's violent nature is an ongoing theme in my work."
Born in New York City in 1966 and raised in New Jersey, Dermansky first came to Louisiana in 1986 to study history and later art at Tulane University. She was there only two years when she received a fellowship to travel the world to see monumental and architectural sculpture. Upon her return to the United States, she settled first in New York and then in Santa Monica where she pursued a career in studio art and freelance photography. Nine months after Hurricane Katrina, Dermansky returned to New Orleans to photograph Tulane's natural history collection. That's when she discovered the full and lingering extent of Katrina's destruction.
"The damage left in Katrina's wake both stunned and inspired me," she says. "I found myself embarrassed that despite having watched media reports about the storm, I had no idea of the large swatch of land that still lay in ruin. Every corner I turned, every home, school or commercial establishment I entered offered up its story to me."
Dermansky goes on to say her photographs of Katrina's destruction in New Orleans "illuminate the devastating effects climate change will have on America's failing infrastructure in cities that are full of literal and metaphysical cracks."
Since 2006, Dermansky has lived in New Orleans full time while continuing her travels, documenting and reporting on social justice and environmental issues around the nation and world. In South Louisiana, she continues to photograph the effects of climate change on coastal marshes and human and environmental concerns in regions of the state where petrochemical industries dominate. In 2010 she photographed the devastating damaged caused by the BP oil spill in the Gulf of Mexico, which she described as a "tragedy in slow motion."
"Louisiana," she says, "is full of superlatives which is one of the things that attracted me here. I'm interested in what makes us human — and how humans can do horrible things. My photo work started with an investigation into genocide sites, and now I'm looking into how we are destroying the planet. I'm photographing both the people fighting back against climate change and the forces that contribute to it as well as the impacts of it, and I can think of no better place to do it than Louisiana."
She is drawn to the Atchafalaya Basin and Louisiana's coastline where she has seen barrier islands eroding away "along with the life they sustained." She describes Louisiana's swamps as being "in a fairytale — oh so pretty, but a twinge scary." She has photographed the misery left in the wake of hurricanes and met with survivors to photograph "their hardships and love of the land." She also has traveled through the River Parishes, called Cancer Alley by some, to photograph daily life juxtaposed against ever-present oil refineries.
With the discerning eye of an artist and a reformer's compassion, Dermansky's images are dramatic, making them even more effective in telling her complex stories, stories that have brought her international attention. Her work has appeared in film documentaries as well as in the New York Times, The Times of London and The Atlantic. In addition, the 9/11 Memorial & Museum in New York City and the U.S. State Department have included her photographs in their collections. But most importantly, it's the message she is telling the world.
"I am documenting mankind's demise through photography, video and the written word," says Dermansky. "My work illustrates man's disregard for social justice and negligence toward the planet."
That humanity has created a remarkable body of photographs.
→ Editor's Note: Due to COVID-19 phasing, call ahead to confirm in-person exhibit visits
---
Exhibits
Cajun
"Acadian Brown Cotton: The Fabric of Acadiana."
History of brown cotton textiles in Acadiana, through June 30. Paul and Lulu Hilliard University Art Museum, Lafayette. hilliardmuseum.org
Central
"She Persisted."
Celebrates Louisiana women artists in honor of 100th anniversary of 19th Amendment, through June 26. Alexandria Museum of Art. themuseum.org
Plantation
"Our Louisiana."
Artwork by Louisiana artists, through Jan. 14, 2024. Louisiana Art & Science Museum, Baton Rouge. lasm.org
NOLA
"Arte Sacra: Roman Catholic Art from Portuguese India."
Global influences of Portuguese colonization in India, through June 20. New Orleans Museum of Art. noma.org
North
"Founding Fathers."
Stories and art behind the architects of the American Revolution and U.S. Constitution, online only through August. R.W. Norton Art Gallery, Shreveport. rwnaf.org
---