Artist Gail Hood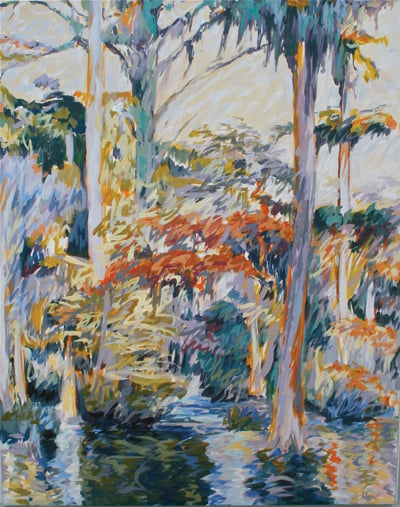 "What would human life be without forests, those natural cities?" asks Henry David Thoreau in his famous 1843 poem, "A Winter Walk."
In a sense, Covington artist and former university art professor Gail Hood asks the same question in her paintings of wooded landscapes along the Little Tchefuncte River in St. Tammany Parish, the Tickfaw in nearby Livingston Parish, and other Louisiana streams. At times, she captures moments of dappled sunlight that plays along watery banks and deep into the woods. Her luminous palette is sunlight brushed across canvas.
Mostly, her paintings are devoid of human presence, as though the artist has found solace in a patch of woods in the rapid suburbanization of the once-bucolic St. Tammany Parish landscape. No towns, no malls, no farmhouses, no boathouses nor pricey retreats along riverbanks, just Thoreau's "natural cities." Or as Hood says, "Mine are pictures of nothing, just ordinary spaces that I see as being extraordinary."
Her images call to mind how an earlier painter defined art: "Art does not reproduce the visible; rather it makes it visible." In her paintings, we see not what a camera might record but Hood's poetic response to the landscape shaped by the interplay of light, shadows and contrasts – those abstracts of the imagination that transcend the literal.
To most people driving by, Louisiana's swamplands and forests stand as dark, impenetrable walls where few dare enter. To Hood, however, these watery landscapes are filled with nature's drama. "I am very much interested in the rhythms of trees, the verticals against the horizontals, the water, that combination of water and trees," she says. "I am particularly interested when the trees are different. They become like characters to me. They set up a little dialogue. It's like a stage."
Hood's journey to that stage began early in life. In 1938 her family moved from Michigan to Folsom, La., where her father, an engineer, worked in the then-thriving tung oil industry. Her interest in art came naturally. Two uncles, her mother's brothers, were commercial artists in Chicago and an aunt wrote advertising copy for two New Orleans department stores. She took art classes in high school at St. Scholastica Academy in Covington. There she had one semester with Sonia Sekula, the noted Swiss-born Abstraction Expressionist painter. Between her junior and senior years, Hood spent 10 months studying art at the École des Beaux-Arts in Rouen, France. After finishing high school at St. Scholastica, she continued her art studies at Carleton College in Minnesota, Tulane University in New Orleans, the Art Institute of Chicago, Pratt Institute in Brooklyn, and Columbia University in New York, where she received a master of fine arts degree.
At Columbia, Hood encountered a faculty steeped in the Abstract Expressionist movement that dominated the 1950s New York art world. "My first semester, I started painting cows," she says with a broad smile and chuckle. "A professor told me that if I kept doing that, I wouldn't make it. I was thinking about walking through the fields, but I painted Abstract Expressionism and they loved it." After graduate school, Hood got a job at Florida State University, where she taught art and experimented with the various art "isms" of the day. Then in 1962, she returned to Louisiana, went to work as director of occupational therapy at the Southeast Louisiana Hospital in Mandeville and married St. Tammany realtor Henry Hood.
"With a new job and new marriage," she says, "I did not have much time to think about painting. When I figured out I was not going to be a cutting-edge artist after all, I decided that I might as well paint as I wanted. Mostly, I painted Henry's flower pots stacked around the yard or local roadsides, trying to keep them as gestural as the Abstraction Expressionism I admired. I got a studio and began painting fields and hedgerows along the Little Tchefuncte near our home in Folsom."
In the late 1960s, Hood began her long career in teaching art, first at her alma mater, St. Scholastica in Covington and then at Mandeville High School. In 1978 she joined the Southeastern Louisiana University art faculty in Hammond, where she held various positions until her retirement in 2006.
"While teaching at the university, I had to produce," she recalls. "That's when I turned to photography. I photographed big panoramic scenes, taped them together and painted long images of the river back in my studio." In the mid-1980s, Hood received a grant from the university to help underwrite her Pine Island series. Pine Island is a marshy and wooded area along the Tchefuncte River south of Madisonville in southwestern St. Tammany. With a four-by-five Graflex camera and tripod in tow, Hood spent two years walking through the woods, photographing scenes for later compositions. "It was fun coming home and taping the images together to see if I had caught the sense of what I was trying to capture," she says, recalling those long spring strolls in the forest.
While some artists like to paint en plein air (outside on location), Hood prefers to work from photographs. "I get very tied to the photograph I'm working from," she says. "I like the layering of that experience of walking in the woods, photographing forms and shapes that interest me, and compiling those images to see what works. Every painting has a different set of puzzles to solve and that's interesting to me. I work with what I see in the photograph and what I saw in the landscape. All of my paintings contain abstract elements. That's what I like to create."
A close look at Hood's paintings reveals not only the strong influences of the Abstract Expressionists, with their intense colors and energy-charged brushstrokes, but to a greater extent, the radiant palettes of Impressionist Claude Monet and Post-Impressionist Paul Cézanne – and for good reason. While attending graduate school in New York, Hood copied Cézanne watercolors wherever she found them. Then in 2002, while on sabbatical in France, she spent a month painting Monet's famous chalk cliffs in Étretat, Normandy, and locations in Aix-en-Provence that had inspired Cézanne a century earlier. "It wasn't Louisiana," she smiles, "but it was a great experience."
Over the years, Hood has combined all three of these influences to create a distinctive style, a style that has gained her considerable recognition. Hood's paintings can be found in various corporate and private collections, including the Historic New Orleans Collection. In 2010 the New Orleans Museum of Art featured one of her paintings in the major exhibition, Women Artists in Louisiana, 1965-2010.
Earlier in her career, however, she was reluctant to categorize her work. "I was a little embarrassed in those days when asked about my paintings," she recalls. "I would not admit that it was essentially Impressionistic. I called it gestural realism. I am not embarrassed any more." More important than Impressionism, Abstract Expressionism or even "gestural realism," Hood has found her poetry along the Little Tchefunte.