Artist John T. Scott Receives First Posthumous Humanist of the Year Award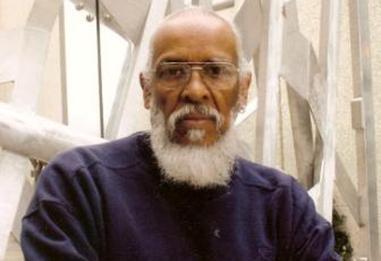 NEW ORLEANS (press release) – Late artist, teacher and visionary John T. Scott has been recognized with the Humanist of the Year award, given by the Louisiana Endowment for the Humanities. In addition to the Humanist of the Year award, the LEH has announced eight Humanities Awards recipients, recognizing documentary filmmakers and photographers, historians, literacy advocates and more.
Now in their 36th year, the LEH Humanities Awards offer a collective opportunity to celebrate all the humanities have to offer and honor those who have made great contributions to the understanding of Louisiana's history and culture.
The awardees will be highlighted in the spring issue of 64 Parishes magazine, published by the LEH, and they will be recognized during the Bright Lights Awards ceremony once public health conditions allow for safely gathering. Full ticket and program details will be available online later this year at www.leh.org/our-work/humanities-awards.
Humanist of the Year: John T. Scott
LEH's Humanist of the Year award is given for an individual's invaluable, lasting and recognized contributions to Louisiana's cultural landscape. 2021 Humanist of the Year John T. Scott was a prolific artist, teacher and visionary, whose work exists at the intersection of art, history and culture.
Named a MacArthur "Genius" Fellow in 1992, Scott is perhaps best known for his vibrantly colored kinetic steel sculptures and the longevity and impact of his more than 40-year tenure as a teacher, mentor and colleague at Xavier University in New Orleans. Scott is the first individual to receive the Humanist of the Year award posthumously.
The LEH houses the largest private collection of Scott's art, and in late 2021 will be opening The Helis Foundation John Scott Center as an avenue for showcasing and utilizing his work to develop integrated arts and humanities programming.
"The LEH was honored to have had a close relationship with John [Scott] for more than a decade before his passing," said LEH President/Executive Director Miranda Restovic. "By honoring him with the Humanist of the Year award and opening The Helis Foundation John Scott Center later next year, we hope to introduce his visionary work to new audiences. He was passionate about using his work to provoke conversations about human expression, human and civil rights and human interaction, and we seek to carry on that legacy."
Best in Digital Humanities: "Slow Burn" Season 4: David Duke
Produced by Slate and hosted by Josh Levin
New this year, the Best in Digital Humanities award recognizes publicly accessible digital humanities projects produced in the previous two calendar years (2019 and 2020), including websites, virtual exhibitions, podcasts and other born-digital initiatives that bring new insights to and/or significantly improve the public's understanding of the state, its history and/or its culture.
In six hour-long episodes, Slate's "Slow Burn" podcast and host Josh Levin explore the life of notorious white supremacist and former Louisiana politician, David Duke. Levin, a New Orleans native, expertly untangles the messy strands of Duke's self-promoting, self-aggrandizing past and traces his rise from a political outlier to a member of the US House of Representatives representing Louisiana's 1st District. Throughout, in interviews with political operatives, constituents and activists, Levin probes the question of what can happen when white supremacy goes mainstream.
Chair's Award for Institutional Support: Entergy Charitable Foundation
The Chair's Award for Institutional Support is given in recognition of significant financial or programmatic support of the LEH's mission and programs. The Entergy Charitable Foundation has been a longtime, valued donor to the LEH with total contributions topping $380,000. They have supported all aspects of the LEH's work, including public programs such as 64 Parishes, the annual Bright Lights Awards and PRIME TIME Family Reading.
Champion of Culture: Carol Bebelle
The Champion of Culture award is given to individuals or organizations that have made a lasting mark through their support and promotion of Louisiana's cultural resources. Carol Bebelle is the cofounder of Ashé Cultural Arts Center, a New Orleans–based organization that hosts and supports programs, activities and creative works emphasizing the contributions of people of African descent.
A recognized community leader dedicated to the arts and humanities, Bebelle was the longtime director of Ashé and oversaw its expansion from a once-vacant property to a large, modern, welcoming complex that includes performance spaces, art galleries and community housing. Bebelle, a published poet and writer, has mentored and supported multiple generations of artists, musicians, poets, performers and activists.
Documentary Photographer of the Year: Abdul Aziz
With the Documentary Photographer of the Year award, the LEH recognizes photographers whose work captures Louisiana's history, culture and/or peoples. This year's recipient, photographer Abdul Aziz, specializes in documenting human conflict. With past experience working in Somalia and the Gaza Strip, Aziz has more recently trained his lens on the modern-day struggle for civil rights and racial justice in Louisiana.
His photos of the tense scenes that accompanied the removal of Confederate monuments in New Orleans in 2017 and of Black Lives Matter protests across the state in the last three years document an often unflattering—but always critically important—moment in contemporary Louisiana life.
Humanities Book of the Year: "Katrina: A History, 1915–2015," written by Andy Horowitz and published by Harvard University Press
The Humanities Book of the Year best exemplifies scholarship on Louisiana topics or by Louisiana writers. "Katrina: A History, 1915–2015," by environmental historian Andy Horowitz, is an in-depth look at one of America's most destructive disasters. Horowitz, who holds the Paul and Debra Gibbons Professorship at Tulane University, finds the seeds of Hurricane Katrina and its aftermath nurtured over the course of the preceding century.
Humanities Documentary Film of the Year: "Professor Longhair: Rugged and Funky," directed by Joshua Bagnall and produced by Pat Byrd, Nadine Byrd, Alex Byrd, Chris Lee, Elsa Kern, Tom Roche, Yan Miles and Spencer Leven 
The Humanities Documentary Film of the Year award, much like the other media awards, best exemplifies scholarship on Louisiana topics or by Louisiana documentary filmmakers. Director Joshua Bagnall's "Professor Longhair: Rugged and Funky" captures the life and music of New Orleans cultural icon Professor Longhair, who was born Henry Roeland Byrd in Bogalusa, Louisiana, in 1918. Through interviews with friends, family and fellow musicians, including the late greats Allen Toussaint and Dr. John, the film goes beyond the music to explore Longhair's hardships and triumphs.
Lifetime Contributions to the Humanities: Frank de Caro (posthumous award)
Recipients of the Lifetime Contributions to the Humanities awards have supported and been involved in public appreciation of issues central to the humanities. Frank de Caro was a nationally renowned folklorist who was particularly active in Louisiana. De Caro served as first chairman and past president of the Louisiana Folklore Society. In these roles and through his writing he was instrumental in developing today's vibrant Louisiana folklife community. His last book, "Downtown Mardi Gras: New Carnival Practices in Post-Katrina New Orleans," was released shortly after his passing this spring of COVID-19.
Light Up for Literacy: Dr. Pat Austin
The Light Up for Literacy award, which is presented in partnership with the State Library of Louisiana's Center for the Book, honors individuals who have made significant and lasting contributions to literacy efforts in the state. Over the course of her more than 40-year career as an educator, Dr. Pat Austin has helped develop the literacy teaching skills of thousands of Louisiana educators.
After 16 years as an elementary school teacher, Austin earned a PhD in curriculum and instruction from the University of New Orleans, where she went on to serve as a faculty member for 26 years. She served as curator of UNO's Children's and Young Adult Library for two decades and has mentored countless student library volunteers and librarians in training.