Artist: Louisiana Monsters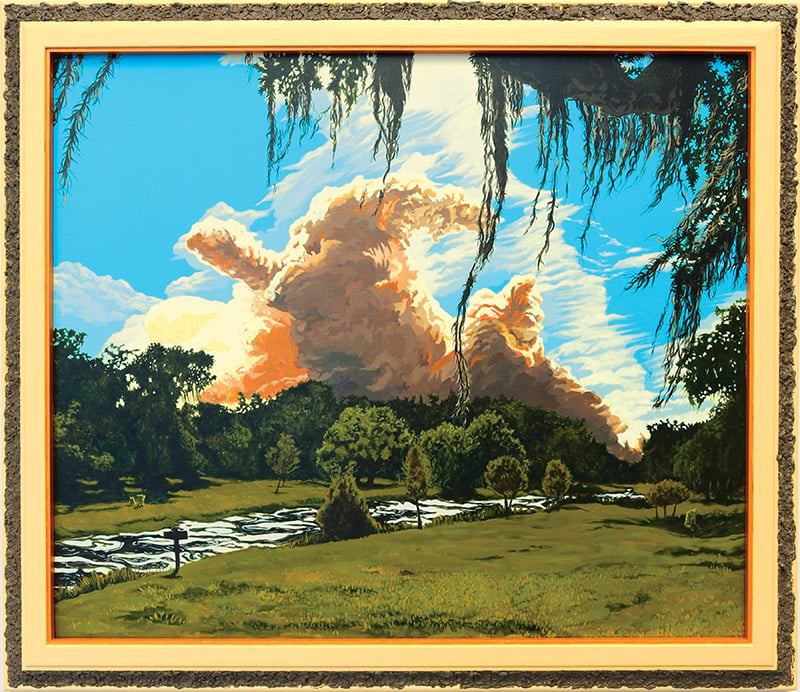 The South Louisiana landscape is filled with mythical symbols of the people and cultures that have struggled to survive in an increasingly industrial world that has swept across the state over the last century. Baton Rouge artist Jonathan Mayers, alias "rat de bois farouche (feral opossum)," bears witness to those struggles with his allegorical images of peaceful landscapes haunted by monsters that rise from his own imagination.
Mayers is a rising young artist on a mission to draw attention not only to the ecological damage being done to the Louisiana landscape but also to the fading Cajun and Louisiana Creole cultures and stories of his ancestors. In response, he is creating his own visual stories complete with monsters and beasts that appear like specters over the land and invade our consciences.
"As a Louisiana Creole artist who grew up in a region [where] individuality was modified through industrialization, consumerism and capitalism," he says, "my priorities are to create work which aims to reverse that homogenization, present new fantastic stories, and to provoke a dialogue on the importance of unique America-based, internationally-influenced, cultural region."
To describe that work, Mayers created a new French word – "Latanièrisme" that combines the Louisiana French word "latanière," meaning a grove of palmettos, with the French suffix "-isme" to imply a regional art that speaks of place, culture, folklore, spirits, language, identity and interconnectivity.
When searching for artistic inspiration, Mayers travels with his camera to places in their pristine natural state or to areas where human intrusion has damaged the land and where nature is struggling to heal those wounds.
"As someone whose grandfathers worked in the oil and gas industry, I feel as though I have a burden to bear," he says. "And bearing that, what I'm doing is to create an awareness about our unique landscapes, urging a perspective shift in how we appreciate, view and interact with them, and giving back to our community by creating new stories to tell. While my love of the landscape gives me a reason to travel to these locations, historical and environmental events that have occurred, are occurring, or will occur manifest themselves as creatures, beasts, and monsters in my paintings."
Mayers' "creatures, beasts and monsters" are not drawn from Louisiana's distant past; they reflect modern American and Japanese pop cultures, especially Japanese "kaiju" movies that included Godzilla, King Ghidorah and Mothra.
"Of course," he says, "I did hear traditional regional French, Creole and Cajun folktales about the Rougarou (Loup-Garou), though I didn't hear as much as I'd have liked to in my childhood. These narratives and creatures inspire me to create bizarre monsters and gargantuan beasts in my own work."
Mayers, who describes himself as an Acadian and Louisiana Creole, grew up in White Oak Landing, a bicycle's ride from the Amite River in East Baton Rouge Parish. He is a descendant of Acadians, French and Germans and other peoples who settled in Pointe Coupee and in the River Parishes south of Baton Rouge long before the Louisiana Purchase in 1803.
Like many artists, Mayers began drawing and painting as a child. He took art lessons in high school and received a bachelor's degree in studio art at LSU and a master's in art at the University of New Orleans. While at LSU he added the nickname "feral opossum" when he and an artist friend decided they needed artist aliases to be like the musicians they knew. Mayers chose "feral opossum."
"I know it seems repetitive to add 'feral,' " Mayers says, "but as a kid growing up in the suburbs of Baton Rouge, I enjoyed being outdoors in the swamps, bayous and forests. I saw the use of 'feral' as a way of shedding the domestication of self and suburban-American culture. I now go by 'rat de bois farouche,' which is the Louisiana French translation."
Following the lure of his French genes, Mayers traveled to Canada in 2015, 2016 and 2018 where he enrolled in the French immersion program at the Université Sainte-Anne in Pointe-de-l'Église (Church Point), Nova Scotia. As a result, he now moves with ease between English and French, obligingly throwing in helpful English translations.
This was his way of regaining what many French-speaking Louisianians lost many years ago when schools forced children, including his grandparents, to converse only in English. As the French language disappeared, so did many of their stories and legends.
"I believe many of the stories that I may have been able to hear and understand in French as a child were silenced," he says. "I set out to learn French so I could speak it in my household and with friends. Now, I create my own stories in French and English so that I'll be able to pass them down and share them with everyone."
When it comes to stories, Mayers takes a page from the Book of Genesis. When out exploring environmentally sensitive locations, such as the Manchac Swamp, Pearl River Basin, or on Belle River in Pierre Part, he reaches down and grabs a handful of soil or sediment to mix with the paint for his landscapes or to coat frames that hold his paintings. In a sense, the spirit of the land lives on each painting.
"This tactile element," Mayers says, "creates a relationship between the physical place and location depicted in the representational image, bringing an awareness regarding the reality of that particular landscape."
In recent years, his polychromatic phantasms have attracted attention in Louisiana and Canada, including Prospect New Orleans, the city's international contemporary art show. In 2017, he had his first solo show, "L'Éparpillage," at the prestigious Arthur Roger Gallery in the New Orleans Arts District. And last autumn, he served as artist-in-residence at Tulane University's A Studio in the Woods, located in a hardwood bottomland along the west bank of the Mississippi below New Orleans.
Whether Mayers fantasizing about the land and its struggles or his Cajun-Creole heritage, his paintings reveal an artist who cares deeply about family roots as well as the ecological and social challenges facing Louisiana.
"I love creating myths, legends, and beasts," he says. "It's a plus when I can express my sentiments toward historic or contemporary events in an adventurous and fun way. My destination is to build on our culture, which thrives on language, storytelling, sense of place, environment, haunts and humor."
---
"La Chousse verte sur la bordure du bayou des Acadiens (The Green Stump on the Edge of Bayou des Acadiens)"
"Vieilles Barges dans le marais salant (Old Haystacks in the Salt Marsh)"
"My destination is to build on our culture, which thrives on language, storytelling, sense of place, environment, haunts and humor."
"Le Mille-pattes d'écrevisse terrorisant toujours Jennings (The Centipede Crawfish still Terrorizing Jennings)"
"La Louve blanche protégeant Rayne (The White Wolf Protecting Rayne)"
Photograph of Jonathan "rat de bois farouche" Mayers drawing on the panel for painting "Le Marécage de Maurepas"
"Le Marécage de Maurepas (Maurepas Swamp)"
---
For more information about Mayers, visit jonathanmayers.com.
---
Exhibitions and Events
THROUGH MARCH 10
New Orleans
Ogden Museum of Southern Art. "New Southern Photography." Exhibition features photography practiced in today's American South.
ogdenmuseum.org
THROUGH MARCH 29
Shreveport
Meadows Museum of Art. "Global Contamination : A Gulf Project." Artist Joan Hall creates sculpture from plastics collected from the Gulf of Mexico. 
themeadowsmuseum.com
THROUGH APRIL 27
Lake Charles
Historic City Hall Arts & Cultural Center. "Image Hunter: On the Trail of John James Audubon." Italian painter Hitnes retraces Audubon's journey.
www.cityoflakecharles.com
THROUGH MAY 11
Monroe
Masur Museum. "The 56th Annual Juried Competition." Exhibit features contemporary artists from across the nation.
masurmuseum.org
THROUGH MAY 18
Lafayette
Paul and Lulu Hilliard University Art Museum. "Slavery, The Prison Industrial Complex: Photographs by Keith Calhoun and Chandra McCormick." Husband-and-wife photographers explore life inside Angola.
hilliardmuseum.org
THROUGH JUNE 2
New Orleans
New Orleans Museum of Art. "Keith Sonnier: Until Now." First comprehensive museum exhibit for this pioneering Grand Mamou-born New York contemporary artist.
noma.org
THROUGH JUNE 9
Baton Rouge
LSU Museum of Art. "Across the Atlantic: American Impressionism through the French Lens." Explores the path to Impressionism through the 19th century.
lsumoa.org
THROUGH JUNE 22
Alexandria
Alexandria Museum of Art. "Sordid and Sacred: The Beggars in Rembrandt's Etchings." Features 35 rare etchings by the master executed between 1629 and 1648.
themuseum.org
THROUGH JULY 6
New Orleans
Newcomb Art Museum. "Per(Sister): Incarcerated Women in Louisiana." Art created by formerly incarcerated women in partnership with local and national artists.
newcombartmuseum.tulane.edu
---