Back to the Source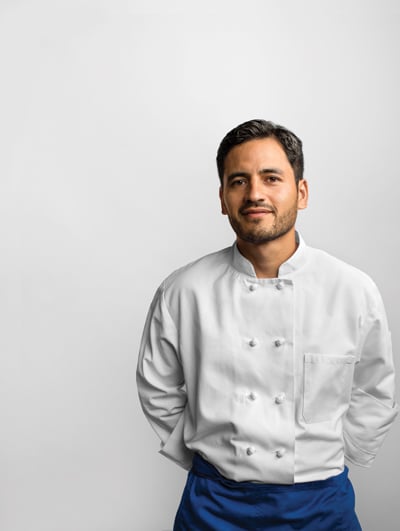 Growing up in the Mexican state of Oaxaca, Gabriel Balderas would accompany his grandmother to local marketplaces, selecting fresh ingredients for each day's meals. In a region with a year-round growing season, eating fresh, locally raised ingredients wasn't a lifestyle enjoyed by a small percentage of diners — it was the norm.
"Any food that we ate was locally grown," Balderas says. "What was most important was the freshness of our ingredients."
Balderas moved to the United States at age 16. Working in fine dining kitchens for superstar chefs including Rick Bayless and Enrique Olvera, he sought out opportunities to learn from experts of every kind, from line cooks to farmers. An advocate for home-cooking, Balderas bristles when others address him as "chef."
"In this industry, you can learn from anyone," Balderas says. "I go to villages in Mexico, and I cook with the local people and I learn from them, but no one calls them 'chef'."
In 2015, Balderas left his job at a Tex-Mex eatery in Shreveport to establish El Cabo Verde. El Cabo Verde is a project that has taken on many different forms: a pop-up supper club, a farmers' market booth and even classes on topics like fermentation and preserving. This fall, he'll open his first restaurant, El Cabo, in Shreveport. The menu at El Cabo will include Tex-Mex as well as authentic Mexican cuisine made using regionally sourced, seasonal ingredients.
"If I'm going to represent Mexican food, I want to represent it the right way," Balderas says. "I want to serve the food that my grandparents grew up eating."
---
El Cabo
1023 Provenance Place Blvd.,
Suite 210, Shreveport
facebook.com/elcaboverdeorganics
---
Mole Con Vegetables
Mole
8    chiles guajilllo
5    chiles Puya
2     pounds fresh corn
3    heirloom tomatoes
2    garlic clove
½    onion
3    cups of water
Okra
5    pieces okra
1    cup water
½    cup vinegar
salt
2    dried chiles
Eggplant
2    eggplant
2    tbsp arbequina
olive oil
salt and pepper to taste
Potatoes
3    potatoes, peeled and cubed
2    tbsp arbequina olive oil
salt and pepper to taste
Zucchini
3    zucchini, sliced
2    tbsp arbequina olive oil
Salt and pepper to taste
Corn
1    ear of corn, shucked and trimmed
2    tbsp arbequina olive oil
salt and pepper to taste
Garnishes
thinly sliced radishes
sliced serrano peppers
1. Mole In a pan sauté the chiles, corn, tomatoes, garlic, and onion in the oil over medium–high heat. Add the salt and water and cook, stirring constantly, for 25 minutes. Blend and strain.
2. Pickled Okra Bring all ingredients to a simmer, pour into jar with lid. Allow to sit for a minimum of 6 hours.
3. Eggplant Heat olive oil over medium heat. Cook approximately 10 minutes or until potatoes are tender. Place in oiled dish in oven at 350 for 20 minutes.
4. Zucchini Sauté in oil over medium heat until tender.
5. Corn Sauté in pan over medium heat until tender.
6. To Plate Pour mole sauce in center of the plate. Next place potatoes, zucchini, eggplant, corn, sliced pickled okra, and garnishes.
MAKES 6 SERVINGS
---