Baiting the Hook in Plaquemines Parish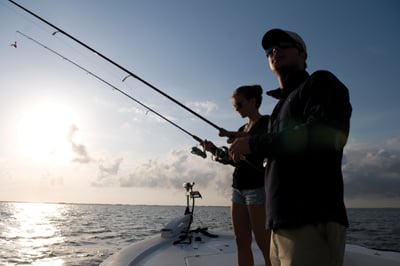 The big oil freighter sails down the swollen Mississippi River at 20 knots,
as fast and wild as if it were a toy in the bathtub.
"She's from Greece," my fishing guide, Ryan Lambert, informs me as we stare at the 10-foot-high wake receding behind it. It separates the river into a monstrous wall of water, building waves that lap at our feet like the ocean.
"That ship is so heavy, it's sucking water," Lambert says. "Her butt is sagging like an old woman."

He brought me down to the river to have a look and explain what this narrow spit of land called Plaquemines Parish is all about and show me the people who call it home.
Plaquemines Parish is a watery place, a narrow finger of land jutting into the Gulf of Mexico. It is radically exposed, bearing the brunt of the hurricanes that batter the South. It is made up of 845 square miles of land but 1,584 square miles of water. From space, this area of the Mississippi River Delta looks like radiating capillaries and veins. No matter how many times the residents get nailed by storms – and most would say that it's been a few times too many – they rebuild and stay. They are a different breed. Add to that problem the 2010 Gulf oil disaster and their ongoing disappearing marshland. Yet the fishermen still stay.


The land and the water is their way of life. Many began their connection as lads running traplines. They could skin 75 nutria and muskrat a day, thinking nothing of sitting atop a pile of skins, meat and guts while eating their sandwiches over lunch. Lambert's grandfather was a fisherman, and Lambert has been guiding ever since he was 24 years old. "From the time I could remember, I only ever wanted to hunt and fish," he says.
These men learned the bayous and inlets and tributaries and where the best and the biggest fish hang out.
Plaquemines Parish is a place that pulls hard on the heartstrings, whether you are third generation here like the Lamberts or just stopping in to catch some fish like me.
The Mississippi is high and moving at 7 to 10 knots. Ships have to sail faster than the river to maintain steering and "just hang on for dear life," Lambert says. The freighter is heading for Pilot Town, which sits 15 miles south of here, and then the Gulf beyond. Pilot Town is merely a series of elevated catwalks connecting a handful of buildings, seemingly floating above the Gulf. Pilot Town is not "at the end of the road," but a helicopter or boat is necessary to access it.
Venice, 15 miles south of where we stand on the Buras riverbank, is the official "end of the road." It is also the jumping-off point for the oil and gas men who work rigs on the Gulf, as well as ship captains. These are the main occupations here in Plaquemines: oil, gas and boats.
Here in Buras, we are not far from the southwest pass of the Mississippi, the main channel and major shipping lane to the Gulf since 1853. A ship captain must relinquish control of his rig when he comes through here, employing a specialized pilot to negotiate the complicated arteries of the lower Mississippi.
Soon after the freighter sails by, a tug pushes a container ship upriver, its contents chained down on the flat deck.
"Everything imaginable is in that ship, coming from China: everything you wear, in your car, your home," Lambert tells me.
My fishing buddies and I will cross this busy shipping lane tomorrow morning, a risky maneuver considering the traffic. But we feel in good hands. Lambert has been escorting clients like me on fishing trips for more than 35 years. People come to Plaquemines Parish because its waters teem with a huge assortment of fresh- and saltwater species, creating some of the best fishing in North America. Just being in the Mississippi River's presence tonight is enough to build excitement for tomorrow's fishing adventure.
Sunscreen, baseball caps, microfiber long-sleeved shirts and a sense of adventure are all that we need for our fishing adventure. Come morning, Lambert launches a 24-foot bay boat into the Mississippi River on the west bank. He guns the 300-horsepower Yamaha engine across the mile-wide, 190-foot-deep muddy river to the east bank. I find this wildly exciting, as I scope upriver and downriver for ships.
Anglers can easily get into trouble fishing the Mississippi River. First off, they are fishing in T-shirts with warm temperatures of 70 degrees. But in the winter, the Mississippi drains cold places up north and the water can be in the low 40s. Lambert tells me a sad story about a group of anglers whose boat got overturned when their engine died and the current and tides flipped them. They had their life jackets on and hung on to the boat's side, hopefully awaiting a rescue. But in 30 minutes, they all died of hypothermia. You must keep your boat powered up all the time when the river is high and pushing hard.
You have to be on your toes all the time, and it is best to fish with someone who knows the waters. Lambert tends to fish close to shore, where he can "walk home" if he gets stuck. Out in the Gulf, the monster lunkers live. These breeders get up to 40 pounds, but one must travel 50 to 80 miles offshore to get there. It is 3,000 feet deep out there.
"My anchor doesn't reach that far," Lambert
explains. "What do you do if you boat catches on fire – drift? Jump into the water and hope someone rescues you?"
Lambert cuts the boat around the Ostrica Locks where the water swirls in whirlpools and confusing tides and swift currents. Lambert easily bullies the fishing boat through the twists and turns and then speeds across Quarantine Bay.
Many different species of fish can be found in the waters surrounding Plaquemines Parish. Before the tragic British Petroleum oil disaster, there were even more species. Trout have become scarce as of late, but the crowning jewel, the reds, are healthy and prosperous. It is not uncommon to pull 4- to 6-footers out of these waters, though I do not have such high hopes for myself.
Once situated, Lambert shows me how to take my Quantum rod and reel and bait my hook with artificial lures on the 15-pound test line. My fishing comrades haul in one 4- to 6-pounder after another. These 20- to 22-inch fish are approximately 2 years old, Lambert tells us. They live here in Louisiana's swamps for about four-and-a-half years. Then they move offshore to the Gulf of Mexico to breeding schools.
When I do not get results with an artificial lure, Lambert slides on a slimy shrimp and then, later still, a sight indicator. He says: "Some people get addicted to this, like a predator species, trying to outsmart the fish. It is part of the hunter-gatherer instinct in us." While the men seem to be naturals, I am challenged with setting my hook.
My fishing buddies want to see me be successful probably more than I do, so they help me set my hook and are amused to see me thrust the rod's handle into my abdomen for leverage and work hard to crank it in. Seeing the fish's shining body slither through the water is a thrill, helping to build my confidence and making me want more.
I am enjoying watching the wading birds and flapping ducks, smelling the rich scent of the river and feeling the warm sun on my face; I am happy just to be here in the waters of Plaquemines Parish. For me, these sensory impressions are even more enjoyable than catching fish, which is just a perk. If the cooler fills with fish or doesn't, so be it, although Lambert tells me they will sure taste fine at dinner.
Lambert's Cajun Fishing Adventure Lodge in Buras is a set of three lodges providing beds for 35. My friends and I are staying in the Main Lodge, a massive, impressive log building that sleeps 18. It sports oversize leather chairs, a big-screen TV, a pool table, a Jacuzzi, a pool and a long wooden dining table that encourages conversation and camaraderie over meals – swapping fishing yarns, for the most part. Sport Fishing magazine rated Cajun Fishing Adventure Lodge one of the five top lodges in North America in 2011.
Tonight's dinner begins with huge plates of steaming shrimp and bowls of hearty gumbo, followed by our redfish for the main course. Thirty percent of our nation's seafood is harvested from these Louisiana waters. It is the most tested, regulated and safest seafood in the world.
Lambert has his chef prepare a special recipe, Ryan's Redfish: two fillets stuffed with a shrimp mixture, layered with sliced tomatoes and lemons and smothered in a rich cream sauce. He jokes, "Nothing is light at my lodge except the light bulbs!"
Some folks are still hesitant after the oil disaster to come to Plaquemines to fish, Lambert explains, but the fishing is alive and good. I personally have never tasted seafood so delicious and fresh.
He tells me that although Hurricane Isaac, which moved painfully slowly through the area last August, was devastating for property, it greatly improved water quality. The storm resulted in flushing out the stagnant water and ridding the marshland of algae. Lambert did notice that the speckled trout have been a little scarce since the oil disaster as they move around more and are more affected by water temperature and food availability. The redfish, however, adore dining on crabs, are always in the marshes and provide excellent fishing year-round. Autumn and spring are the most popular times to come fishing, but winter is great, too, and Lambert offers additional duck hunting excursions.
After dinner, Lambert pulls out a large satellite map mounted on foam core to explain an even worse problem than the oil disaster. What shows up as land on this slightly dated map is now gone, underwater. Ever since the river was engineered with levees and canals beginning in the 1930s, the land has suffered from saltwater intrusion and is disappearing. A football field-size chunk of land sinks into the Gulf every 40 minutes.
Before the levees were built, the river would flood its banks in the spring, and the result would be new land being built. With the levees in place, the river's natural ability to build land is gone. Since all the freshwater and sediment is shooting straight out into the Gulf, saltwater is able to intrude in fragile marshes where freshwater plants are growing. The saltwater kills these plants' root systems, and, just like that, another football field-size piece of land turns to soupy mud and slides into the Gulf.
Now Lambert frequently has to use a GPS to find his way around and cannot rely on sight or memory. One million acres of grassland in South Louisiana has already been lost. There is no other place on earth where land is disappearing at such a rapid rate.
The newly passed Restore Act, however, is a bright spot in Plaquemines Parish's future. Money from the Clean Water Act will build diversions that will punch big holes into the levees, bringing sediment and freshwater back into the marshes.
"[It] will be like returning lifeblood to the starved marsh on the east side of the levee," Lambert explains. Aquatic food, animals, plant life, fish and land will hopefully all return.
"As soon as that first hole is punched in the Myrtle Grove Diversion, our future in Plaquemines Parish will grow brighter," he says.
To Lambert and residents like him, it will mean that their fishing lifestyle will endure – and for all the rest of us, great fishing will continue to be enjoyed.