barometer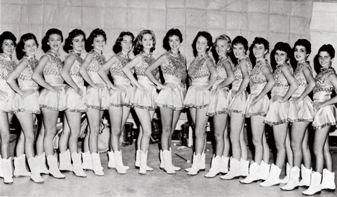 Still golden. The LSU Golden Girls dancing group will have a 50th reunion celebration Oct. 31 when they – including alumnae from as far away as England – will take the field with the Tiger Band. According to the Web site www.bands.lsu.edu, today's Golden Girls will be wearing costumes this season that are designed to match the original costumes. As always, when the Golden Girls give a "high five" salute, they'll do it with their toes – and in unison!

"A" for Tech. Louisiana Tech University ranked first in Louisiana public colleges rated in Washington Monthly's 2009 national university college rankings. Schools' ratings are based on their contributions to the public good in three broad categories: social mobility (recruiting and graduating low-income students), research (producing cutting-edge scholarship and Ph.D.s), and service (encouraging students to give something back to their country).
"Snoozer" not a loser. Tulane University graduate student Kathryn Hobgood, a Bogalusa native, chose as a thesis topic a distant relative, the late jazz guitarist Eddie "Snoozer" Quinn, another Bogalusan, who died in 1949. Quinn played with Paul Whiteman, Jimmie Davis and Louis Armstrong. "He was one of the very earliest jazz guitarists, and though he is obscure, he is considered to be one of the true greats by jazz-guitar aficionados," according to Hobgood.
She is currently looking for letters and photos and "most of all, the recordings he did for Victor in 1928 which were never widely released." Anyone with information on Snoozer can contact Hobgood at khobgood@tulane.edu.
When the thunder rolls. Louisiana High School Athletic Association coaches have had to rely on hearing thunder to start a 30-minute game stoppage for lightning. Each time the official hears thunder, the stop clock is reset for 30 minutes. For the 2009-10 school year, the LHSAA will allow an alternate method, a lightning detector. The small, handheld pager-like device alerts the user to lightning strikes and gives a color-coded distance of the lightning from the field. Officials can then allow the event to continue despite the sound of thunder if the lightning is more than 12 miles away.
Gridiron gals. Starting next spring, St. Landry Parish will be home to Acadiana Zydeco, a new professional women's full-contact football team. The team is the brainchild of Mia Ben, an Opelousas pediatrician who has been playing women's football with Baton Rouge teams for the past four years. The new team is part of the Women's Football Alliance, a full-contact league that will host its inaugural season next year. So far, 36 teams have signed on. Home games in the eight-to-10-game season will be played at the Beau Chene High School Stadium.
They'll fly away. Bradley Boutte and his wife, Brenda, of Kaplan, as owners of BB Wings of Love, took part in the largest simultaneous white dove release in history this Sept. 11 when they released 50 of their flock in a ceremony at the Kaplan Fire Station. The Bouttes are members of the National White Dove Release Society, online at whitewingsoveramerica.com. The birds are not actually doves; they are all-white homing pigeons called "release doves."
"They are bred to return back to their home," Bradley Boutte says. "It is inhumane to turn loose regular white doves, but homing pigeons come back."

Documenting deaths. A four-year-long investigation into the unsolved deaths of eight young women in Jeff Davis Parish is now the subject of a Swiss documentary. Filmmakers Paul Nixon and Jon Bjorgvinsson of Kodiak Productions of Switzerland have been interviewing relatives of the victims, local residents and investigators and visiting crime scenes.
Bare scene for teen queen. The former Miss Louisiana Teen USA, who was arrested last year on a marijuana possession charge and for skipping out on the bill at a Bossier City restaurant, is Playboy's Playmate of the Month for October. Lindsey Evans of Blanchard was interviewed at the pool at the Playboy Mansion in Los Angeles. "Right now, I want to focus on my issue, but I will say that my record is clean, and I haven't been in any trouble since then."