barometer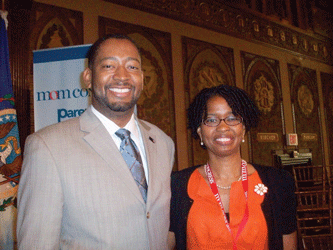 Put That Shot!
Northwestern State University shot put star Trecey Rew has set her sights on the 2012 Summer Olympics. She ranks fifth among all shot-putters in the nation, with a best throw this season of 55 feet. Coach Mike Heimerman believes she can do even better. "There are not many 60-foot throwers in this country at all, so she's already right there with the elite," Heimerman told the Alexandria Town Talk.
"Beam"ing Memorial
Covington Fire District 12 Deputy Chief Steve Krentel worked hard to procure a rusting 20-foot beam from the wreckage of New York's World Trade Center. He said the beam will be part of a memorial in front of the station at the intersection of Louisiana highways 36 and 21 and will honor New York's first responders and all firefighters killed in the line of duty –– those who continue to "run in when everyone else is running out," according to
the St. Tammany News.
Chipping Away
Researchers with the LSU AgCenter have completed a study on woody biomass supplies in a 75-mile radius around Bastrop. The report concludes that annually renewable quantities of unclaimed woody biomass are 2,513 dry tons mill residues, 92,857 dry tons standing hardwood trees in growth and 1.7 million dry tons logging slash. "I think it will definitely make us more competitive in the biofuel industry," Morehouse Economic Development Corp. CEO Kay King told the Bastrop Daily Enterprise.
Mom Congress
Erin Jones of Baton Rouge was a middle school teacher and school counselor when two of her students nominated her as a delegate to the first Mom Congress sponsored by Parenting magazine and the Georgetown University School of Continuing Studies. Jones was in Los Angeles when chosen but was switched to represent Louisiana after California budget cuts took her job and led to her return to her native state. Jones, mother of Sunna, 6, told the Baton Rouge Advocate that the Mom Congress was designed "to celebrate and connect moms fighting for better schools. It was great to meet other moms from all over the country."
Twins Across the Ocean
Fifty-nine Belgian visitors in Kaplan for the twinning ("jumelage" in French) of the city with Hannut, Belgium, had to extend their stay because a volcanic eruption in Iceland canceled their flights. As reported in the Abbeville Meridional, a dinner at Magdalen Place, a barbecue at the Lake Arthur Yacht Club, a mini-mock Mardi Gras parade in Turnley Park and a tour of the Legislature in Baton Rouge were part of the Belgians' activities.
Salad Scam
Rosie's Café in Galliano received a call through a Telecommunication Device for the Deaf operator placing an order for 900 salads to be picked up the next day. The caller provided credit card numbers to pay the $2,620 tab and then asked the manager to add $1,070 in cash and wire it to them. The manager became suspicious and confirmed through the café's bank that the credit cards either belonged to a deceased person or had been reported as stolen. The Lafourche Parish Sheriff's Office is warning local businesses about the scam, reported the Lafourche Gazette.
Ex-Con and Still at Work
Michael Patrick Brunton, a former financial officer at Franklin Medical Center, was arrested and jailed on charges of felony theft and extortion. Sheriff Steve Pylant told the Franklin Sun that Brunton "apparently bought some things [with hospital credit cards] he said were to be auctioned off to raise money for Relay for Life, but some of those items were not auctioned." Bruton's "resumé was impressive," FMC CEO Leon Belila said, "and all background/sanction checks returned without incident." However, when hired in 2006, Brunton had been released from federal prison for a mail fraud conviction only a month before. He is still currently on federal probation, said Pylant.
Unequal Again
A bill intended to create equal pay for women doing the same work as men was defeated in a Louisiana House committee. It marked the fifth time since 2005 the Louisiana House or a House committee has rejected similar legislation, according to the Baton Rouge Advocate. n