barometer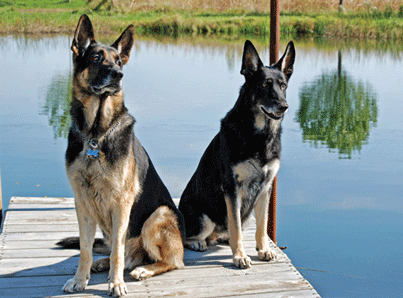 Step It Up!
Southeastern Louisiana University dance students Nicole Judson of Baton Rouge and Jeoffery Harris Jr. of New Orleans performed River Rise, a dance choreographed by Harris, at the American College Dance Festival Association's National Festival at the John F. Kennedy Center in Washington D.C. As Harris told the Baton Rouge Advocate, "Being the first student from Southeastern whose choreography was selected for the national level is a great achievement for me as a choreographer."
Rhythmic Adjustment
Leesville chiropractor William Wilkerson was watching Trace Adkins perform at Freedom Fest at Fort Polk when he noticed a woman in the audience stretching, as if she were trying to get relief from hip pain. He offered to help, only to find out that the woman was Adkins' bus driver who had been on the road several weeks and welcomed his aid. Wilkerson adjusted her, as well as Adkins' guitarist and violinist, according to the Leesville Daily Leader.
Have Tunes Will Travel
The Hammond Daily Star reports that Julie Rozman, daughter of Ponchatoula residents Lawrence and Beth Powell, will perform works for the organ by Anton Bruckner during the 2010 Salzburg Festival in Austria. Rozman,
an LSU graduate with a degree in piano, received the Rotary Ambassadorial Scholarship and studied organ at the Mozarteum University in Salzburg. She now teaches at Broward College in Davie, Fla. As a youngster, she played at the First United Methodist Church of Ponchatoula and this summer gave a recital for her home congregation.
Lighting the Way
The Concordia Sentinel reported that the new lighting illuminating the Natchez-Vidalia Mississippi River Bridge fulfills two mayors' dreams. Butch Brown, current executive director of the Mississippi Department of Transportation and former mayor of Natchez, said that he and Vidalia Mayor Hyram Copeland both wanted bridge lighting, but neither city had the funds. After rising to his department position in 2001, Brown used Mississippi transportation enhancement funds to jump-start the project and help with its hefty price tag, an estimated $3 million. "It's not an inexpensive thing," he said.
Water Trackers
Training for K9s does not typically involve water, but because Tangipahoa consists
of many waterways, the Tangipahoa Parish Sheriff's Department dogs and their handlers took to the Tangipahoa River to practice aquatic apprehensions, reported the Amite Tangi-Digest. "This is more of a realistic training than just jumping hurdles," said Deputy Mike Dean Jr. "You never know when you'll need to send dogs in."
A Signal Honor
Alexandria native Army Chief Warrant Officer Louis T. Nash III's photograph was featured on the cover of the Army Communicator magazine, with an article about signal warrant officer education and training changes. The Alexandria Town Talk reported Nash was chosen to be featured by instructors. "It is a great honor to represent the Army and also the Signal Corps' 150th anniversary," Nash said.
"Sexy Boudreaux" Pays Off!
"Sexy Boudreaux," a Cajun line dance song by Leesville band Wild Ride, took the community by storm recently and helped raise $2,500 that the band then donated to the Lions Club for their Crippled Children's Camp in Anacoco, reported the Leesville Daily Leader. DJ Boomer of KJAE radio promoted sales of the
CD featuring band members Dwayne Massey, J.R. Prescott, composer Bob Gauthier, leader Dalton McKee and singer Stacey Eckman.
Caught on Screen
Monroe resident Jason Week was in the hospital recovering from multiple gunshot wounds suffered during a break-in at his home when he saw his attacker on the evening news being arrested for another crime. According to the Monroe News Star, Week's prompt call to the police resulted in Laniford Payne of West Monroe being
charged with attempted armed robbery and attempted second-degree murder.