Barometer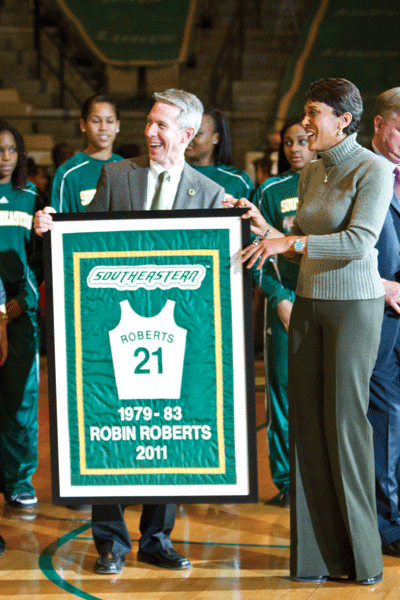 Crawfish on Cable
The Cooking Channel will include Abbeville restaurant Cajun Claws in an upcoming episode of the show Hook, Line and Dine. Jodi Choate, who owns the restaurant with her husband, Donni, said the show follows how food is caught in the wild and turned into a meal. "It's an honor to have that kind of attention," she told the Lafayette Advertiser.
Law Enforcement Online
"We had run out of leads trying to determine who might have been responsible" for a string of home burglaries, said Morehouse Parish Sheriff Mike Tubbs. That's when his department's subscription to the Leads Online database of item descriptions and serial numbers paid off: A stolen item showed up at a pawnshop outside Dallas, and a Monroe man was apprehended, said the Bastrop Daily Enterprise. Rayville, Oak Grove, Monroe and other law enforcement agencies also subscribe to the service.
Step on a Crack . . .
The town of Independence is getting $300,000 to build sidewalks in neighborhoods near Independence Elementary and Middle schools. Elementary Principal Kathy LeBlanc said the school district wants to encourage students to bike or walk to school. The Advocate reported that the grant from the state Department of Transportation and Development will also let the town put electronic speed detectors around both schools.
Rewarding Trip
Dalcus "DJ" Williams Jr., a National Guardsman living in Baton Rouge, posted a question on the
louisianasportsman.com Web site: "Does anyone have an extra seat on a boat?" He wanted one last fishing trip before deployment to Afghanistan, according to the St. Bernard Voice. Sweetwater Marina in Delacroix responded and offered to put up Williams and his wife and daughter for the night, cook their meals and take them out on the water, free of charge. The Williams family had sunny skies and smooth sailing, according to Captain Jack Payne.
Once A Lion . . .
Good Morning America co-anchor and former Southeastern Louisiana University Lady Lion Robin Roberts proudly supported the green and gold as the university retired her basketball jersey, the Hammond Daily Star reported. She is one of four Lady Lions who has more than 1,000 career points and rebounds and ranks as the sixth all-time scorer and fourth all-time rebounder. "This is truly my sports moment," Roberts said.
New Living Legend
Dotsie Langlinais LeBlanc has been inducted into the Order of Living Legends, Andy Perrin, chairman of the Executive Committee of the Acadian Museum, told the Abbeville Meridional. A native of Cow Island, in 1976, Leblanc published Le Petit Fourmi ca Casse sa P'tit Parte dans la Neige (The Little Ant That Broke Its Leg in the Snow) in response to a request by CODOFIL for Cajuns to write stories told in their families. In 1978, she collaborated with the artist George Rodrigue and published Le Petit Cajun, and in 1994, she began a project to photograph some 500 state historical markers.
Bars-Tenders
Two Sabine Parish sheriff's deputies moved to the other side of the bars after being arrested for supplying whiskey in 2-liter Dr Pepper bottles to inmates. A fight that sent one inmate to the hospital prompted the internal investigation. Jailers on duty discovered several of the inmates were intoxicated, according to the Shreveport Times.