Barometer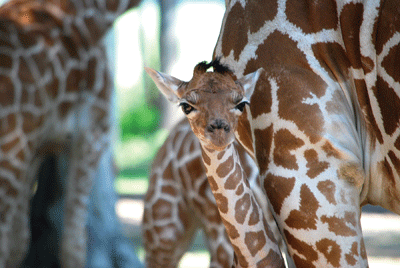 High-Born
Census counters may take note that the state's giraffe count has increased by one, and while that may not get us back a congressional district, it does raise Louisiana's overall cuteness quotient. The baby boy, a reticulated giraffe, was born to proud parents Sandee and John at Global Wildlife Center, near Folsom in St. Tammany Parish, on July 31. Standing 6 feet and weighing 175 pounds, the newborn has lost no time proving that boys will be boys by chasing zebras. Meanwhile Sandee and John are rumored to be embroiled in a controversy over which one of them their newborn resembles most.
Bayou Boys Are Back
The Bayou Boys, a football team of Des Allemands School seventh- and eighth-graders, celebrated a 50th reunion this year at the Catfish Festival, the St. Charles Herald Guide reported. Coach Morris Friloux, 77, recounted the team's miraculous rebound from a losing season one year to winning a West Bank championship and capturing the Catfish Bowl title over an East Bank team in 1961. Friloux's secret weapon? He allowed his team to call plays in Cajun French.
I-49 Gets Green Light
The $160 million needed to complete Interstate 49 North to Arkansas has been assured since legislation securing the final bonded debt to pay for the project was signed into law, reported the Alexandria Town Talk. The name of Alvin B. Kessler, a longtime champion of the highway project, will be given to portions of I-49 connecting Louisiana Highway 1 to the Shreveport-area Martin Luther King Jr. Drive and the continuance of I-49 to Interstate 220.
Tops in Taste
Lafayette is one of the Top 6 contenders in the small-town Best for Food category in Rand McNally's Best of the Road summer competition. Designated judges James and Bonnie Parr of St. Petersburg, Fla., spent two days in town, according to the Lafayette Daily Advertiser. Besides their numerous meals, City-Parish President Joey Durel presented the Parrs with a book of artist George Rodrigue's work, a key to the city and a declaration making the couple honorary Cajuns.
Pineville's Got Talent
The first episode of the television show America's Got Talent's Las Vegas Week featured 28-year-old singer, piano player and Pineville native Dezmond Meeks as one of the 21 Judges' Favorites. Now living in Los Angeles, Meeks is currently working on a full-length album, and his EP "Music Is My Sanity" is available on iTunes, as is the single "Them & Me," according to the Alexandria Town Talk.
New Next Year For NSU
Northwestern State University's new Student Services Center is scheduled to open in January and will consolidate student services that are currently housed in four different buildings on campus. NSU President Randall J. Webb said the project "will provide our students a one-stop shop. … It's a demonstration of how highly we value students." The new $6 million building, which will have 34,451 square feet, will resemble the traditional red-brick design prominent throughout the campus, said the Leesville Daily Leader.
Father's Day Special
Some 668 children attended this year's Returning Hearts celebration at Angola State Prison. The program, uniting children with their incarcerated fathers, was open to inmates who completed a fathering program run by prison chaplains and inmate-ministers. For the day, a play area was set up in the prison's "old" rodeo area with basketball goals, inflated castles and carnival rides, the Baton Rouge Advocate reported.
Spillway Blues
The opening of the Bonnet Carré Spillway has left Spillway Road in bad shape and with more damage than the road suffered in 2008, according to Renee Simpson, St. Charles Parish spokeswoman. The St. Charles Herald Guide noted that the force of the water eroded the road most severely near the seven culvert crossings. n
Quotable
"I was raised with wooden boats and cypress canopies and black water sloughs; cane field ditchbanks and fence rows full of sequestered quail; horses to ride, far afield, far and away; good dogs and blue shotguns, and most of all, the sun in my face."
"From the Other Side," Roger Emile Stouff, St. Mary and Franklin Banner-Tribune