Barometer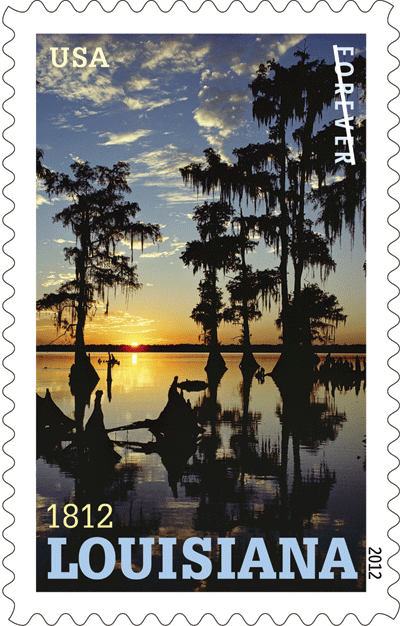 Worth a Licking
The U.S. Postal Service will salute the 200th anniversary of Louisiana statehood in 2012 with a first-class Forever stamp. The stamp features a C. C. Lockwood photograph of Flat Lake in the Atchafalaya Basin near Morgan City.
Going Nuts
The Monroe News-Star reported that northeastern Louisiana pecan-growers have a high-quality crop this year but are harvesting a little later than normal. "We need a really good frost to pop the shucks so we can shake them off the tree," said Rick Pierce of Ouachita Parish. "Everybody said they have that good taste to them, and they've filled out good. We might run low, but we're not going to run out."
Port Certified
The Port of Pointe Coupee has been designated as a Louisiana Certified Site by Louisiana Economic Development officials, the Baton Rouge Advocate said. The port, located near the confluence of the Mississippi, Atchafalaya and Red rivers, is now the ninth certified, development-ready site in the state. Certified sites are given priority consideration for referral by the state economic development agency to companies interested in relocating or expanding in Louisiana, according to Scot Byrd, Pointe Coupee Parish's director of economic development.
Funding Fresh Air
A $38,000 grant from the U.S. Environmental Protection Agency, under the Tools for Schools program to improve air quality, will target more than 40 public and private schools in Tangipahoa Parish, as well as at least 30 private homes, the Amite-Tangi Digest announced. Coordinators will be trained to document indoor air quality and implement measures "to improve and sustain air quality in our schools, homes and other microenvironments," said Ephraim Massawe, assistant professor in the Department of Computer Science and Industrial Technology at Southeastern Louisiana University.
Start Your Engines!
Monroe businessman Gus Campbell has purchased the Monroe Motor Speedway and will revive the track as Revolution Park, announced the Monroe News-Star.
Campbell paid approximately $812,000 for the facility that was built for $6.3 million only three years ago. Plans to improve the complex range from surfacing the parking lot to installing restrooms in the racing pit, and securing the NASCAR affiliation again will be a top priority. Campbell emphasized the facility will be a venue for a variety of other events as well as racing, from concerts to flea markets.
Tank Top
Jena High School seniors did not have to climb up to paint their town's water tank as a class prank. The Jena Town Council approved the re-painting of the towering tank in the Jena High School colors of black and gold, with a salute to the team, the Jena Giants, on each side of the tank. The color scheme was requested by school officials and Jena citizens, according to the Jena Times.
Scouting for Trees
Some 400 Boy Scouts and Webelos (boys preparing to join a scout troop) planted more than 1,000 trees at Five Lakes Scout Camp in St. Tammany Parish. The campsite, owned by Jimbo Stillwell and Col. Bobby Miller and used for scout activities, was devastated by a tornado last summer. The boys planted 700 cypress, swamp red maple and common persimmon saplings donated by the LSU Coastal Restoration Program and 400 oak and magnolia trees donated by a Folsom nursery. Eagle Scout Justin Magrath headed up and organized the project, according to the St. Tammany News.
Pining in Pineville
Central Louisiana State Hospital in Pineville is 106 years old, once held 3,000 mental patients and sits on 1,400 acres. The facility, in need of major repair work, now serves only 60 patients. Although a 2004 plan commissioned by the Louisiana Legislature to modernize the state's three mental hospitals (in Pineville, Jackson and Mandeville) recommended constructing a new hospital in Pineville and $27.9 million was allocated for the work, the Louisiana Department of Health and Human Services and Gov. Jindal have scuttled those plans and will say only that Central Louisiana will have a 60-bed facility somewhere else, DHH Secretary Bruce Greenstein told the Alexandria Town Talk.