Barometer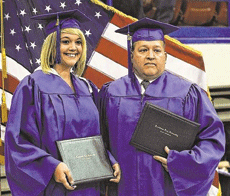 HOT – All in the Family
Erin Simmons of Minden graduated with an associate's degree in nursing from Louisiana Tech University. Her closest classmate? Her father, Jonathan Simmons, according to the Minden Press-Herald. Erin revealed the downside of having her father as a fellow student: "I never got to take a day off because Dad was in every class." Both father and daughter will have jobs at the Minden Medical Center, he in the Intensive Care Unit and she in the Medical Surgical Department.
HOT – Grain by Grain
Conrad Rice Mill, America's oldest, has milled rice in New Iberia since 1912 and celebrates its centennial this year, according to the Iberia Parish Convention & Visitors Bureau. "We have evolved from simply selling white rice locally to producing nutritious brown rice products that are certified gluten-free, non-GMO-verified and kosher, too," said mill owner Mike Davis. Find products for sale and rice recipes at conradricemill.com.
HOT – Town Revival
The original design by renowned Louisiana architect A. Hays Town for St. Joseph Catholic Church in Loreauville was a wonderful idea in 1960 when it was proposed. Now, Rev. Buddy Breaux is hoping the church's Completion Campaign will finish it.
Town designed a church, hall and rectory, but lack of money altered the end product, leaving the church with a flat ceiling instead of the original arched design. Restoring the rest of the design has required research to make the best guess on the now-deceased architect's intentions, Breaux told the Daily Iberian. The cost of the completion project is estimated at $1 million.
HOT – Way Healthier
Gallup Healthways' annual index, tracking well-being nationwide, has ranked Louisiana 36th among the states. Last year's ranking was 42nd, according to the Gueydan Journal. The index measures well-being based on life evaluation, emotional health, physical health, healthy behavior, work environment and basic access, said Louisiana Department of Health and Hospitals Secretary Bruce D. Greenstein.
HOT – Coasting Along
"Over the past five years, Plaquemines has enjoyed the largest number of coastal projects in the history of this parish, and we have no plans to slow down," Plaquemines Parish's Coastal Zone Management Department Director P.J. Hahn told the Plaquemines Gazette. Plaquemines Parish President Billy Nungesser announced that $222 million in grant-funded coastal projects will begin this year, including eight fringe marsh projects, marsh creation along the Jump Basin area of Venice, dredging and restoration projects, shoreline restoration and an update to the Coastal Zone Management program.
HOT – Presidential Portrait
Fourth grade teacher Telisha Allen of Park Elementary School in New Iberia took some time last year during a school trip to Washington, D.C., to make a request at President George Washington's home, the Mount Vernon Estate: Could the school have a copy of Washington's portrait by artist Rembrandt Peale? As it turned out, the school was one of 200 out of 5,600 schools who applied nationwide to receive a copy of the portrait, and students have a nice souvenir of their trip, the Daily Iberian reported.
NOT – Bentley on the Market
The historic Hotel Bentley in downtown Alexandria has been closed since 2004. Now, the eight-story, 140,000-square-foot hotel, including 159 rooms and 13 deluxe suites, has been listed for sale for $6.5 million by Paul Green & Associates, a real estate firm in Natchez, Miss. The Alexandria Town Talk notes that the company's Web site says the hotel will be sold "as is."
QUOTABLE
"Rainy days hand out hall passes from responsibilities, which seem to weigh on me more heavily as I grow older. … I'd rather think of a rainy day as God's whisper that it's OK to indulge a weary mind and body."
"Through a Glass Darkly," Bob Anderson, Baton Rouge Advocate