Barometer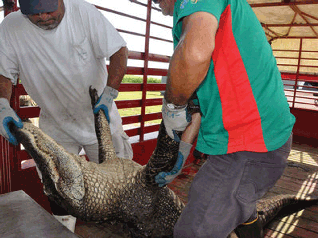 HOT Gator Baiting
Alligator-hunting in Pecan Island got complicated for J.C. Bertrand, his son Josh and their friend Colby Morgan when they snagged an 11-foot monster and dispatched him with a .44-caliber pistol, as reported in AvoyellesToday.com. Then came the difficult part – getting the long and heavy gator into their mud boat. It took the three of them, plus a winch. "We were happy when we seen how big it was," said J.C. Bertrand. Good news: Bertrand still had 53 tags left to fill in the season.
HOT Shriner's Shines
Shriner's Hospital for Children opened in Shreveport on Sept. 16, 1922: the very first one in the country. After 90 years in service, and some cost-trimming because of a shrinking endowment, the hospital is going strong. "We're growing," administrator Kim Green said. "We've always felt it was appropriate to offer more to the children in our six-state area." In the past year the hospital added pediatric rheumatology, spine surgery, cleft lip and palate surgery and sports medicine, according to the Shreveport Times.
HOT Star-ring Role
Maj. Gen. Stephen C. Dabadie, assistant adjutant general of the Louisiana National Guard, was recently promoted to two-star rank, according to the Pointe Coupee Banner. A native of New Roads and graduate of Catholic High School of Pointe Coupee, he served in ROTC at Loyola University. After active duty, he began his National Guard service in 1988. Dabadie's father, retired Brig. Gen. J. Levy Dabadie Jr., also served as the assistant adjutant general of the Louisiana National Guard.
HOT Math in the Middle
The University of Louisiana at Lafayette has received a $1.8 million grant from the National Science Foundation to create a Louisiana Mathematics Masters in the Middle program for teachers in Iberia, Lafayette and Vermilion parishes. Twenty teachers selected will begin graduate courses leading to an elementary mathematics specialist certification, the Advocate reported.
HOT French Funding
After Gov. Bobby Jindal cut $100,000 for the Council for the Development of French in Louisiana, or CODOFIL, from the state's budget, the French-speaking young professionals group FrancoJeunes launched the 100,000 Cajuns, Creoles and Friends of French in Louisiana fundraising campaign. The end result? A $90,000 check "pour notre culture, notre langue et de l'education" was presented to CODOFIL. "We never imagined we'd get close to completely restoring that money," said FrancoJeunes board member Lucius Fontenot, the Lafayette Advertiser reported.
HOT Zinnias to Bloom on Stage
Zinnias: The Life of Clementine Hunter, a chamber opera by avant-garde director Robert Wilson, will have its world premiere on Jan. 26, 2013, through Peak Performances of Montclair State University in Montclair, N.J., the Shreveport Times noted. According to advance publicity, "Using her artwork and stories, Clementine Hunter's touching and unique journey is brought to the stage." Wilson met Hunter as a child, when he visited the area with his father, then the mayor of Waco, Texas.
NOT Poverty Counts
According to the Associated Press, the U.S. Census Bureau reported that Louisiana has the second-highest number of citizens living in poverty. With 21.1 percent of the population, about 947,000 residents, living below the poverty line, Louisiana ranked second only to New Mexico. The median income for Louisiana residents is about $40,658 a year, according to the report. That's lower than all but three states: Kentucky, South Carolina and Montana.