Barometer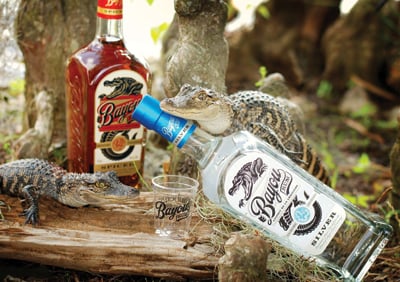 Rum Running
President Trey Litel of the 3-year-old Louisiana Spirits rum-distilling company in Lacassine has announced the company's new Silver Bayou Rum and Spiced Bayou Rum, both created from molasses and raw, unprocessed sugar sourced from Louisiana. Litel described Silver as having a rounded, rock-candy sweetness. The Spiced variety infuses the Silver with a secret blend of spices including "one ingredient that we're never going to tell anybody, and that ingredient comes out of Louisiana agriculture," Litel told the Lake Charles American Press.

Rodeo Wranglers
Derrick Chaisson, Cade Morgan and Ethan Morgan, all students at Kentwood's Jewel Sumner High School, will join the Louisiana team at the National High School Rodeo Championships in Rock Springs, Wyo. They qualified at the Louisiana High School Finals Rodeo at McNeese State University in Lake Charles. High school rodeo is very competitive in Louisiana, but it's rare to have three qualifiers from a small community, noted the Kentwood News Ledger.

Living Legend
Jimmy Dardeau, a retired Vermilion Parish county agent, has been inducted into the Order of Living Legends at the Acadian Museum in Erath. The order is designed to honor individuals who have made major contributions to Cajun culture, the Lafayette Advertiser reported. The Ville Platte native was a pioneer of the double-cropping of crawfish and rice.

Marker for Metairie Ridge
The Jefferson Parish Historical Commission and the Jefferson Historical Society of Louisiana have unveiled a Louisiana highway marker on Metairie Road at Orpheum Avenue, commemorating the former town of Metairie Ridge, founded in 1927 and dissolved just 18 months later, The Advocate reported. Historical Society president G. Leighton Ciravolo explained that the city of Metairie Ridge existed only briefly, because the Jefferson Parish government insisted that the city was not properly created, a point on which the Louisiana State Supreme Court agreed.

Three-Day Weekends!
Mayor David Amrhein of Zachary has announced that city office workers are switching to a four-day work week. The new hours of operation will be 7 a.m. until 5:30 p.m., Monday through Thursday. Zachary Fire and Police will continue their regularly assigned shifts, the Zachary Plainsman News noted. Earlier opening and later closing will accommodate customers' needs, and online payments plus a new 24-hour payment kiosk at the City Billing office, will offer alternatives to in-person service.

Bugs-A-Plenty
LSU AgCenter entomologists have confirmed the arrival of the kudzu bug, the bean plataspid, in a soybean field in Madison Parish. The pest, a native of India and China, can stress soybean plants by using its piercing and sucking mouthparts to extract plant fluids. "We knew the insect was in Mississippi," LSU AgCenter area agent Sebe Brown said, "and that it would only be a matter of time before it arrived in Louisiana." Chemicals used to control stinkbugs have been shown to be effective on the kudzu bugs as well, but "there's no need to start spraying until the insect numbers are high," said Brown.
---
QUOTABLE
"Once the Atchafalaya River starts to fall as summer begins in late June, the fresh river water becomes less of an influence on West Cote Blanche, Weeks and Vermilion bays. With mild southeast and southwest winds, often some of the best days fishing are during the dog days of summer, when the birds start working these bays."
"Here are Some Hot Baits for Hot Summer Fishing," John Flores, St. Mary and Franklin Banner Tribune

---