Barometer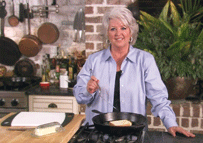 Take a pew, Paula.
Parishioners at Holy Ghost Catholic Church in Hammond had a celebrity in their midst when Food Network chef Paula Deen arrived with her husband, Michael, for 9:30 Mass. Michael's brother, Rev. Hank Groover, is a priest at Holy Ghost. Afterward, they headed over to Lester Nicosia's Rockefeller's restaurant in Ponchatoula for lunch.
"When she left here, some guy on a motorcycle wanted her to take a photo on his motorcycle. She said, 'Baby, I'm so full I couldn't lift my legs that high,'" Nicosia says. "It touched my heart that she enjoyed our restaurant so much."
Acting like a lady?
Louisiana State University at Alexandria elected to use Generals as the mascot for all of its teams when the school began offering sports last spring, and at Louisiana Tech, women's basketball teams are the Techsters and men are the Bulldogs.
However, "lady" is often used as part of the name for women's teams. LSU and Northwestern State University use "lady," but NSU is considering whether to stop. McNeese State uses Cowgirls for its women's teams and Cowboys for men. Louisiana College uses "lady" for at least some women's teams. Tim Whitman, the LC athletics director, explains, "We tell our players we want them to always be ladies off the court or field and to compete like heck when they are on the court or field."
Roll, tractor.
As Dwayne Floyd, principal at Hayden R. Lawrence Upper Elementary School in Deville, tried to tear down a tree with a tractor, the tree came tumbling down. The blow knocked him unconscious, and in the process his foot got caught in the gearshift. "I rolled with it and let the tractor roll over me," Floyd says.
Miraculously, he survived with minor injuries. Floyd says his father, Harold Floyd, taught him about living a Christian life and tractor safety. "I applied the Christian life, not the tractor safety lessons," Floyd says.
Pipe dreams.
Denham Springs has completed 4 miles of additional waterlines south of the city limits and has hit water at a new well in that area, city officials say. The next parts of the city's plan to improve its water system are the building of a new million-gallon water tower and the drilling of a second new well, Mayor Jimmy Durbin says. The new tower will be 180 feet, the same height as the two current water towers.
Steering her right.
"You focus on the steer's head between the horns," says Daina Powers of Kentwood, describing what it takes to catch a moving animal from horseback. Powers and her father, Jackie Dillon; her husband, Brandon; and brother, Garrett Dillon, competed in team steer-roping as part of the 314-member 10-year-old Deep South Team Ropers Association meet at the Florida Parishes Arena in Amite. "It's an adrenaline rush is what it is," Daina says of roping.
Gonzales' sister.
Eighty musicians and singers from Meylan, France, shared their music and, in turn, learned about Louisiana from Gonzalez residents. "This is what it's all about –– a true cultural exchange," says John Hebert, president of the Gonzales Committee on Cultural Affairs. While French diners use a knife to cut crawfish and a fork to remove the meat, the visitors quickly learned how to peel and eat crawfish Cajun-style on a visit to Pierre Part. "I think it's genetic," Hebert says. Meylan and Gonzales have been part of a twinning –– or sister city –– program for 25 years.
Blink once if you understand.
For the upcoming school year, there will be a few changes in the 2008-2009 Vermilion Parish School Board Student/Parent Handbook. Students with cell phones on campus will have their phones confiscated (parents will be called to retrieve the devices), a Teacher's Bill of Rights will be prominently displayed at school, Breathalyzer tests for alcohol will be administered to seniors at graduation ceremonies, and students will not be able to wear nonprescription contact lenses that change the appearance of the eyes (for example, from brown to blood-red or tiger's-eye).