Barometer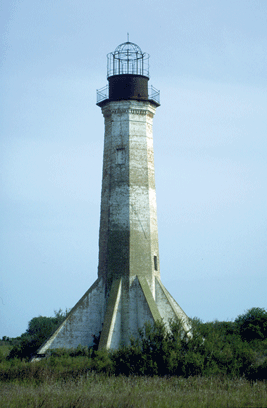 WHAT'S HOT
Shine a Light
The 153-year-old Sabine Pass Lighthouse will be featured on a commemorative stamp to be issued this summer by the U. S. Postal Service. The lighthouse is located on Lighthouse Bayou near Sabine Pass and is the only structure in Cameron Parish on the National Register of Historic Places.
Famous Eight Football All-Pros Marshall Faulk, William Roaf and Michael Brooks; golf great Hal Sutton; women's basketball coaching trailblazer Sonja Hogg; world champion motorcycle racer Freddie Spencer; Carrice Russell Baker, the state's winningest all-time girls' high school basketball coach; and the late LSU athletic trainer Marty Broussard complete the Louisiana Sports Hall of Fame's 2009 induction class. They will be inducted June 27 in Natchitoches, with Broussard being honored posthumously.
Generating Optimism
Winnfield inventor Alfred J. Brock never got to speak to anyone in President Barack Obama's administration when he brought his electric generator invention to Washington, but that didn't dampen his enthusiasm. Unfortunately, when he drove his pickup near a checkpoint, the U. S. Capitol Police asked if he had any firearms. "I told them I had a .22 automatic rifle behind the seat, a knife used for skinning deer in the door on the left-hand side, a clip for a 9 mm pistol in the door on the right side," Brock says. "I didn't have the pistol. It was home." Three days later he was released from jail and went back to Winnfield. Brock is still intent on patenting his "hydroelectric venturi."
Talk Me Down
John Charlton of Lake Charles is one of 16 air traffic controllers receiving the Archie League Medal of Safety given by the National Air Traffic Controllers Association for "outstanding contributions to preserving the safety of the flying public." In September 2008, Charlton talked a nervous student pilot through a landing at Lake Charles Regional Airport.
Green Thinking
The University of Louisiana at Lafayette Center of Ecology and Environmental Technology has begun generating solar energy and collecting rainwater to operate its pair of half-acre greenhouses, and the center will begin making its own diesel fuel from recycled vegetable oil from the ULL cafeteria. "The energy cost of running this facility is a couple of thousand dollars a month," says Susan Mopper, the center director. "We can take some of the economic burden off the state by using renewable resources."
High-Tech Help
Baton Rouge is the second city in the United States to implement a telemedicine program that allows doctors to treat patients en route to the emergency room. The ambulance in the BR Med-Connect program will use the same wireless mesh network that police are using for their new high-tech surveillance system. Initially, the specially equipped ambulance will communicate only with Our Lady of the Lake Regional Medical Center, but plans call for the program to be expanded to all seven major area hospitals.
Rhyme Time
Jasmine Haynes of Zachary High School placed first in the Louisiana Poetry Out Loud state finals. Placing second was Claire Galley of Sulphur High School, and third place went to Dylan Staley of Louisiana School for Math, Science, and the Arts. A national program created by the National Endowment for the Arts and the National Poetry Foundation, Poetry Out Loud encourages youth to learn and perform famous poems for competition against other teens. Honorable Mentions were awarded to Keaghan Kane, who is home-schooled; Crystal Scouten of Baton Rouge Magnet High School, Kelsey Balzli of St. Joseph's Academy; and Alexis Sonnier of Sulphur High School.

WHAT'S NOT
Gator Skins
"The luxury market has crashed," admits Wayne Sagrera of Vermilion Gator Farms near Abbeville. One of the largest alligator farms in America, Sagrera's family business has not sold an alligator skin in a year. Eggs harvested in the wild yield 75,000 4-foot long alligators annually. Hides go to a tanner in Singapore. Sagrera will not harvest new eggs in June and predicts prices on hides will drop by half.