Barometer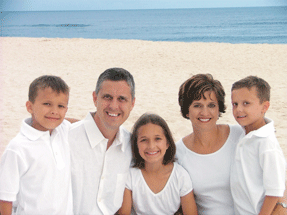 Dog Catches Man, Again
When inmates chiseled their way to freedom from a Mississippi jail in late February, Washington Parish's Rayburn Correctional Center's K-9 Unit had them tracked down and back in custody within minutes of receiving the call for assistance. The same RCC K-9 Unit, led by bloodhound Stevie, nosed into first place in the State Department of Corrections Manhunt Field Trials for the second year in a row. The event includes two 1-mile trials, one held in the daytime and the other at night. The RCC unit finished with a combined time of 26 minutes, 45 seconds.
You Go, Girl!
Fifth-grade runner Gabrielle Jennings of Slidell's First Baptist Christian School came away with two titles in the state track and field championships, winning the 1,600 (5:40.24) and breaking the Class C state record in the 3,200 (12:03.61). "That was pretty big," 10-year-old Jennings said in an interview with the St. Tammany News. "It felt really good, and I felt really proud of myself."
Melody Makers
Founded in 1909 by a group of talented women, the Baton Rouge Music Club celebrates its 100th anniversary this year. "When they started the music club, it was before radio, before television, and there really were not many recordings at all," Gwen Redding, club president, told the Baton Rouge Advocate. "It was kind of the golden age of live music." Today there are almost 50 active members, all performers who must be voted into membership, and 200 associate members. In the Advocate, Redding said, "I think it's fair to say that people directly from the Baton Rouge Music Club were instrumental in forming the Baton Rouge Symphony, the Baton Rouge Youth Orchestra, Community Concerts and even music in the public schools." The club also awards 10 music scholarships and has a men's auxiliary.
Juneteenth Artist
Alvin Carter of Bogalusa was named the National Juneteenth Artist of the year and created artwork for the National Juneteenth Festivities in Washington on June 19. The event commemorates the date the last slaves were freed in Texas in 1865. Carter's work, The President Barack Obama Trail, depicts the historic path of African Americans from slavery to the White House. "I've been preparing all my life to do this one painting," said Carter in an interview with Bogalusa's Daily News. "I'm excited. I don't know where it might end up."
Working Mom a Winner
Shannon Kirkpatrick, a tax-managing director for the Baton Rouge office of KPMG, has been named one of 30 Working Mothers of the Year by Working Mother magazine. A graduate of Southeastern Louisiana University, Kirkpatrick, an accountant, has been with the same firm since 1991. She and her husband, Sean, have three children: a daughter, Madison, 12, and twin sons, Connor and Cole, 8, all students at the LSU Lab School. "I think a positive attitude is always very important," Kirkpatrick said to the Baton Rouge Advocate. "Just get organized and manage the family time you have!"
Fitness Champs
The Rapides Parish team took first place at the 15th annual Elementary Fitness State Championship. Team members included Sarah Desselle, Peyton Meche and Payton Counts from Ruby-Wise Elementary School; Skylar Taylor from J.B. Nachman Elementary School; Taylor McFarland from Phoenix Magnet Elementary School; and Kenterll Norris from Hadnot-Hayes Elementary School. Desselle was crowned Miss Fitness for earning the most points among the female athletes, and Taylor broke the state record in the sit-ups competition with 118 in one minute.
Tilapia Turnoff
The Louisiana Department of Wildlife and Fisheries has launched its most aggressive non-native fish species eradication effort in state history to eliminate tilapia from an area in Plaquemines Parish. "We have to do this because this is a species that can live in every regime of water that exists in South Louisiana, especially this area," fisheries biologist Mark McElroy told the Baton Rouge Advocate. "It can survive in saltwater, intermediate brackish water and freshwater and can handle areas with good water quality and poor water quality. Our native species can't do that. … This could not have occurred at a worse place in our state."
Hooked and Booked
Phillip Allen Powell of Farmerville has been charged with felony contest fraud for alleged illegal night hunting and the subsequent entry of an illegally taken buck into the Simmons Sporting Goods Big Buck Contest in Bastrop and Tyner-Petrus/TP Outdoors Big Buck Contest in Monroe. The 12-point buck in question had antlers that earned a gross score of 171 Boone and Crockett Club points for contest purposes.