Baseball's Shrine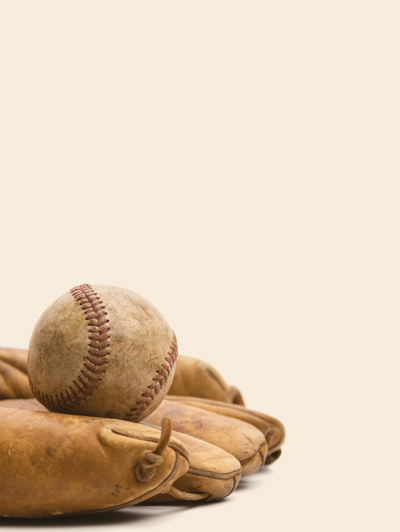 In January, the committee that elects legendary hardball players to the Baseball Hall of Fame in Cooperstown, N.Y., pitched a shutout – no players received enough votes to earn a spot in the baseball shrine's hallowed halls.
Thanks to the specter of steroids and other performance-enhancing drugs, a gloomy pall has settled over the national pastime's recent past, with superstars such as Barry Bonds, Mark McGwire, Sammy Sosa and Roger Clemens cast in hardball purgatory because of suspicions of PED use.
But decades before all that mess, when baseball wasn't dogged by such depressing road bumps as steroids and labor strife and player contracts reaching into eight figures and beyond, there were athletes who competed for love of the game and loyalty to their teams, players whose on-field accomplishments weren't clouded by controversy, whose exploits did earn them well-deserved spots in the Hall of Fame.
Of course, the existence of rigid segregation practices did, however, mar the first half of baseball history, but even then, the black players who were shut out from the Major Leagues still managed to thrive in the Negro Leagues and were legends made in their own right, legends who, beginning in the early 1970s, received the hard-earned recognition they deserved by finally entering the Baseball Hall.
Now, as it stands today, there are four Louisiana-born players whose plaques hang in the Cooperstown memorial's hall of legends – Shreveport's Willard Brown, Bastrop's Bill Dickey, Vinton's Ted Lyons and Gretna's Mel Ott. Although the Pelican State has produced a relatively small amount of hardball Hallers, the ones from Louisiana who have been inducted into the legendary facility certainly earned those accolades.
Coming from all four corners of the state, each member of this superb quartet – all now deceased – has made his own unique mark on baseball history. Here is an alphabetical rundown of these four stellar stars.
Willard Brown
It took a half-century for this talented Negro League slugger to be recognized by the Hall of Fame – but not because his accomplishments made him a questionable candidate. Brown's long-ball power was legendary among his colleagues in black baseball, with the legendary Josh Gibson giving Willard his apt nickname – "Home Run" Brown.
But like many of his Negro League counterparts, Brown's induction into the Hall of Fame was posthumous – it took a special Negro Leagues Committee to finally select him in 2006, a decade after his death at the age of 81.
And like so many of his fellow Negro Leagues legends, Brown spent his latter years balancing bitterness at being excluded for years from the Major Leagues – and the popular recognition that would have come with integration – with pride in what he and his black peers accomplished in the hardball shadows.
"I tell you one thing," Brown told Shreveport Times reporter Bill McIntyre in 1976. "I was born 20 years too early. I know so. If I could live it all over again, like quite a few of those ball players, I wish I had an opportunity now."
Brown's career on the diamond was perhaps marked by three distinctions – his status as the fourth black to cross the Major League color line, his phenomenal performances in Latin American leagues and his (possibly undeserved) reputation for giving 100 percent on the field only when the mood struck him.
After Jackie Robinson debuted for the Brooklyn Dodgers in 1947, to be shortly followed by Larry Doby for the Cleveland Indians, Brown and Hank Thompson, his teammate on the Negro League Kansas City Monarchs, were signed by the eternally hapless St. Louis Browns, who wanted a gate attraction just as much as a boost to their lineup. In July, Thompson and Brown became the third and fourth black Major Leaguers.
Their arrival was trumpeted in the black press. In a July 1947 article in the esteemed Pittsburgh Courier, writer Kermitt K. Wheeler pronounced that Brown and Thompson would certainly boost the struggling Browns, while in accompanying commentary, none other than Jackie Robinson stated that although the newly minted Browns would see some stiff competition in the Majors, he was confident they could succeed. He also praised Brown.
"Willard Brown was one of the best hitters in Negro baseball," Robinson wrote. "He hits a long ball and is hard to fool. He is a smooth type of player and a real student of the game."
Unfortunately, perhaps largely due to animosity from his white teammates and his own frustration with what he perceived was a lack of quality on the squad, Brown foundered in his brief tenure in the Majors and was released by the Browns in mid-August. He then returned to the Monarchs the next year.
There could, however, be an alternate explanation for Brown's lack of success in the Bigs – according to some of his contemporaries, he often let his prodigious talent go to waste during weekday games, dogging it when the crowds in the stands were small. It was only on the weekend, when Negro League games attracted throngs of spectators, that Brown turned it on in full. But other observers believed that Brown was so good that he made the game look easy, thereby giving the impression that he wasn't going all out.
"Brown's legacy is reflected in his nickname, 'Sunny,'" says Negro League historian Larry Lester. "Brown was known to play his best on Sunday, when the biggest crowds were present. His effortless talents in the field and at bat caused many to believe perhaps he could be even better than shown. He was a Hall of Famer with a laid-back attitude."
The final distinction about Brown's career was his performance in Latin America, especially in the Puerto Rican Winter League, where he set batting records that still stand to this day, a fact that earned him yet another nickname, this one from the Puerto Rican locals – "Ese Hombre," or "That Man."
"The outfielder was one of the most feared hitters in the Negro Leagues," wrote Society for Baseball Research writer Rory Costello, "but he was an absolute wrecking ball in the Puerto Rican Winter League."
Bill Dickey
Of the four Louisiana Hall of Famers, New York Yankee great Bill Dickey's connection to the state is considered somewhat tenuous. Although he was born in Bastrop, Dickey and his family moved to Arkansas when he was a youth because his father earned a job as a brakeman for Missouri Pacific Railroad. For the rest of his life, Dickey called Arkansas home in general and Little Rock in particular.
Because of that, many Bastrop residents aren't even aware that a Hall of Famer sprang from their midst, says Bastrop Enterprise editor Marq Mitcham. The one person from Bastrop who did know a good deal about Dickey was former Enterprise writer Wes Helbling, who wrote a pair of articles about the great catcher in 2008.
"Dickey is considered by many historians to be the greatest catcher the game has ever seen," Helbling wrote in one of those articles.
However, Helbling added, "Little is known of his early years here."
Dickey's Major League career ran from 1928 through 1946, during which time the catching great earned 11 All-Star nods and helped the Yankees win seven World Series. Dickey was a key player in the history of baseball's most storied franchise – his career bridged the gap between the famed "Murderers' Row" years of Babe Ruth and Lou Gehrig in the 1920s and the squad's subsequent title winners in the 1940s with Joe DiMaggio.
In fact, Dickey emerged as the team's leader after Gehrig died in 1941, and he briefly managed the squad in 1946 after his military service and before his retirement from baseball. Yankee management invited Dickey back into the fold a few years later when he was tapped to mold the latent but extremely promising talents of an awkward young catcher named Lawrence "Yogi" Berra.
Under Dickey's tutelage, Berra quickly emerged as the best backstop in the contemporary game and a Hall of Famer in his own right. In addition, Dickey tutored the Yankees' first black player, catcher Elston Howard, who once said: "Without Bill, I'm nobody. Nobody at all. He made me a catcher."
Dickey also garnered accolades from opponents, including Hall of Fame speedball pitcher Bob Feller, who called the Yankee great the best catcher he ever witnessed. Hall of Fame voters agreed, electing him to the shrine in 1954.
Dickey died in Little Rock in 1993, after which the New York Times lavished praise on a key figure in Yankee heritage.
"Rated by many as the finest all-round catcher in the history of the sport, Dickey was one of the brightest stars of Yankee teams that held sway over the American League between World War I and World War II," wrote Times reporter Thomas Rogers. "He was one of the most feared clutch hitters in lineups that included Babe Ruth, Bob Meusel and Joe DiMaggio. … Behind the plate, he displayed all the qualities needed by a top-notch defensive catcher."
Ted Lyons
Lake Charles native, Vinton resident and famed pitcher Ted Lyons presented a curious case for Hall of Fame voters. On paper, Lyons' stats would seem to make him a marginal Hall candidate; after 21 years in the Majors, all with the Chicago White Sox, Lyons' win-loss record was only 260-230, and his 3.67 career earned run average is the second-highest of any Hall of Fame pitcher.
Those numbers undoubtedly contributed to the hesitancy the Hall selectors showed when considering him for induction. Lyons retired in 1946, but he wasn't chosen for the shrine until 1955, on his eighth ballot.
But if you look past the black and white, you perhaps see why Lyons' statistics were so modest. During his two-decade-plus Major League career – Lyons didn't spend a day in the minors – the White Sox were perennial losers who never provided the support Lyons needed to post better numbers. In fact, Joe McCarthy, who managed many of the Yankee championship teams during Lyons' career, once said, "If he'd pitched for the Yankees, he would have won over 400 games."
In addition, Lyons' loyalty and dedication to the White Sox, despite the franchise's lousiness, endeared him to Chicago fans and made him the team's career leader in pitching wins to this day. One of those victories was a no-hitter tossed in 1926 against the Boston Red Sox.
But Chicagoans aren't the only ones who remember Lyons fondly – in Southwest Louisiana, the boy from Cajun Country is regarded as a legend and one of the finest products of the region.
"We are proud that Ted Lyons called Vinton home," says Vinton Mayor Kenneth Stinson. "Most people that knew him are gone, but there are a few younger ones that remember him when he lived in town."
Stinson notes that Vinton has a youth ballpark named after the Hall of Famer, and he adds that after retiring from baseball, Lyons returned home and became a fixture in the Vinton community, which embraced him until he died in 1986. Even Stinson himself cherishes the times he spent near Lyons.
"My memories include seeing him talking about baseball," the mayor says. "As a youngster, it was amazing to know someone that had played ball with Babe Ruth. Ted had these little bat-shaped pens with his name on them that he gave people. I still have one that I treasure."
Lyons' Louisiana fame isn't limited to Vinton, either. In New Orleans, longtime Times-Picayune columnist Bill Keefe wrote in 1955 about a local event at which Lyons would be the keynote speaker.
"Principal speaker will be Ted Lyons, for many years one of the Major Leagues' most famous pitchers," Keefe penned. "A Louisianian, Lyons has become as popular a baseball [player] as ever represented the Pelican State."
Mel Ott
They called him "Master Melvin," the "Little Giant," a compact, 5-foot-9-inch bundle of brawn from Gretna, whose slight size belied a powerful bat that, upon his retirement, made him the career home run leader in the National League.
The fact that New York Giants legend Mel Ott died tragically in a car crash at the age of 49 only burnished his legend, especially in his Westbank hometown, where a park is named after him and a life-size bronze statue dedicated in 2009 welcomes visitors to his hometown.
"Based on our dedication of his statue, Mel Ott's reputation is still very highly regarded not only by Gretna residents but by the New Orleans baseball community," says Gretna Mayor Ronnie Harris.
Born in Gretna in 1909, Ott became a burgeoning hardball prodigy, but he was passed over by the New York Pelicans minor-league team at the age of 16, ostensibly because of his small stature. So he was set up with a lumber company's semi-pro team in Patterson, where the owner of the firm noticed Ott's talent and hooked him up with legendary Giants manager John McGraw.
"The luckiest thing that ever happened to me was that I was turned down the first time I tried to get a job in baseball," Ott told New York Times scribe Arthur Daley in July 1958, just four months before Ott's sudden death. "It changed the course of my life."
Thus, at the tender age of 17, the little teen from Gretna debuted at the Polo Grounds, one of baseball's biggest stages. Over the next 21 years, all with the Giants, Ott amassed 12 All-Star selections; a World Series title in 1933; a .304 career batting average; and 511 home runs, then the most ever by a National Leaguer.
The laid-back, eternally friendly Ott also managed the Giants for several years but couldn't pilot them to any more titles. In fact, the Giants were occasional residents or close neighbors of the NL cellar, a fact that spurred one of our country's most famous sayings. Reportedly, before a Giants-Brooklyn Dodgers game, Brooklyn's irascible manager, Leo Durocher, was chided by a local beat writer to be nicer. Pointing to Ott in the opposing dugout, Leo the Lip then famously groused: "Who wants to be nice? Nice guys finish last."
Despite the mediocrity of the teams he managed, Ott's excellence on the field earned him an easy pass into the Hall of Fame, which welcomed him 1951, on his first ballot.
But just seven years later, on Nov. 21, 1958, Gretna's most famous resident succumbed to the massive injuries he suffered in a car crash a few days earlier. His passing sent shock waves across the baseball world, but the New Orleans community and Gretna were especially hard-hit.
"Mel Ott, probably the mightiest 'little man' baseball ever knew, is lost to the world of sports," the Times-Picayune's Keefe opined shortly after the star's death. "Quite a loss to all who knew him, too, as well as to his family. Having known him since he caught for Gretna High … I can say without hesitancy that he went through his entire life, on or off the field, not as a 'nice guy' but as a prince of young Americans."
The outpouring of honors from Ott's hometown quickly followed. In April 1959, the Gretna board of aldermen changed the name of Gretna City Park to Mel Ott Park, and two years later Gov. Jimmie Davis declared May 28 "Mel Ott Day."
Since then, the relationship between Ott's legacy and his hometown has only grown stronger. In 1970, Daley wrote: "If Ottie has faded from memory over the years, a visit to Gretna brings a warm nostalgic glow. It also brings rich recollections of the nice guy whose image could not be dented even when he finished last."
Ott's descendants and relatives still populate Gretna, including Virgie Ott, whose late husband was Mel's second cousin and who served as Gretna's tourism director for several years, partially to promote Mel's connection to the town.
"He never forgot us when he left [Gretna]," Virgie Ott says of Mel. "When he came back for visits, he took some of the local guys out for a beer. Gretna is so proud that he is honored in the Baseball Hall of Fame. We try to keep his memory alive."