Beading Rhythms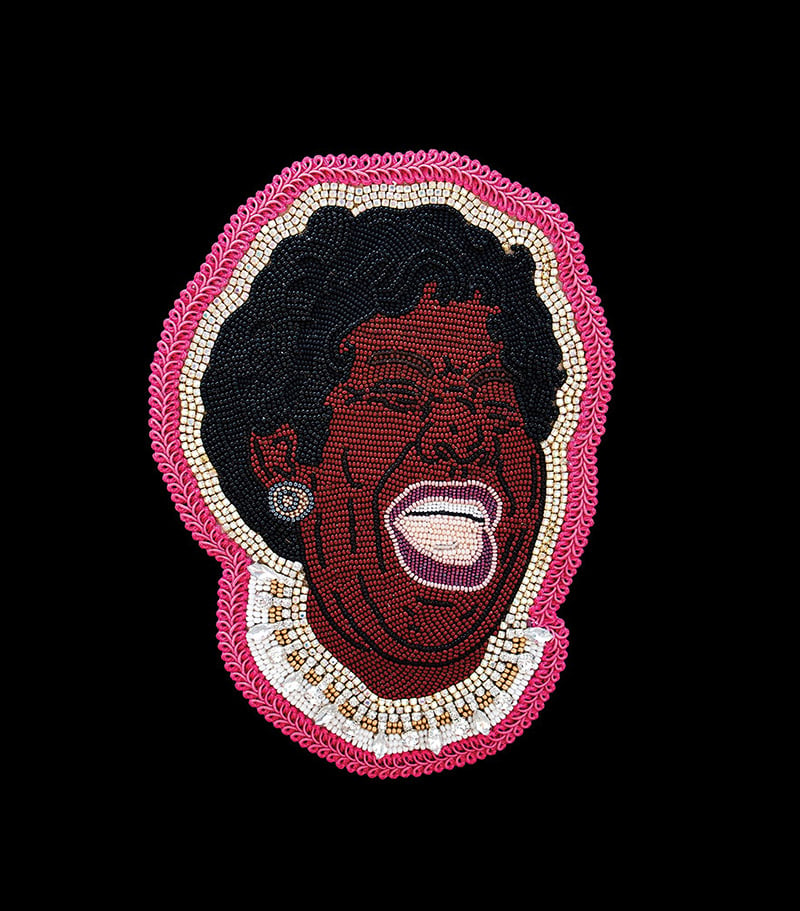 New Orleans is a gumbo of people of all different nationalities and races and all those people show a lot of love to each other," says artist and Mardi Gras Indian Big Chief Demond Melancon. "I'm part of that gumbo."
Melancon, who resides with his wife Alicia in the city's Bywater neighborhood, is a prominent "contemporary bead artist" and Big Chief of the Lower 9th Ward Young Seminole Hunters Mardi Gras tribe. His beaded portraits and exquisite Mardi Gras Indian costumes called suits — all made with thousands of tiny colored beads — are mystical symbols of an African American Creole culture that courses through the city's veins and historic neighborhoods like the rhythmic motions of the Mississippi. To him, they are spiritual connections to the African diaspora and to elders who keep those traditions alive.
Born and raised in the city's Lower 9th Ward, Melancon has come a long way in recent decades. His intricately composed and sewed beaded Mardi Gras suits and portraits, depicting greats such as Louis Armstrong, Aretha Franklin and Professor Longhair, have gained him international acclaim with exhibitions at major museums in New Orleans, New York, Chicago, Miami and, most impressively, at the Victoria and Albert Museum in London. In addition, a 2019 documentary about Melancon's work premiered at New York's prestigious Tribeca Film Festival and the Berlin International Film Festival. Last October the Joan Mitchell Foundation awarded Melancon a four-month artist residency at the foundation's national center in New Orleans.
The 42-year-old Melancon, who studies the works of Italian Renaissance and Dutch masters as well as African American artists, says his bead art has given him purpose, a recognized place in the city's art world, a sense of self-reliance and broken barriers. He now passes these attributes on to younger generations in his tribe.
Melancon's evolution as a bead artist and Mardi Gras Indian is uniquely New Orleans. When he was 10, his mother took him to see his first Mardi Gras Indians, including the late Allison "Tootie" Montana. On returning home, the young Melancon told his mother that's what he wanted to do. When he was 14, Mardi Gras Indian Chiefs Ferdinand Bigard and Keith "Keito" Jones taught him the intricate beadwork and Mardi Gras Indian traditions. He later recorded tribal dances and taught himself the "Bamboula," an Afro-Caribbean drumbeat and dance that arrived in New Orleans in the early 19th century with émigrés fleeing the Haitian revolution. In 1993 Melancon joined the Seminole Hunters Tribe as a "spy boy" and in 2013 elders named him Big Chief of his own tribe, the Young Seminole Hunters in the Lower 9th Ward, who now dance the Bamboula while chanting to the rhythms of "Ooh Nah Nae."
The 19th -origins of the Mardi Gras Indians are a bit cloudy. Some say they adopted the Indian dress as a tribute to local Native Americans who gave refuge to runaway slaves, while others believe it grew out of the mingling of Native Americans, enslaved Africans and free Creoles-of-color at Congo Square in New Orleans. Whichever is correct, the tradition thrives with each new generation.
Not all Mardi Gras Indian costumes are the same, however. While many feature Native American images, Melancon, a follower of the pan-African Rastafarian religious sect, fills his with intricately beaded portraits of historic African warriors and leaders, such as Ethiopian Emperor Haile Selassie. Rastafarianism, Melancon explains, is an Afro-centric, Bible-based religion popular among descendants of enslaved Africans in the Caribbean and the Americas, including New Orleans. To them, Selassie was divine. They also believe God, whom they call "Jah," came down to earth as Jesus Christ. Melancon featured "Jah" in his 2020 Mardi Gras suit "Jah Defender" with beaded portraits of Selassie and, among others, a Nyabinghi warrior on horseback.
"Getting linked with these people has made me who I am," he says, pointing to images of Selassie, Jamaican musician Bob Marley and others tattooed on his arms.
With those symbols guiding him and the sounds of Big Chief Monk Boudreaux's "Lightning and Thunder" and Fela Kuti's African beat filling his studio, Melancon creates his artwork in what seems a continuous rhythmic motion. It's like a dance, he says, with the sounds of the needle moving in and out of the canvas like a drumbeat.
"When I'm beading and doing my suits," Melancon says. "It's like I'm holding hands with God."
Because of COVID-19, Melancon says he will not parade this Mardi Gras.
---
Cajun
Acadian Brown Cotton: The Fabric of Acadiana
250-year tradition of weaving brown cotton, through June 30. Paul and Lulu Hilliard University Art Museum, Lafayette. hilliardmuseum.org
Central
Connected Visions: Louisiana's Artistic Vision
Louisiana artists over the last century, through 2022. Alexandria Museum of Art. themuseum.org
Plantation
Southbound Photographs of and about the South
Photographers' vision of the 21st century South, through Feb. 14. LSU Museum of Art, Baton Rouge. lsumoa.org
Our Louisiana
Artwork by Louisiana artists, Jan. 16, 2021-Jan. 14, 2024. Louisiana Art & Science Museum. lasm.org
NOLA
Arte Sacra: Roman Catholic Art from Portuguese India
European and Indian artistic influences of Roman Catholic art in India, through June 20. New Orleans Museum of Art. noma.org
North
Founding Fathers
Life, stories and art behind the architects of the American Revolution and U.S. Constitution, open indefinitely. R.W. Norton Art Gallery, Shreveport. rwnaf.org
Christiane Drieling: It's Not Too Late
Mixed-media and collages by Ruston artist, though January. Masur Museum of Art at Monroe Regional Airport. masurmuseum.org