Bennett Sewell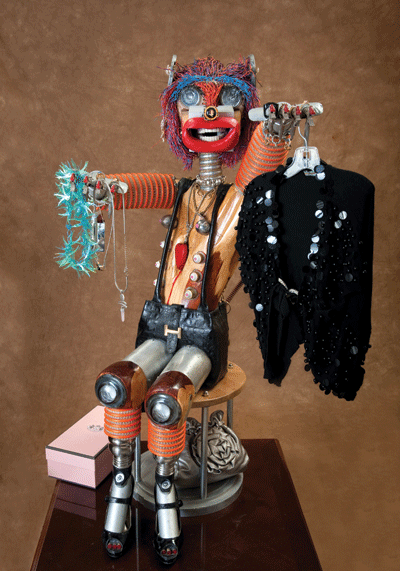 Billie Bell and Hattie Mae were sitting at the Dew Drop Inn Beauty Shop and Extreme Makeover Salon, being attended to as only old-fashioned beauty parlors once did, when Billie Bell looked over to her sister Hattie Mae and asked: "Hattie, would you rather look at the bland blue sky all day, or grab yourself a rocket and take a spacewalk? But sometimes finding a good rocket is problematic." Billie Bell gave Hattie Mae a smile and a wink that only two worldly women would understand.
Billie Bell, Hattie Mae and other characters are quirky canine players in Bennett Sewell's imagination and recent sculpture series, It's What You Make of It, featured last summer at the Meadows Museum in Shreveport. Sewell, the nephew of famed Louisiana artist Clyde Connell, is a retired Shreveport pathologist and a storyteller who winds intricate yawns about life, human hardships, obsessions, loves and disappointments through the imaginary lives of anthropomorphic characters he creates from old animal bones, wood and human detritus culled from old junkyards and flea markets in North Louisiana and East Texas. Objects collected for his sculptures, which take about two or three months to construct, must, he says, have a certain innate "beauty and character." They are metaphors for all of those influences and experiences – good and bad – that build our own lives. To help with this journey into the human psyche, Sewell sought guidance from his brother, Pat Sewell, a Shreveport psychiatrist.
This sense of innate beauty is very much part of Sewell's everyday existence. "I can't just be me," he says. "I have to communicate and connect with people. I have to think and create." Born in Boyce, Sewell and his wife, Sheri Childs, a retired Shreveport high school counselor, reside upstairs over a 1920s-era commercial building that they have restored. His studio is on the roof terrace with found objects lined up awaiting their turns. Each room in the sprawling apartment is filled with surreal fantasies of color and form, with paintings, old military hats, elegant vintage women's evening wear mounted on mannequins, his constructions of found objects with "beauty and character." The vent over his kitchen stove, for example, is the rear engine compartment hood of a 1967 Volkswagen. The bathroom wall resembles an oncoming 18-wheeler. The chrome rim from around the front grill of a Peterbilt truck frames a wall mirror over the bathroom sink. Headlights flank each side. Looking down from the truck windows above are images of Marilyn Monroe and Will Rogers. It's all about human behavior and the beauty found in seemingly ordinary things.
In his remarkable series It's What You Make of It, Sewell explores human foibles and personality extremes that drive people's lives. Rather than creating human images to tell those stories, his characters are dogs, dressed as people, who take on human mannerisms and personality traits. "People have identified with dogs and dogs with humans more so than any two species for thousands of years," says Sewell. "The evolution of dogs and humans are intertwined."
Sewell weaves complex stories about each character in the series. There is Viola "The Mistress" Trent, owner of the Dew Drop Inn Beauty Shop and Extreme Makeover Salon located on Highway 71 in Coushatta. Her husband, Henry "The Master" Trent, drives an 18-wheeler saltwater disposal truck for a local environmental company. Viola and Henry, the only human figures in the series, are the "parents" of Sewell's brood of dogs. Then there's Hattie Mae Dixon, the pooch daughter who narrates the series. Hattie Mae has seen so much trouble in Coushatta where "the ambulance takes away everything but the sorrow."
Gloria Axelrod has her troubles, too. Sewell has a few narcissists in the group. Hattie says Gloria "can't stand to look at her own reflection in the mirror. To keep the dark, empty feelings away, she alternates between seeing a wonderful reflection of herself from others and anger when it doesn't come." Juanita Montoya Cortez says: "I've always been special, and I see that you are envious because you feel inferior to me." Hattie Mae says Juanita "is the only dog I know who spends most of her day admiring her reflection in the water bowl." Angelina Twopart, depicted on a self-destructive treadmill, is anorexic, but Hattie Mae says she won't give up on Angelina. "Guilt, fear and numbness go round and round and round in her head."
Other siblings include the "con man and sociopath" Black Jack Schmidt, who "feels the rules weren't made for him," and Charlie Cheeseburger Godcheaux, who is needy, especially in personal relationships. Poor timid Little Billy Weems "want[s] so much for you to like" him but he knows "deep down that you think I'm incompetent and worthless." One of the great stars of the family is Mavis "Just Call Me Dixie" Miller who sings on station KWOW.
"I was born beautiful and the center of attention," she boasts, "and I've managed to remain there. … Come around to my dressing room after my glorious show, and I'll make it worth your while."
Sewell's favorite is Billie Bell, a magnificent creature sitting seductively on the hood of her car, which Sewell assembled from an old lawn mower and assorted found objects. "She has shown courage in the face of life's adversities," he says. "She's the most courageous of all. She wanted excitement in her life, first in reflected glory and then in her own glory." Sewell and Hattie Mae call Billie Bell "a casserole lady." "Casserole lady," Sewell explains, is a West Texas term for an anxious single woman who shows up at the home of a newly minted widower with a casserole in hand.
Here's Billie Bell's story. Sitting on the side of the road out of gas, she hitches a ride to the nearest gas station. Along the way, she spins the story of lost loves and redemption:
You ask what a good-looking woman like me is doing here on the side of the road in the middle of nowhere. The short answer is that I am on my way to Lubbock for a hair appointment and I ran out of gas. For the long answer you'll have to give me a ride up the road 17 miles to Joe's Service Station.
Billie Bell lays out her story. She tells the driver she's been married three times. Her first husband was Buckle Up Jones, a championship bull rider who got "gored by Old Crooked Horn in the Mule Shoe Finals." The second love of her life was Dark Eyes Parker, half Comanche, "proud of it and a professional gambler." He got shot in Matamoras, playing "table stakes with total strangers." No. 3 was Big Jake Bell, a Texas wildcatter who couldn't stay away from the barbecue joints, "especially that greasy chewy salty stuff they usually throw away at 7 o'clock when they close." A heart attack got him. "It took me a long time to turn from the past to the present," she says. The story ends as they reach the service station:
But that's where we are, you and I, in the present. I take the Muleshoe Sentinel and whenever an old woman dies in West Texas, I go by and see the old dog. I take him a casserole and see if he still likes to chase motorcycles and cats. I got a lot of life that I have yet to live. That's my story. There's the gas station. It's always a pleasure to meet a good man.
Sewell says Viola wonders about Billie Bell, Hattie Mae, Gloria, Charlie, Angelina and the others. "I raised them all," she ponders. "I loved them all. I took them to the vet to get their distemper shots and made them take their heartworm medicine and brushed their teeth. And yet, they turned out so different. How can that be?"
To see Billie Bell, Hattie Mae and the whole gang, visit www.brianlewis.com/BennettSewell/index.html.