Best of Louisiana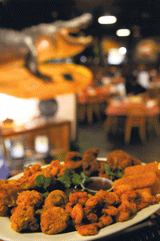 Elections in Louisiana are part of the state's folklore. As the magazine of the state, we thought we should stage an election ourselves. But before the U.S. attorney starts nosing around at how the election was run, we forthrightly present some questions and answers.
How was the voting conducted? A self-addressed postage-paid detachable ballot was included in our September/October issue. The ballot was also published on our Web site.
How was the ballot organized? Categories, which included types of restaurants as well as personal favorites not related to dining, were listed by the state's geographic regions as well as statewide. Readers could vote in whatever regions they chose as well as statewide.
How are winners determined? Well, obviously, by who gets the most votes – but it is more than that. To be listed as a winner, a listing has to get a significant cluster of votes. The size of the cluster was determined relative to the votes received.
Why is it done that way? In some categories, there are many votes received, but they are scattered across many different names with no clear consensus. We do not want to list someone as having been a readers' choice based on having received only a couple of votes.
Why are there some categories listed in some areas of the state and not in the others? It depends on how the votes went. In some areas, a TV anchor or a band might be particularly popular but not necessarily so in other areas.
Is there any advertising influence as to who is listed? No.
So what can you say about those who are listed? They are all popular and no doubt worthy. We know that there are other potential worthy vote-getters out there who did not make the list. For them, there is always next year.
Statewide
Favorite non-New Orleans restaurant: Middendorf's Manchac restaurant specializes in fresh catfish, thick and thin. (tie)
Ernest's Orleans Restaurant and Cocktail Lounge Bring on the marinated crab claws and red snapper at this elegant spot located atop a hill in Shreveport. (tie)
Favorite New Orleans restaurant: Galatoire's Whatever you do, begin with the Crabmeat Maison. Great place for people-watching.
Favorite band: Harmon Drew Super Group Minden-based R&B oldies group still rockin' around the state. Judge Harmon Drew's specialty is "Brown Eyed Girl."
In New Orleans
Best elegant restaurant: Antoine's State's oldest restaurant still provides a classic experience. (tie)
Commander's Palace Sunday jazz brunch is a classic. (tie)
Best Cajun restaurant: Mulate's New Orleans Warehouse District location draws inspiration from west of the Atchafalaya.
Best outdoor spot: The French Quarter Music from the streets, the smells of something cooking, the clop-clop of a mule-drawn carriage, the top deck, a freighter making the big turn in the river: Beware of a sensory overload.
Favorite musician: Harry Connick Jr. He sings, he plays the piano, and he's easy on the eyes.
Most attractive male: Brad Pitt His role in rebuilding houses in New Orleans' Ninth Ward may be his most important ever.
Favorite radio station: WWOZ Public radio FM station specializes in indigenous tunes.
In Alexandria-Natchitoches-Shreveport
Favorite TV news anchor: Sherri Talley KTBS Shreveport anchor has developed a following in the upper half of state with connections that include Natchitoches as well as Shreveport. Also takes time to train youth about drug prevention.
Favorite band: Harmon Drew Super Group See statewide.
In Lafayette-Lake Charles
Best Cajun restaurant: Prejean's Is it a Cajun restaurant or is it a Cajun dance hall? It's both, cher, and it's located along Lafayette's concrete bayou, the Evangeline Throughway.
Favorite TV news anchor: Marcelle Fontenot KATC Lafayette anchor buoyed by camera appeal and a name that is indigenous to Cajun Country.
In Monroe
Favorite TV new anchor: John Denison "Denison" rhymes with "six and ten" – sort of. KNOE is one of the state's premier TV stations.
Favorite music spot: Enoch's Irish Pub and Café. Calls itself "an Irish Pub with a Louisiana attitude." We're not sure what that means, but it has to be good.
In Baton Rouge
Favorite outdoor spot: Tiger Stadium Sometimes the roar can even be heard in Tuscaloosa.