Bill Iles: Within a dark wood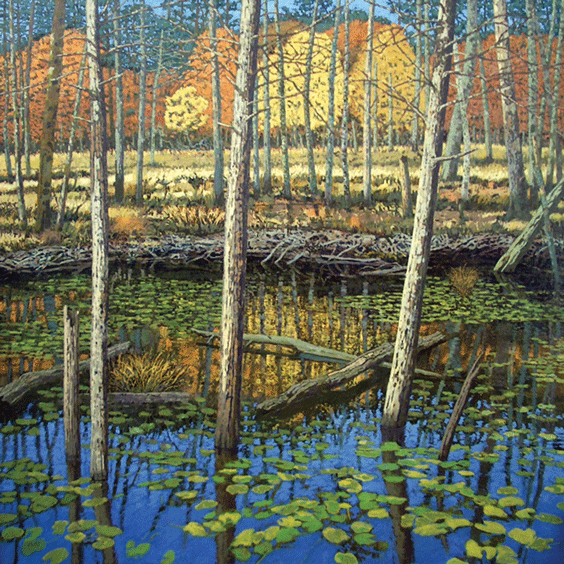 Art is inspiration. It can be impressions of a sunrise or a stunning sunset in a cypress swamp, the sweep of a mountain landscape, the stars above a French countryside or the streets of a decaying inner city neighborhood.
Some find that indefinable moment in the pirouette of a ballerina. Lake Charles artist Bill Iles, however, found his moment in the lyrics of a medieval Italian poet and in the woods of Southwest Louisiana.
Born in the 135-year-old family homestead in Dry Creek, about 50 miles north of DeRidder, Iles is an accomplished painter who taught art at McNeese State University in Lake Charles for more than 25 years.
Although he initially studied history and social studies as an undergraduate at McNeese, he soon learned he "was better at drawing than remembering dates for the Battle of Hastings." Iles credits his father, a bus driver and farmer, for his drawing talents. As his father lay dying, he leaned over to the young Iles and said: "'I can still outdraw you when it comes to horses and dogs.' He drew the head of a horse, and I still have it."
During the Vietnam War, Iles opted out of military service to teach elementary school at Standing Rock Reservation in South Dakota. He later moved on to teach high school in Shreveport and at Louisiana College in Pineville. In the mid-1970s, he received his master's of fine arts degree from Louisiana Tech in Ruston, and in 1978, he joined the McNeese faculty, where he launched the university's first permanent gallery. He now resides in Lake Charles' Garden District with three cats and a couple of feral raccoons.
Over the past 30 years, Iles' art has enjoyed considerable success with paintings featured in shows throughout the nation. His résumé of juried shows is impressive. Yet he has continued to experiment with subject matter ranging from almost totally abstract images to landscapes that reflect more his imagination than reality. "My world revolves around my art," he says. "I've never simply painted what people like. I experiment with various styles."
As Iles grew in his art and career, his personal life suffered with failed marriages, depression and alcoholism. It affected his art. "When I stopped doing landscapes around 1997, I had been fighting several years of excessive drinking and dealing with depression," he says, reflecting freely upon those difficult years. "I found my paintings getting obsessively lost in detail. In rehabilitating myself, I read a lot of various writers like Viktor Frankl, Erich Fromm and Rollo May and William Styron. Every book I read seemed to have the Dante Alighieri quote from the Divine Comedy: 'In the middle of the journey of our life I came to myself within a dark wood where the straight way was lost.' Each time I came across the quote, I underlined it in the book because that was where I found myself. It was even reflected in landscapes so dark you could hardly make out the images. So I stopped drinking in 1998 and spent the next four years doing a series of paintings paying homage to artists who dealt with these dark themes, artists such as Caravaggio, Michelangelo, William Blake, Masaccio, Van Gogh and Gauguin. I also worked on two paintings regarding the death of my two brothers –– one by car accident and one of cancer." Iles also did a series of mixed-media paintings to honor the heroes in the old Western movies of his childhood.
In 2007 Iles survived heart surgery after doctors found a large aneurysm on his aorta. After that, he returned to painting landscapes with a much brighter palette as a "celebration of being alive." He has since toned down his colors a bit. "What I now want from my most recent work," he says, "is a calm landscape but one shrouded with a certain sense of mystery. I want calmness and tranquility. The underlying mystery is quite ineffable."
Iles glanced at his most recent paintings leaning against a gallery wall and drew upon the words of Matisse to express his new work: "I dream of an art of purity and serenity, devoid of troubling subject matter."
Iles' landscapes are not literal representations of what he sees as he strolls through the woods or in his memory. His wooded compositions are pure imagination given form. "The composition is made up in my head as I work," he says. "I'm constantly making changes as I go along." Although he takes photographs of visual elements he finds in the woods for later use in the studio, his paintings are more impressions than reality, perhaps even allegories of his own personal journey.
The way he plays with light and shadows and contrasting colors, textures and paint strokes to create visual tensions forces viewers' eyes deep into his imaginary forests. Muted beech trees in the foreground of his paintings act almost as barriers that viewers must breach before emerging into the distant sunlight and bright colors. "I don't paint what you see in nature because nature is too confusing," he explains.
"I'm trying to present some underlying sense of order to a world of disorder. There's an abstract quality. Nature is not as well-ordered as I paint it. I try to give it some clarity."
Iles' thoughts bring to mind what the Hungarian-born American artist György Kepes once said about art: "The essential vision of reality presents us not with figurative appearances but with felt patterns of order which have coherence and meaning for the eye and for the mind."
Iles prefers to paint autumn scenes because, as he says, Louisiana is so green during summer months. "You can't see the trees for the forest," he says with a laugh. "I can also see the snakes in the fall." He has confined his work to Southwest Louisiana, though he does find limitations there. "We're stuck with a flat landscape," he says. To compensate for that, he experiments with colors, perspective and abstraction. "I don't want my paintings to be picturesque," he says. "I want them to feel like paintings. I don't want my Aunt Martha to say, 'Oh, what a pretty picture.' I want viewers to find them perplexingly interesting."
In a chaotic world, Iles at work in his studio creates a sense of harmony or, as Monet put it, an "intimate fusion" with nature and his past and current life. "As I'm working on my painting, I am in touch with a lifetime of memories of the woods as children playing in them, as a young boy taking his little jars of tempera paint and trying to paint the things he saw before him," Iles says. "Even then, as an 11th grader, I realized you could not paint everything because the painting made no sense. It just didn't look like the woods. So in the studio, I find myself, and I find myself creating my own version of the world or my idealistic vision of my world."
To remind him of his "idealistic vision," a quote from a T.S. Eliot poem hangs on his studio wall: "The end of all our exploring will be to arrive where we started and to know the place for the first time." Through his art, Iles continues to explore the forest of his childhood as he learns to know it –– perhaps with even greater clarity.
Iles is represented by Cole Pratt Gallery in New Orleans. For more information about his career and art, visit www.coleprattgallery.com.