Biz Bits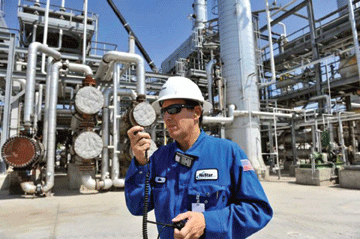 Increased media attention to Louisiana's business and economic assets clearly is turning heads in corporate boardrooms, as major public and private companies continue to seek and find local sites that are well-suited for branch offices, expanded business services and manufacturing operations. Here are a few highlights of the recent activity.
NuStar a bright spot in energy
ST. JAMES PARISH – A $365 million investment by Texas-based NuStar Energy LP will expand the company's St. James Terminal and create about 30 new jobs, each paying total compensation near $100,000 annually. The terminal provides a pipeline and shipping connection with a number of large energy companies that operate in the area. Combined with earlier investments by NuStar and future expansion plans at the site, the company expects to spend $500 million on improvements at the terminal over a five-year period.
Outsourcing services take root in Alexandria
ALEXANDRIA – Central Louisiana may soon become a hub of business services through a $3 million investment by Rochester, N.Y.-based Sutherland Global Services. The company expects to bring 600 jobs to the local area in a process-outsourcing operations center it will open this year. Sutherland is remodeling an existing 40,000-square-foot facility to outfit it for providing back-office and other services to customers in the technology, telecommunication and financial services sectors. The center will become the ninth U.S. operation for Sutherland, whose CEO said the local work force, along with incentives offered by Louisiana Economic Development, helped draw the company to the state.
An upside to natural gas downturn
GEISMAR – A methanol plant relocation by a Canadian company will create about 1,000 construction jobs and up to 200 permanent positions once the plant opens in Geismar. Methanex Corp., which has offices in Baton Rouge; Santiago, Chile; and London, plans to dismantle its idle Chilean factory and ship it in pieces to Louisiana for reassembly. Methanex CEO Bruce Aitken said that relocation is cheaper and quicker than new construction. The company is the world's largest supplier of methanol to major international markets, though the local plant will primarily serve U.S. markets for products ranging from windshield washer fluids and building materials to biodiesel. The relocation aims at capitalizing on persistently low natural gas prices, though company officials say they also like the Geismar site's proximity to barge, rail and interstate highway transportation. The plant could start up in 2014.
Union Pacific growth on track
ADDIS – An expansion by Union Pacific Corp. holds the promise of 225 new jobs in the local area as the company invests $200 million in its South Louisiana operations. By the end of 2012, the Omaha, Neb.-based railroad company, which already has about 1,100 miles of track in Louisiana, expects to add about 30 miles of track, a new support yard and staging slots in the local area. The construction work will employ some 1,500 people, the company estimates.
GE lights up technology sector
NEW ORLEANS – Mega-corporation General Electric in February announced it will open a corporate office in Louisiana's largest city to provide software development and information technology support to financial services arm GE Capital. The startup of the local GE Technology Center will generate about 300 jobs in computer engineering and related fields that will pay annual salaries between $60,000 and $100,000. State and local economic development officials hail GE's move into the city as affirmation of the effort to recruit knowledge-based industries such as information technology and digital media. A provision of the company's commitment to Louisiana is that the state dedicate $5 million over 10 years to developing technology-focused college curricula to help ensure a trained work force for the center.
Dirty laundry fuels Pineville job growth
PINEVILLE – Gov. Bobby Jindal recently marked the completion of a $100 million expansion by Procter & Gamble Co. that created 100 new local jobs in addition to 400 existing jobs at the Pineville plant. P&G's investment enabled the plant to produce a new detergent product called Tide Pods. Since 2005, the company has more than doubled capacity at the plant, which opened in 1969 to produce laundry products, including Cheer, Gain and Dreft.
Trailers keep North Louisiana rolling
MINDEN – Industrial trailer manufacturer Clement Industries announced recently that it is solidifying its presence in North Louisiana with an expansion of its Minden plant. Rapid growth in business during the past few years drove the expansion, which will add 25 jobs at the plant, pushing total employment past 100. The company, which is owned by Jorden Industries of Birmingham, Ala., has said it likely will continue to grow employment at the local facility in coming years.