Boom Time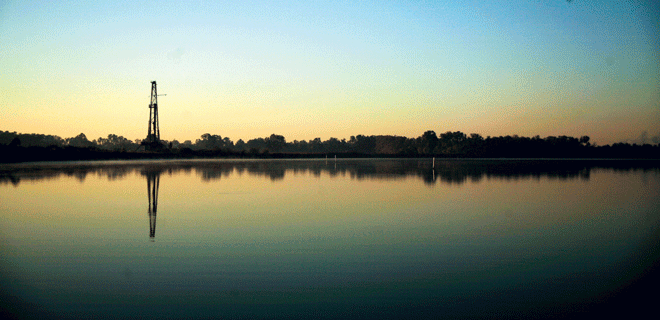 Members of the DeSoto Police Jury were more or less blindsided when they awoke one morning to find that DeSoto Parish sits atop what is considered to be the largest natural gas field in the United States and the fourth largest in the world. In a region where timber, cattle and dairy farming and lignite mining sprinkled with a good number of shallow oil and gas wells have been the dominating income, the oil discovery, commonly know as "the Haynesville Shale" is "in play" (a industry phrase used to describe activity), seemingly dominating life in the parish.
For politicians, it's caused considerable consternation. New laws have been enacted regarding fast lines, landlines, water-transfer companies and the truck-permitting process, just to name a few. The shock of learning what was about to take place was replaced by the shock of learning how much companies were paying in lease bonus money. People who'd never claimed much financial security now had it. Large landholders became overnight millionaires as bonus money gradually grew from $6,000 to $30,000 per acre. Generally people have a doctor, dentist and maybe a lawyer.
In DeSoto Parish? They have two or three lawyers, a bookkeeper, a certified public accountant and at least one financial adviser.
Vocabularies improved. Property owners learned about Favored Nation Clauses and Pugh Clauses and now understand what it means to have both, or neither, in mineral leases. There's been a rise in the number of limited liability corporations. And most have learned, some the hard way, they're in a new income tax bracket.
LIFE IN FRIERSON
Louisiana Highway 175 splits Frierson, a small unincorporated community in Northeast DeSoto Parish, east and west, its narrow curving nature not designed to accommodate today's traffic. On the south edge of Frierson, a metal-sided bridge deteriorates. A recent traffic count showed that 1,100 vehicles cross that bridge daily, often convoy-style. A railroad track parallels Highway 175 in mid-Frierson. Months ago, two crossings were upgraded for safety with arms, whistles and lights.
Two churches, a convenience store, a tire company, District 9's fire department and the post office make up the commercial hub of Frierson. A taxidermist opened a business a few years ago just north of the post office and stays busy due to the number of avid hunters in the remote areas of Northeast DeSoto.
Frierson's story could almost be dittoed in practically every populated area of the parish. Traffic everywhere is unbelievable. But it follows the unbelievable amount of dollars in lease bonus money paid to landowners to drill horizontally into the shale. One recently drilled well just 10 minutes south of Frierson will end 1 mile north of the well location.
Such is life now in DeSoto with the "Haynesville Shale play." There's just no play involved; it's all work.
Residents of Frierson are justifiably concerned about the constant changes near their home places in the wake of the discovery of the Haynesville Shale.
Oil field service trucks have driven the narrow gravel roads for years checking existing wells in production, but now heavy equipment trucks roll 24-7 delivering drilling rigs and frac tanks for new well locations and loads of pipe for giant pipelines. Newly cleared sites on Gravel Point Road and on Highway 175 piqued folks' interest for months.
Rest assured with no zoning in the parish, it's anyone's guess what will wind up where. Suffice it to say if it is located now in Frierson, it likely has something to do with the Haynesville Shale. Another rig set. More work crews.
Frierson could be nicknamed the white Ford F150 Crew Cab Pickup Capital of the World.
Some residents living around Frierson think nothing of their 15-mile commute north to work in Shreveport. They happily purchased choice acreage and either chose site-built homes or opted for manufactured housing, preferring the quiet rural landscape.
Now perhaps they're not so happy. For one thing, roads are in constant disrepair, though most companies working in the area help with the costs of upgrades. For another thing, an early-in-the-game explosion of a natural gas well about two years ago gave everyone a scare. Families evacuated to Shreveport motels during the Christmas holidays as crews worked to stabilize the well. The fireball resulting from the blowout could be seen from Shreveport.
BIG WHEELS
At a Relay Station at the intersection of Interstate 49 and Highway 175, 350 industry-related workers eat lunch daily with about 250 returning for supper, says Heidi Harris, restaurant manager. Lines never end at checkout areas in the C-store as others purchase tobacco, soft drinks, candy, gum, sandwiches and cookies. Bottled water in DeSoto Parish is big business. The Relay Station opened in 2005 with no hint in the owners' minds of what loomed in DeSoto's future. Now fuel sales increase almost hourly. Truckers vie for parking spaces on the monstrous parking lot.
Mom-and-pop service stations benefit from this play. Rig workers at nearby locations line up to buy Cokes, cartons of tobacco or whatever is posted on the daily menu. Cafés and restaurants stay just as busy. And there's no room at the inns.
Out-of-towners shelter in private homes and local motels. One company brought in furnished mobile homes for companies to house employees. Some prefer the small comforts of home in travel trailers, and RV parks are maxed out. Others sleep in nearby towns. DeSoto hung out the "No Vacancy" sign months ago.
The kind and number of trucks has tripled. But it's not just trucks that clog Logansport's Main Street or continually block traffic signals in Mansfield or rumble convoy-style down the state roads. State trooper-escorted semis haul compressors and drilling rigs and other gigantic pieces of equipment requiring the entire span of roadway; local traffic simply moves aside to let the big rigs roll. Unfortunately, there have been a number of fatalities relating to the industry.
Police jurors have had their share of on-the-job training. They, too, have learned how to deal with problems that can't be resolved by a simple vote.
Considering the scale of the natural gas play, the parish has received little attention from the state, especially where water issues are concerned. Horizontal wells require about 1 million gallons of water in the fracturing process.
Obviously, that water has to come from somewhere. Many fear the loss or serious depletion of the Carrizo-Wilcox aquifer, which serves this area; others sell water from stock ponds, and water-transfer companies are asking landowners to allow them to build them ponds and let them buy the water.
"My office has received many calls over the past year concerning the drilling activity within the Haynesville Shale," says state Rep. Richard Burford. "We've been able to help many but have had to refer many to an attorney for legal advice. We haven't had to pass any new laws yet with concerns of the Haynesville Shale; the Department of Conservation has been able to make appropriate rulings as they see fit."
On any given day, parish road crews upgrade a road and then turn to see 18 or 20 big rigs move in. There will be no end to this organized chaos. DeSoto's dilemma continues. One pictorial history book was recently published just to chronicle the changes that have occurred.
Parish Administrator Steve Brown says the 11-member police jury has been inundated with both the good and the not-so-good sides of the play.
"One problem we've had to address was the parish's permitting system and the hundreds of trucks that must be permitted to use parish roads," he says. "Too, road destruction is on just about everyone's mind. These and other situations are growing pains for a small rural parish that must deal with unexpected situations and problems on a 24-hour basis. But we've met some very nice people; the shale is a godsend in what would otherwise be hard economic times for our people, and they are giving us a wonderful opportunity to get additional revenue for some quality-of-life projects we may never have dreamed of getting."
The parish hired additional personnel to help with increased workloads, but money was available. DeSoto Parish was the first public body in the state to lease public lands, receiving $28.7 million. Jurors selected an investment firm to handle the windfall money. Now with three producing wells, the revenue stream allowed for road upgrades and the construction of an animal-control shelter. Parish municipalities have had projects funded. New vehicles and pieces of heavy equipment have been purchased for the road department and the parish-owned Mundy Landfill; overdue upgrades have been made to parish offices, including furnishings and equipment. And pay increases weren't overlooked.
The parish has forged ahead in many positive ways. Public bodies have withstood harsh criticism at times yet rise to the occasion when opportunities are presented to move the parish forward. Change, as most know, never comes easy.
Money pours in from new businesses boosting the economy. Increased sales tax will help fund a new town hall in Keachi where the population is 333; sales taxes have increased there by 163 percent with almost $19,000 collected in 2008.
Jim May, executive director of the DeSoto Parish Chamber of Commerce, says: "The Haynesville Shale has greatly impacted the economic structure of DeSoto. We've been inundated with new companies directly or indirectly relating to the oil and gas business. It's affected every business from restaurants to grocery stores to dry cleaners to motels.
Tax revenue has increased. This affects everything from the quality of our roads to the libraries and everything in between."
He says that land owners who realized a windfall from leasing will soon receive royalty payments from the wells drilled, while others have received a great deal of money from pipelines crossing their property and from water sales to the gas companies from their ponds.
"Even the look of DeSoto Parish is changing," he says. "Compression and gathering stations have popped up everywhere. Pipelines are buried. The northern part of the parish down to near Oxford seems to be the area affected thus far. We can only hope that the extreme southern portion of the parish, long-neglected where economic development is concerned, will also witness these drastic changes in time. I feel like there will be a resurgence of jobs created for local people in the next few years."
May says the parish initially did not have the skilled workers needed to begin these rigs, so gas companies imported workers from the Barnett Shale. Now, however, he says that the local work force is increasingly geared toward oil- and gas-related skills and should be replacing the out-of-town workers in the future.
He is concerned about the environment, as well. "We need to be careful and protect our environment and our water sources during this growth," he says. "There are always negative things that occur during times of great change, so we must be mindful of that, but I think the positive things certainly outweigh the bad. I believe the future is very bright. From all indicators, especially from the vantage point of the Chamber of Commerce, one of the poorest parishes in the state will become one of the wealthiest."
STRIKING IT RICH
A tour of the EXCO facility reveals the new landscape.
EXCO Resources, with offices in Dallas; Houston; Tulsa, Okla.; Akron, Ohio; Pittsburgh; and Shreveport, celebrated a grand opening of its Holly Field facility earlier this year.
Clay Hill, production superintendent for the Holly Field, says in September the DeSoto operation employed about 75, with 95 percent of those from the local area. The company then had more than 350 producing wells, producing more than 215 million cubic feet per day.
In September, the company was drilling into Haynesville Shale with three drilling rigs but planned to expand to 10 by year's end. The company also was working on a high-pressure pipeline-gathering system to move the gas to market.
The company expects to drill approximately 60 wells in 2010 with a capital budget for 2010 to be more than $500 million. The Holly Field offices were completed earlier in 2009, but more space has been added for 14 additional offices and more modular structures.
Hal Hickey, vice president of operations and chief operating officer for EXCO, said during the summer groundbreaking for the pipeline facility that EXCO's 2009 estimated Louisiana state severance tax from DeSoto Parish wells will be $5 million; approximately $3 million will be paid in 2009 for property tax, and in 2009 EXCO expects to pay an estimated $10 million in sales and use tax.
MAIN PLAYER
No story can be written regarding the Haynesville Shale play in DeSoto Parish without mentioning Chesapeake Energy, for here the two are practically synonymous. Chesapeake Energy is the largest leasehold owner and most active driller of new wells in the Haynesville Shale play in Northwest Louisiana and East Texas. With its joint venture partner, Plains Exploration & Production Co., Chesapeake has drilled and completed 74 Chesapeake-operated horizontal wells in the play and continues to experience outstanding drilling results. Kevin McCotter, in charge of corporate development for Chesapeake, says the company's average daily production is approximately 306 million cubic feet per day with expectations of exceeding 575 million cubic feet per day by the end of 2009 and approximately 1.025 billion cubic feet per day by the end of 2010. Chesapeake is currently drilling with 33 operated rigs and anticipates operating an average of approximately 36 rigs in 2010.
In 2008, Chesapeake paid total taxes of $63 million to Louisiana and distributed $29.5 million in total royalty payments to Louisianians.
McCotter says the growing appreciation for alternative fuel sources and enhancements in drilling technology have allowed shale plays such as the Haynesville to increase the industry's ability to respond to current and future energy demands. In 2009, for example, the Louisiana Legislature passed Act 469, authored by Rep. Jane Smith of Bossier City and led in the Senate by Sen. Nick Gautreaux. Act 469 provides 50 percent income tax credits for the cost of compressed natural gas, or CNG, equipment and infrastructure and positions Louisiana as a leader in the use of CNG for transportation. CNG will soon be powering automobiles, trucks, buses and other vehicles throughout the state. The carbon-light fuel is 30 to 40 percent less expensive than gasoline and diesel and produces far less greenhouse gas and toxic emissions.
"We have invested over $750 million to date and plan to invest at least $2 billion annually in Northwest Louisiana through 2029 to explore deep below the surface for clean-burning natural gas to fuel our national economy and enhance the environment and national security," McCotter says. "We believe the Haynesville Shale is likely to become the largest natural gas-producing field in America by 2015. Without question, the Haynesville Shale bodes well for Louisiana's economy and environment, and this state stands to play a pivotal part in leading America to a new, more promising energy and environmental future, built around American-produced, carbon-light natural gas."
Meanwhile the residents of DeSoto Parish will be dodging trucks while going to the bank.
DeSoto Parish is named for the 16th-century conquistador and explorer Hernando DeSoto. The land was discovered by DeSoto's followers after his death somewhere on the banks of the Mississippi River in 1542. When the scraggly bunch of explorers found that the land was so bountiful, many came to create a new life. Many descendants of the early settlers still live in the parish.