Bossier City Makers Fair March 19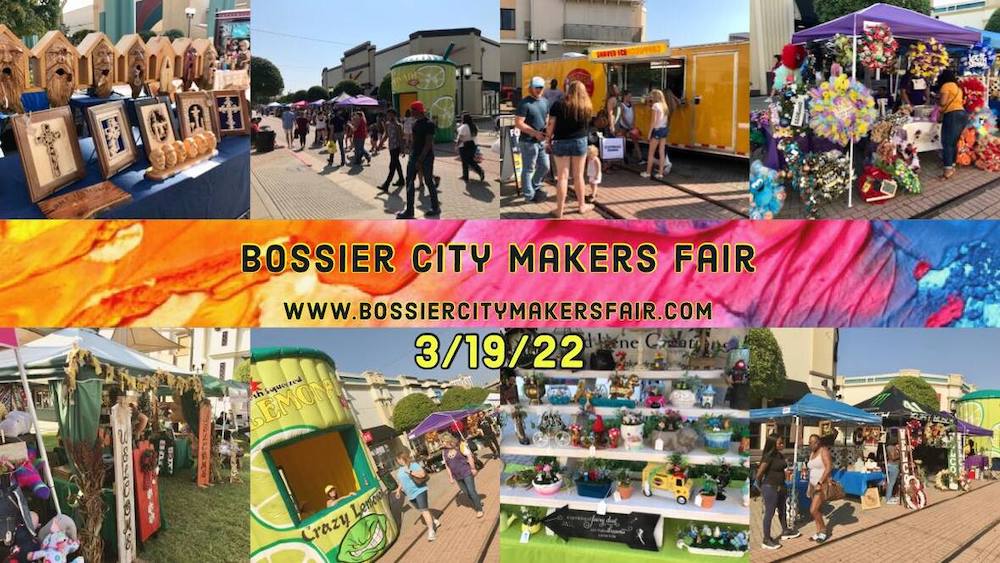 The Bossier City Makers Fair is this Saturday, March 19, from 11 a.m. – 6 p.m. at the Louisiana Boardwalk.
This "SUPERMARKET" will feature a large all handcrafted fair showcasing artisans. 130+ MAKERS & Food Trucks with everything from art and jewelry, pottery to knitting, handmade soap, upcycled furniture, stained glass, jams and jellies, home décor, clothing, salsa, leather and wood crafts, candles, lemonade, taco truck, fresh squeezed lemonade, local authors, gator on a stick, fruits & vegetables, face painting, bouncy houses, balloons, pony rides, and much more!! Meet the makers and start your fall and holiday shopping by buying local, one of a kind creations for yourself and everyone you know.
The Bossier City Makers Fair is a celebration of handcrafted goods, crafts, arts, and foods.
-Grab a bite to eat, shop the handmade maker booths, and enjoy the atmosphere. Live music, and fun activities for the whole family. Face Painting, Bubbles, Pony Rides, Balloons, and Games in a family friendly environment.
-This event is being held to encourage the growth of our makers, artist, crafters, and musicians. All while supporting our local community.
*FREE Admission FREE Parking*
The Louisiana Boardwalk
540 Boardwalk Blvd, Bossier City, Louisiana 71111