Bounce Back Time for Hollywood South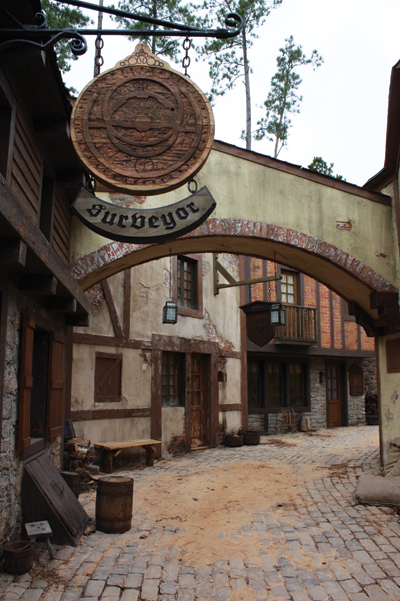 The award season is in full swing, from the Golden Globes Jan. 10 until the Feb. 28 Oscars, when crowd-magnet-comic Chris Rock returns after 11 years as host. Hollywood South may not be taking home all the awards this year. But the good news is that Louisiana has a supportive new governor, and the fears created by film tax credit cap legislation that went into effect July 2015 are finally dying down among producers who are starting to bring back the projects.
In addition to an increased number of television series being produced locally, which is solidifying jobs and keeping most of the highly skilled native crews here instead of out-migrating to Atlanta, several feature films with all-star casts are currently in production. This includes the Paramount backed Jack Reacher: Never Go Back with Tom Cruise that wraps Jan. 29, and Kevin Spacey's Billionaire Boy's Club, being shot almost entirely in New Orleans.
Season 3 of WGN's Salem (set among the witch trials of 17th-century Massachusetts, complete with elaborate sets that include an entire ancient-looking riverside village centered by a majestic little church and a hangman's scaffold) is currently underway in Shreveport.
The CBS Season 2 of NCIS: New Orleans is in production through April, and the FOX horror anthology Scream Queens with Emma Roberts and Jamie Lee Curtis is gathering steam. The new AMC martial arts series Into the Badlands – shot in LaPlace and at Evergreen Plantation – aired through December; it's the first show AMC has ever ordered straight to series without seeing a pilot.
The remake of the historic slavery drama mini-series, Roots, to be simulcast on the History, A&E and Lifetime channels in 2016 with an all-star cast (in production at various Louisiana plantations until Feb. 1) adds to the number of TV productions that are keeping local crews busy. The industry currently supports 12,000 jobs in Louisiana, according to the most recent economic impact analysis released by Louisiana Economic Development (LED) in 2015. Business sales from the industry topped $1 billion in 2014.
"Legislative action in 2015 did not limit the number of film and TV projects that have access to Louisiana tax credits under the program," explains Christopher Stelly, Executive Director of Louisiana Entertainment.
"Let's be clear on this point. There is no cap on the amount of film and TV production that can take place in Louisiana, and we continue to see activity throughout our state," he says. "In some instances, investors wishing to claim the credits may wait a bit longer to do so, depending on the level of claims experienced by the Department of Revenue. As of today, a little under $54 million has been claimed, with around $126 million in potentially eligible claims. We are actively engaged with film industry investors, producers and professionals to assure them that we continue to welcome them as enthusiastically as ever, and their interest in filming here has never waned.
"The base credit rate remains 30 percent and now, due to one of the key legislative changes, productions that hire Louisiana residents are eligible for a 10 percent credit on those wages, whereas it was only 5 percent previously," Kelly says. "We do appreciate the reality that some projects may be taking a longer look at production decisions in the state while they evaluate and review the recent changes, but we also recognize that Louisiana continues to enjoy a robust slate of high-profile film and TV projects."
Despite these facts, the doubt continues due to lingering perceptions about the state's instability. In Shreveport, when the Los Angeles-based owners of Millennium Studios suddenly announced it was closing in mid-November, people assumed it was because of the 2015 tax credit cap. But Arlena Acree, Director of Film, Media and Entertainment, Office of the Mayor, clarifies the misconception. "Millennium has stated that it has opted to not shoot any more films in the U.S.," she explains. "In fact, the building is still open for third-party leasing as always. It's just not run by Millennium anymore. We are currently in talks with two new TV series wanting to do pilots in Shreveport. And Salem, which is at Stageworks, needed more space so they have a two-year lease in what was formerly Millenium's mill shop section." Stageworks is the region's largest studio center with a 52,000 square-foot sound stage that concurrently hosts multiple TV and film projects.
"We understand there has been some confusion about the impact of these changes. However, I want to stress that Louisiana remains open for business," Kelly concludes.