Breaking Records with Beads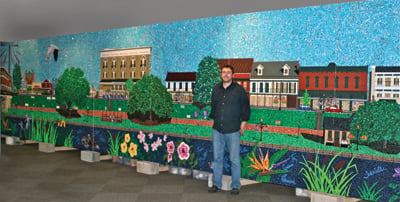 The art of creating mosaics with tiny pieces of colored stones or glass can be found on the walls and floors of temples, cathedrals and palaces throughout the ancient world. Yet, the honor of making the world's largest – and most unusual – mosaic goes to the City of Natchitoches in Northwest Louisiana and to a German-born New Orleans artist who is on a mission to promote Louisiana history and culture.
Early last December, Natchitoches unveiled "Une Rue Principale en Louisiane – A Main Street in Louisiana" – depicting the city's architectural heritage along Front Street and Cane River. The monumental panoramic mosaic celebrates the city's founding in 1714 by the French Canadian explorer and adventurer Louis Juchereau de St. Denis. Natchitoches is the oldest European settlement in Louisiana and by most accounts the oldest European settlement within the entire boundary of the 1803 Louisiana Purchase.
What makes the 8-by-48-foot mosaic so unusual, however, is that it is made almost entirely of recycled Mardi Gras beads – more than two million beads, to be exact. Also embedded in a small section of the mosaic are tiny prehistoric seashells and fossils salvaged by 11-year-old Veronica Sturman from a local highway construction site. Sturman was but one of more than 1,500 local schoolchildren, students from Northwestern State University of Louisiana and Natchitoches residents who volunteered to work on the project.
---

Guiness World Record's Amanda Mochan, kneeling, measuring the Natchitoches Mardi Gras mosaic
Une Rue Principale en Louisiane, along with Kym Habid of Natchitoches and artist Stephan Wanger. – Photo courtesy of Galeria Alegria.
---
According to Guinness World Records, which sent a representative down last December to measure the 384-square-foot mosaic, "Une Rue Principale en Louisiane" is now the largest bead mosaic in the world. It beat out the next largest in the Netherlands that weighed in at a paltry 189 square feet. Thanks to a committee of volunteers and businesses, headed by Natchitoches businesswoman Kym Habig, the community raised the $11,000 needed to bring the Guinness representative to Natchitoches. Also, the Cane River National Heritage Area, which sponsored Bead Town's visit, chipped in another $4,000 to purchase materials to make the Natchitoches mosaic.
The artist behind this exceptional project was 46-year-old Stephan Wanger of New Orleans, who has developed a considerable following across the nation and into Canada for his radiant "bead art" compositions such as carnival masks, butterflies, portraits, New Orleans street and riverfront scenes and, more recently, panoramas of Louisiana towns and cities. Wanger is a one-man troubadour, touting the glories of the state's history and culture to as many audiences as he can reach.
Born in Wilhelmshafen, Germany, Wanger settled Chicago in 1990 after a four-year stint traveling the globe in the German navy. "The United States is a beautiful, multi-cultural country and I wanted to make a life here," he said. For the next 16 years, he worked in Chicago first for the City of Chicago in special projects and later in the Chicago office of a Canadian computer software company. During those years, he got his GED and then a bachelor's degree in marketing and communications. "I am very grateful to the United States," he says, as his eyes scan the length of the Natchitoches mosaic.
Then came Hurricane Katrina in 2005. "Many people said New Orleans was not worth saving," he says. "People saw bodies floating in the water and the floods. I felt I had to do something and give something back to the U.S." Being German, he explains, made him sensitive to the question of rebuilding. He said many people felt the same way about Germany after World War II. Shortly after flood waters receded, Wanger quit his job in Chicago, moved to New Orleans and joined on as a carpenter's assistant to help rebuild the city.
Like many young people who came to help New Orleans, the city changed Wanger's life. Sitting home at night, for his own amusement, he decorated planters with various patterns and colors of beads that he had found while working around town. "I was frustrated with the planters," he recalls. "They looked like something you make in kindergarten. Then something changed my focus." He saw a television commercial that promoted local tourism. He felt those commercials should be played in other states to attract "fresh money" to Louisiana. "That was my 'Ah Ha!' moment," he says. "I could create images to show outside Louisiana but represent Louisiana."
Still fascinated with the Mardi Gras beads concept, Wanger began his quest to promote Louisiana with images of New Orleans. Because the city is already known throughout the world, however, he decided to take his bead art to other sections of the state. He began with a large mosaic of Oak Alley Plantation in Vacherie, La. "I was inspired by those 350-year-old oaks," he recalls. "Those oaks inspired the Bead Town project." Wanger decided to visit towns and cities across Louisiana with his "Bead Town" exhibit.
In 2012, Winnsboro in Northeast Louisiana was the first city to host Bead Town. While there, Wanger, with the help of local school children and a $750 grant from the state Main Street Program, created mosaics of the city's Old Post Office Museum and cotton fields. From Winnsboro, Wanger went to Ruston in Lincoln Parish and then other cities around the state. In each place, the community chose the imagery for their Bead Town mosaics. Delhi in Northeast Louisiana, for example, included sweet potatoes; Ruston, a dogtrot house, a train and peaches; a swamp scene for Slidell; in Denham Springs, the old city hall; for New Orleans, an 8-by-42-foot panorama of the New Orleans skyline; and now the record-breaking Natchitoches mural. In each city, Wanger hopes to create nonprofit foundations to receive money made from the sale of products generated from the mosaics, such as posters, cups, and T-shirts. The goal for these foundations is to improve the lives of local people through education, health care or other means determined by the local community.
---

A section of the 8-by-48-foot mosaic
---
To date, the Bead Town exhibition consists of 80 murals made from more than 10 million beads. In January and February the entire exhibit was scheduled to visit cities in Northwest Indiana and Chicago before returning in April for stops in Houma, Morgan City and Thibodaux before moving on to Minden, Springhill and Shreveport in October through December. In each city, Wanger, and a small army of local volunteers, will make mosaics to add to his Bead Town traveling exhibit. "It is a great Louisiana story," Wanger says. "No other state has this. It is a tourism campaign created by the local community. People can touch it and read about it."
When creating a Bead Town mosaic, Wanger recruits local school children to help him. Even before launching his city and town murals project, he worked with students at Rudolph Matas Elementary School in Metairie and Andrew H. Wilson Charter School in New Orleans in 2011 and 2012 to create murals depicting aspects of Louisiana history and culture. He has taken this same concept to other schools across the state. He says more than 6,000 schoolchildren have participated in the Bead Town project. "It teaches teamwork," he says. "We all work together. It teaches them to be environmentally cautious and not be wasteful. It also instills pride in what comes from their local areas. It teaches them skills in carpentry and how to build things."
In each case, Wanger sketches and paints the images on plywood panels. He then trains the children and other volunteers in how to cut the beads from their strings, arrange them by size and color in little containers, and finally how to glue them to the panels. Beads for the mosaics come from various sources. Most are donated. Others he buys from Arc of Greater New Orleans, a nonprofit organization that serves mentally and developmentally challenged children and young adults in the New Orleans area.
To host a Bead Town exhibit, cities must agree to pay for shipping and promotion costs, provide lodging for Wanger, and space for the exhibit and his workshops. Though he is not paid for his Bead Town mosaics, Wanger makes his living selling his own work and through paid commissions picked up along the way. "Bead Town has received so much attention," says Wanger, "I'm being contacted by cities all over the country. They know how important the program is for children, but I want to stay in Louisiana and do that first."
Where these Bead Town mosaics, including Natchitoches, will eventually end up, no one knows. "At some point we will have a space where the entire collection can be viewed, this might be anywhere," says Wanger. For the time being, however, Bead Town is on the road promoting Louisiana.
---
For more information, visit beadtown.org or galeriaalegria.com