Brianna Despenza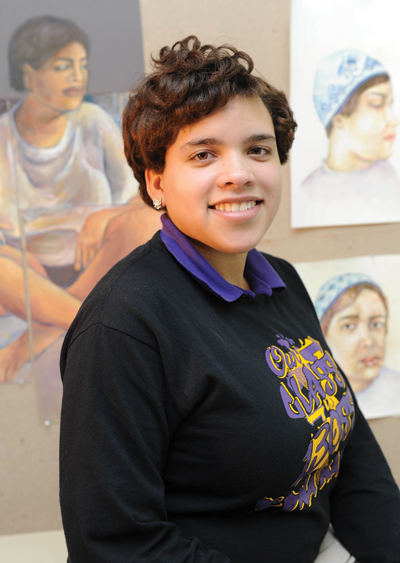 Brianna Despenza is an aspiring artist and activist who uses her love of art to create a statement. Despenza attends Edna Karr High School and New Orleans Center for Creative Arts and is highly involved in both her schools and her community.
James Despenza, her father, is her inspiration to become an activist in the art community. She wanted to create a civil rights piece but didn't know which part of the movement to showcase. After researching many different events, Despenza decided to showcase the Birmingham Church Bombing of 1963.
Inspired by Chuck Close, an American painter and photographer, Despenza says, "I recreated the little girls' faces using pointillism and color to represent the essence of their childhood before they were killed in the explosion set by a Klansman. I painted the wood with loose brush strokes, to create a surface that echoes the flames of the explosion. I chose the four girls because I wanted the whole community to remember and honor the lives lost, and the waste caused by cultural tension."
This series was purchased by the NOCCA Institute for $1,200 and will enter the permanent collection for the Plessy Project. Despenza says, "These paintings will support Martin Luther King's desire to remind society of the change they needed to happen."
Other than creating art, Despenza also volunteers at a hair salon, where she was able to see first-hand how a love of the arts can translate into a business.
"This was the most rewarding volunteer experience because I saw how my artistic strengths could be combined with a career in marketing," says Despenza. "After later attending a pre-college art program focusing on figure painting in which I studied oil painting, my belief that art was my true passion was validated."
Even with her limited time, Despenza has volunteered at The Louisiana Children's Museum, Holy Name of Mary Church, City Hall, Night Out Against Crime and at NOCCA.
Despenza's main passion is art. She loves dark room photography, painting and drawing. When she is not practicing her art, she loves watching old episodes of "The Twilight Zone." After creating many pieces in high school, Despenza knows her personal voice and how her audience responds to her artwork. After college, she hopes to create internationally respected pieces that cause the audience to reflect on the past and compare it to the times of today's society.