Bridge House/Grace House Celebrates Six Years of "Celebrity Waiters"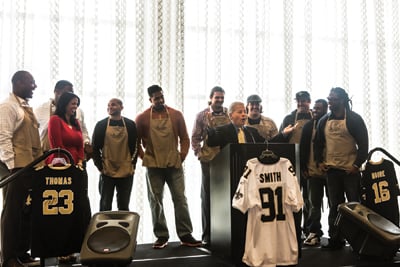 The tables were turned at Bridge House/Grace House's "Celebrity Waiters VI" fundraiser on November 13, where 26 local celebrities served lunch to patrons at the Hyatt Regency Hotel.
The likes of attorney Morris Bart and musician Charmaine Neville could be seen taking orders and carrying plates, with attendees handing out "tips" to support the organization –former Saints player Mike McKenzie stayed and collected until the very last patrons were gone, raising the most money among the other Saints in attendance.
Emcéed by local weatherman Bob Breck, several guests took the stage. A recent graduate from Bridge House spoke about his experience. Mike Morris crooned a few tunes to start the night, and then DJ Eddie Gonzales kept the party going. The waiters decompressed in their own room as they took shifts serving patrons food catered by the hotel.
The event's live auction featured items donated by the waiters, such as signed Saints jerseys and artwork by Terrance Osborne. Gift cards and framed art donated by the community were sold at the silent auction.
Bridge House/Grace House provides substance abuse treatment for those who may not be able to afford it elsewhere. 2012's event raised 11 percent more funding than last year. Bridge House was founded in 1957 to give shelter to recovering addicts, greatly increasing their chances of recovery as compared to a life on the streets. Now, the organization is a long-term intensive alcohol and drug addiction treatment center. Grace House, opened in '85, provides treatment exclusively for women. In 2010, Bridge House opened a new facility on Earhart Blvd. that added 84 beds to the program.
---
Event at a Glance
WHAT
"Celebrity Waiters VI," benefiting Bridge House/Grace House
WHEN
Tuesday, November 13, 2012
WHERE
Hyatt Regency Hotel