Business Booms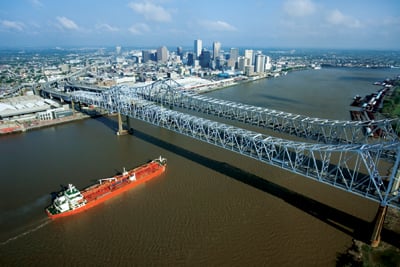 As an industrial boom continues across south Louisiana, federal officials recently named the region among 12 U.S. manufacturing areas that could share in a $1 billion pool to help boost economic development. The initiative, known as "Investing in Manufacturing Communities Partnership," does not provide immediate funding but increases the chances of snagging such assistance later. The U.S. Commerce Department and the White House National Economic Council say the program aims to help the designated regions attract new private investment and grow jobs.
Here are highlights of other economic news making headlines around the state.

Gulf still luring Big Oil
OFFSHORE LOUISIANA Royal Dutch Shell solidified its long-term commitment in the Gulf of Mexico recently, announcing it will proceed with development of the largest deepwater platform in the Gulf. The project, to be located about 80 miles off the Louisiana coast in 7,200 feet of water, has been dubbed Appomattox and could begin operating in 2020. Analysts estimate the installation may cost $2 billion to complete, and Shell estimates it could produce as much as 175,000 barrels of oil daily at peak performance. The company said that design improvements in the platform will keep the project's break-even cost to about $55 per barrel of crude, making it feasible even in periods of relatively low oil prices.

Balancing trade
NEW ORLEANS The state's largest city exported almost $35 billion in products and commodities last year, landing it at No. 8 for the second consecutive year among the nation's trade leaders. New Orleans accounted for 68 percent of the state's shipments to foreign customers, with petroleum and coal products accounting for $14 billion of the total. Agricultural products added another $14 billion. St. Charles Parish, which is part of the greater New Orleans area, shipped $10 billion of commodities. China and Mexico were the largest buyers of goods transported through the area.
Shop Livingston Parish
DENHAM SPRINGS Construction is set to begin soon on a mixed-use building that will combine retail and offices with a new movie studio. Carlisle Place, as the project is known, will house offices and shops in a four-story structure at the corner of Bass Pro Boulevard and South Range Avenue. Slated for completion in the spring of 2016, the project will be part of the Riverside Landing retail center, which is being developed near Bass Pro Outdoor Shops.
Boosting air power
HOUMA Living up to its reputation as service center for offshore oil fields, Houma has become home to a new 35-acre helicopter base opened by Era Group at the Houma-Terrebonne Airport. The base houses 30 helicopters that could carry as many as 15,000 workers to and from offshore platforms each month. Era is one of three helicopter companies operating from the airport. The others are Petroleum Helicopters Inc. and Bristow.
New line on jobs
PORT ALLEN An $80 million investment by USA Rail aims to turn a 150-acre parcel into a shipping hub in Port Allen. The company's plans for the new rail terminal call for tying into an existing Union Pacific rail line and building capacity to store as many as 1,200 rail cars on-site. The Port Allen Rail Terminal is expected to employ 45 people, and local officials hope it will help spur the further development of a nearby industrial park.
More plastics in Pineville
PINEVILLE Nearly 60 new jobs are on tap in central Louisiana as Plastipak Packaging invests $9 million to add three new production lines at its local plant.
A leader in the production of rigid plastic containers for the food, beverage and consumer products industries, Michigan-based Plastipak designs and manufactures rigid plastic packaging for some of the world's largest consumer products companies. The company opened its Pineville facility in 2003.

Roots on the north shore
MANDEVILLE Payroll service company Netchex plans to add 240 employees during the next decade as it expands and opens a new corporate headquarters in Mandeville, the company announced recently. CEO Will Boudreaux says the growing company, which started in Mandeville in 2003 and now employs about 120 people in several offices, needs more space. He said the company will lease office space in the area until the new headquarters is completed in an undisclosed location.