Business News From Around Louisiana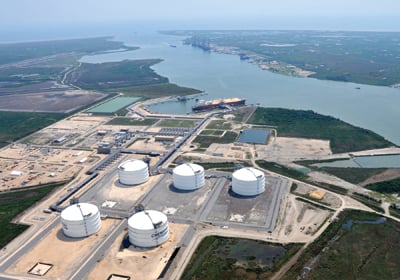 Louisiana's natural resources continue to fuel the state's prosperity today. Timber products, oil and gas, and major rivers that enable transportation between inland destinations and the Gulf of Mexico remain vital to Louisiana's economic health. Here are a few of the ways that companies are capitalizing on these abundant resources.

Natural gas exports set to soar
LAKE CHARLES – Southwest Louisiana is a growing hub for liquefied natural gas exporting with a second LNG facility recently receiving federal approval to operate. Lake Charles Exports LLC joins Cheniere Energy's Sabine Pass LNG Terminal in the business of supplying gas to Europe and Asia. The U.S. Department of Energy has now approved export permits totaling 5.6 billion cubic feet per day, with Lake Charles-area facilities expected to provide up to 2 billion cubic feet per day.

Trees offer far more than shade
CENTRAL LOUISIANA – Natu ral resources remain a boon to business in this area as more companies seek to convert wood waste products into environmentally friendly fuels. Colorado-based Sundrop Fuels Inc. is building a "green gasoline" pilot plant that will employ about 150 people near Boyce, and the company hopes the plant will lead to as many as four more plants as the fuel use takes off. In addition, wood pellet manufacturer German Pellets announced it will develop a $300 million plant expected to create 500 jobs in LaSalle Parish. And more recently, Hinterland LLC said it will build a pellet manufacturing plant in Vidalia.

Marine, military contracts fuel support services
NEW ORLEANS/COVINGTON – Military-industrial contracts continue to flow toward New Orleans-area companies. Textron Land and Marine Systems in New Orleans landed a $30 million contract to provide advanced armored personnel carriers for the nation of Colombia, and Weeks Marine Inc. of Covington won an Army Corps of Engineers dredging contract worth about $12 million.
And several naval architecture firms have announced expansions into New Orleans stemming from growth in the offshore oil sector. The growing local offices include: two Seattle-based companies, marine engineering firm Jensen Maritime and Elliott Bay Design Group; Virginia-based naval architecture firm Gibbs & Cox Inc.; and an expansion by New Orleans-based MiNO Marine, which now employs 24 people. Many professionals who work in the firms were trained at University of New Orleans School of Naval Architecture and Marine Engineering, which recently received a $50,000 donation from Covington-based Hornbeck Offshore Services LLC.

Training workers while building plants
SHREVEPORT – State and local governments are funding construction of a $22 million training facility on the Bossier Parish Community College campus to prepare workers for jobs at a large steel plant taking shape nearby. German steel manufacturer Benteler Steel/Tube broke ground in September on a $900 million plant at the Port of Caddo-Bossier. The plant eventually will employ up to 675 people in the production of seamless steel tubing. Its construction will likely generate more than 1,000 temporary jobs, with completion slated for late 2014. The company says a fourth of its steel-tube products already flow to the United States, and demand is expected to increase. The products go to international customers in the automotive, heat transfer, hydraulics/precision engineering and construction sectors.

Chemicals drive growth along river
RIVER PARISHES – Russia-based EuroChem will soon choose a site in either St. John or Iberville parish as the location for a $1.5 billion fertilizer plant and distribution center that will employ 200 people. The company expects to generate some 2,000 construction jobs during the four years it will take to build the plant. EuroChem is one of the world's largest producers of nitrogen and phosphate, and says the Americas account for about 25 percent of its total sales. The company expects to announce which of the two sites will become home to its new plant within the year.

German company deepens local roots
GEISMAR – German chemical manufacturer BASF is enlarging its footprint in Ascension Parish with a new $43 million polyurethane blending facility. Construction could begin in June on the Geismar plant which will join BASF's main complex, built in 1958, as well as its methylamine, surfactant and formic acid plants, which are completed or under way at the site. Company officials say continuing low natural gas prices are driving the expansion.