Business news from around the state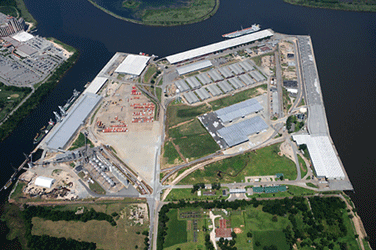 Recent business news has ranged from word of a major steel production plant to the opening of more hotel rooms to new manufacturing partnerships. Here are a few highlights.
Heavy metal
CONVENT — St. James Parish is the beneficiary of a recent announcement by Nucor Corp. that the company will build a $3.4 billion iron and steel production plant near Convent. Expected to eventually employ 1,250 people, the plant will take shape in five phases of construction. The first stage, a $750 million direct-reduced iron facility, will generate about 150 jobs. Work on the plant will begin in 2011, pending final approvals of state incentives. Nucor has paid about $50 million for 4,000 acres along the Mississippi River that will become home to the steel complex.
Visitor bait
SHREVEPORT — North Louisiana tourism officials say the coming months are shaping up well as more than 50 groups have booked meetings or conventions through the end of 2010. The bookings could have an estimated $4.5 million impact on the local area. The Shreveport-Bossier Convention and Tourist Bureau says better than $4.5 million worth of meetings have been booked for 2011 so far. Clients include the Family Motor Coach Association-South Central Area, Amateur Softball Association, Louisiana Association of Student Nurses and United Kingdom group tour company Globus.
More room at the inn
ALEXANDRIA — Visitor space in Alexandria expanded recently with the opening of
a new Courtyard by Marriott hotel. Located on the site of the former Cinema Six movie theater near the Alexandria Mall, the full-service hotel features a food-and-beverage bistro, a Starbucks coffee shop and a patio with a fire pit.
Hotel General Manager Sabrina Ray says a ground-breaking will occur soon for a second Marriott property on an adjacent lot.
Bet on gambling
LAKE CHARLES — The Port of Lake Charles hopes to see another gambling hall in the local area and has laid out some steep demands for the operator. The port says several potential suitors may vie for the gambling license given up by Pinnacle earlier this year. The state Gaming Control Board will determine who receives the license.
Any group proposing a project on the 230-acre plot where Pinnacle had planned to build a casino will have to comply with the port's stipulations for the site, including a minimum investment of $350 million; a 400-room hotel with meeting rooms; a minimum 30,000-square-foot casino on one level; 2,500-seat entertainment facility; and amenities such as a spa, swimming pool, golf course and at least three restaurants. Port officials say such a complex would create 2,000 permanent jobs over an 18-month period.
Rental ranks expand
LAFAYETTE — Block Builders, a subsidiary of Baton Rouge-based Block Cos., has begun construction on The Greystone Apartment Homes, a 276-unit, garden-style apartment complex in Lafayette. The first units of
the property may be ready for renters by early November, the company has said. The complex will contain one- and two-bedroom apartments that will rent at rates between $800 and $1,250 per month.
Commercial revamp
in Covington COVINGTON — A reshaping of the former Stirling Covington Center will begin soon, with the first additions to include a 93-room hotel and a bank. Lakshmi LLC is building a Candlewood Suites Hotel at the development that now houses Target, Belk and J.C. Penney. Construction is expected to start late this year or early in 2011. The four-story hotel will be located along Interstate 12, behind Hollywood Theaters. Fidelity Homestead Savings Bank is building a 5,500-square-foot branch nearby. Work on the bank will begin early next year.
Developers hope to bring more retail businesses and an apartment complex to the area in the future.
Textron keeps it coming
NEW ORLEANS — New Orleans-based Textron Marine & Land Systems has teamed up with MDT Armor Corp.
to design, market and build the Tiger, a light protected vehicle based on the Dodge RAM 5500 truck. Textron says the all-terrain vehicle offers highly reliable armor for a crew of six to nine. The Tiger is ballistic- and mine-blast-protected, with various add-on armor options, and is designed with a spacious cabin and large payload capacity for a range of potential missions.
"With our lean manufacturing expertise and the low life cycle cost of the Tiger, we feel like this is an excellent teaming opportunity," Textron Marine & Land Systems General Manager Tom Walmsley said in a release.
The company is a major provider of armored vehicles and other equipment to the U.S. Defense Department.