Business News from Around the State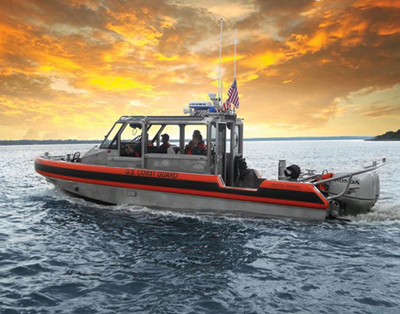 CHIEF EXECUTIVE magazine recently ranked Louisiana No. 11 in the U.S. – the state's highest position ever – in the publication's annual ranking of Best & Worst States for Business. The ranking further illustrates Louisiana's ongoing rise in national business circles. Here are some highlights of businesses making news around the state.
RIPPLES GROW AS BOAT BUILDER EXPANDS
JEANERETTE – A boat builder that recently expanded in Jeanerette already plans more growth, creating close to a hundred new jobs in the area, a company official said recently. Metal Shark Boats, which custom-builds durable vessels for the U.S. Coast Guard, Navy and Army, in March announced a $1.5 million expansion of its local shipyard. The growth comes on the heels of a previous expansion undertaken when the company won a $192 million contract to build security response vessels for the Coast Guard. Metal Shark expects to double its manufacturing capacity and grow its local work force by 30 percent during the next four years, company president Chris Allard said.

BIG BLUE LIKES RED STICK
BATON ROUGE – A $30 million investment by computer hardware heavyweight IBM promises to dramatically expand technology education at Louisiana State University and create 800 jobs in Baton Rouge. The company announced it will develop a software services center as part of a mixed-use development along the river in the capital city and employ a broad range of college graduates and experienced professionals.
Louisiana will provide $14 million in funding aimed at increasing the number of computer science graduates from LSU, which expects to double its computer science faculty and triple the program's graduates in five years. IBM will work with LSU faculty to shape courses around the center's needs and will also reach into high schools, technical colleges and other universities to promote interest in fields relevant to the center's work. A separate 11-story building planned by private interests within the footprint of the new complex would create 100 new residential apartments and townhomes.

LATEST ECONOMIC NEWS IS 'DYNO-MITE'
WAGGAMAN – The state's chemical corridor landed a big one when Utah-based Dyno Nobel America announced it will partner with Cornerstone Chemical Co. on a $1 billion investment in Waggaman. The project will include an $850 million ammonia plant that is designed to use less energy and produce less air pollution than other such plants. The new facility will produce up to 880,000 tons of ammonia a year.
Cornerstone also will upgrade its Fortier Manufacturing Complex on the west bank of the Mississippi River in Jefferson Parish. The project will create 65 new jobs, with as many as 750 construction jobs during a three-year period. Cornerstone already produces acrylonitrile, melamine and sulfuric acid at the 800-acre Waggaman site and will integrate the new plant into the existing complex.

ARMORED VEHICLES REINFORCE SOUTHEAST LOUISIANA JOB GROWTH
NEW ORLEANS –Textron Marine & Land Systems continued to deepen its footprint in New Orleans and Slidell as it announced a $5.5 million contract award from the U.S. Army Tank-Automotive and Armaments Command to provide 12 armored turrets and support services for the Colombian Army's Armored Personnel Carriers Company. An operating unit of Textron Systems, the New Orleans-based Textron Marine & Land Systems produces advanced, wheeled combat vehicles and cutting-edge maritime craft for U.S. and international armed forces, as well as civilian entities around the globe.

THREE-WHEELER HOLDS PROMISE FOR SHREVEPORT
SHREVEPORT – Startup auto manufacturer Elio Motors recently unveiled a version of the three-wheel vehicle the company plans to build in Shreveport. The Phoenix-based firm has been showing the two-passenger vehicle around the country as it touts its low-cost, high-gas mileage features. Elio brought the prototype to the former General Motors assembly plant in west Shreveport for private viewings followed by a public showing. The vehicle is considered a motorcycle by the Federal Motor Vehicle Safety Standards but is fully enclosed. The base price of the unnamed vehicle is projected to be $6,800 when deliveries start in July 2014.

CHEMICAL PRODUCTION DEEPENS RIVERSIDE ROOTS
GEISMAR – The local economy continues to percolate along the river as Methanex Corp. prepares to move a second methanol plant from Chile to a 225-acre site in Geismar. The company announced last year it would relocate a plant to the Ascension Parish site, and in April it followed with the announcement of a second relocation. The combined plants represent a $1.1 billion investment in the local area that will create 165 jobs, plus 2,500 construction jobs.
In support of the new developments, Houston-based Kinder Morgan Energy Partners LP announced it will invest almost $60 million to expand its chemical storage capacity in Geismar.