Business News from Around the State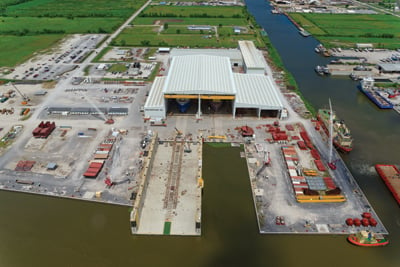 Continuing announcements of construction projects and business expansions have kept the Louisiana economy percolating in recent months, maintaining the state's position well ahead of growth rates in many other states.
An announcement by AT&T was among the recent Louisiana business headlines, as the company said it is looking to hire some 500 workers around the state. Many of the jobs are related to a multibillion-dollar investment that will expand AT&T's national wireless and wired IP broadband networks. The company is also hiring to fill positions in its mobility retail and call centers.
Here's a look at some of the other projects that are contributing to job growth.
Low-profile shipbuilder launches major expansion
GALLIANO – A major shipbuilding program by Edison Chouest Offshore is generating a frenzy of hiring and construction. The company, which owns four shipyards and operates a fleet of 250 advanced offshore support vessels for the worldwide oil industry, plans to build more than 40 new vessels to meet rising demand in the Gulf of Mexico, the Arctic and Brazil. While the company normally shuns attention, it recently publicized plans to hire between 250 and 500 workers, including welders, pipefitters, ship fitters, electricians and carpenters, at the company's LaShip yard in Houma.
New owner of Shaw will grow its footprint
BATON ROUGE – The new owner of The Shaw Group Inc. is poised to bring hundreds of new jobs to the local area in coming years. Texas-based CB&I, which purchased The Shaw Group for $3 billion in February, says it now plans to consolidate some of its operations around the country in Baton Rouge. The company will base its "government solutions" division in the local office, creating 400 new jobs, possibly by the end of the year. State officials believe the expansion could generate an additional 400 indirect jobs in the area.
NASA not dead in New Orleans
NEW ORLEANS – A $3 million investment by Lockheed Martin at NASA's Michoud Assembly Facility will equip it to manufacture tanks for liquefied natural gas and create more than 160 new jobs at the eastern New Orleans plant. The tanks, which initially will be used in propulsion systems for ocean-going vessels, are part of Lockheed Martin's effort to convert defense technology to commercial applications. The project could produce an additional 200 indirect jobs.
Central Louisiana stalwart deepens its roots
CHOPIN – A $20 million expansion is on tap at the RoyOMartin plywood mill in Natchitoches Parish, bringing the prospect of about 80 new direct and indirect jobs. The project will involve an upgrade of the plant's drying equipment as well as the addition of a production line. The 90-year-old company manages some 580,000 acres of timber and has more than 1,000 employees in Louisiana. Project construction should be finished by mid-2014
Building on petroleum transportation
PAULINA – Wolverine Terminals LLC will build a crude oil terminal and blending operation on a 15-acre Mississippi River site in St. James Parish. It will invest $30 million in the project, which will create about 40 direct and indirect jobs, according to Louisiana Economic Development. The project will include rail and dock facility improvements, and a new storage tank that will enable the delivery of crude oil shipments by rail and ship, and blended oil products by barge to domestic customers.
Powerhouse manufacturer poised to grow
LAROSE – A $30 million expansion by Danos & Curole Marine Contractors could produce 420 jobs over the next several years as the company builds a new corporate headquarters facility and fabrication plant. The company, which serves the oil and gas industry with fabrication services and specialized work force support, employs more than 1,000 people in Louisiana. Construction of the headquarters will begin this year.
Chemical demand drives plant growth
PLAQUEMINE – Shintech Inc. plans to further expand chemical production at its plants in Plaquemine and Addis through a $500 million investment the company announced in June. Japan-based Shintech said its Plaquemine plant has been running at capacity, and the new project will increase PVC production capacity to nearly 3 million tons per year.
Construction related to billions of dollars in plant expansions by various other companies along the Mississippi River will generate thousands of short-term jobs in the region, economic development officials say. One of the latest announcements came from Russia-based EuroChem, which plans to invest $1.5 billion in a fertilizer plant and distribution center to be located in either Iberville or St. John the Baptist parish.