Cajun Country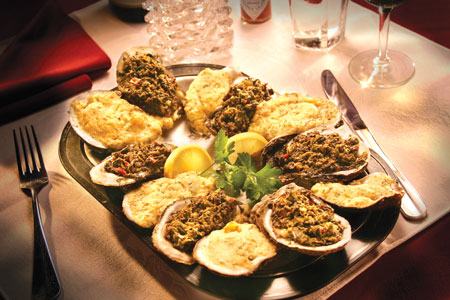 QUIRKY PLACES
Pirate's path
He caused the Spanish merchant ships much grief, but Jean Lafitte never attacked an American vessel. Perhaps his breeches weren't quite as tight as Yul Brynner's (who played him in The Buccaneer), but he remains a dashing and romantic figure in the history of Louisiana, especially because he helped defeat the British at Chalmette on Jan. 8 nearly 200 ago. Johnny Depp would have called him a rock star of his time. Clearly, Lafitte had an antihero's streak in him.
The Jean Lafitte Scenic Byway conjures visions of the bayou brigand in silhouette standing at the helm of one of his ships on the billowing Gulf of Mexico. As he threads his way across the coastline from Barataria to Galveston Island, wide sails carry him past Louisiana. Inland bays, marshes filled with soaring white egrets and cypress trees laden with gray moss glide past him. From the shore, American Indians might have sent him signals or a Cajun may have cried "bonjour" to guide him to a hidden cove. The Spanish merchant ships no doubt cursed him as a diablo; Louisiana was his secret kingdom.
Today, you can discover part of Lafitte's kingdom. The Jean Lafitte Byway's southern portion starts at Abbeville and skirts all through Acadiana, ending in Maurice just outside Lafayette. Highway 82 South out of Abbeville is known as the Hug-the-Coast Highway because it takes you through some breathtaking scenes that make up one of the largest marshland areas in the United States. There are parts of this byway that are as mysterious and secretive as a pirate's den. It's as untamed as it was in Lafitte's time, filled with palmetto, Egyptian papyrus, wild irises and hyacinths in spring. When you reach the beginning of civilization on the roadway, the view is no less lovely, with rice and sugar cane fields, crawfish ponds and well-kept working farms in fields brightened by big red barns. The gardens of some of the houses along the byway are like bowers filled with azaleas in season. And then things get wild again, dotted with wild twisting oaks. You can stop at the Rockefeller Wildlife Refuge, world-famous and world-class, for some crabbing and fishing. A resting place for migratory birds, this refuge is a good place to find yourself surrounded by hundreds of thousands of wading birds, ducks and geese.
From Abbeville, Highway 14 West will take you to Kaplan, a town that produces some seriously delicious rice and also gave us Sammy Kershaw, country music superstar. Keep traveling west to Gueydan, home of the Duck Festival, and then on to beautiful Lake Arthur. Soon you'll reach Jennings, a feast of Victorian gingerbread homes.
Heading in the opposite direction on Highway 14, lying between Erath and Delcambre, a quick turn off the road brings you to the gardens of Jefferson Island that rise like a natural cathedral.
As much fun as beignets and café au lait at midnight, driving the Lafitte byway in February is a wonderful prelude to stopping in Lafayette: Second only to the Big Easy, this Cajun mecca holds the second-largest Mardi Gras celebration in the nation and offers some of the best cuisine to be found.
For more information, visit byways.org.

FORK IN THE ROAD
Down by the Riverside
If you're celebrating Mardi Gras in Lafayette, try Poor Boy's Riverside Inn in nearby Broussard. There's nothing poor about the menu selections. The restaurant started as a snowball stand in 1932, and its long history includes surviving a 1940 flood when it overlooked beautiful Vermilion Bay near the bridge on Pinhook Road. Order the Oysters Rockefeller and you'll savor the flavors of spinach; Herbsaint, an anise-flavored liquor; anchovies; and garlic set atop oysters on the half shell. Precede that offering with the coral-colored Shrimp Rémoulade, the bold sweetness of the shrimp perfectly complemented by a rémoulade with undercurrents of horseradish, brown mustard, garlic and onion. From the vegetarian menu of this diverse, multitalented eatery, the Leaning Tower of Poor Boy's, discs of fried eggplant and grilled tomato layered with a silky pesto sauce, will take away any winter chill and make your tummy very happy. The legendary House Salad is seafood heaven — boiled shrimp, jumbo lump crabmeat, an assortment of greens, cheese, bacon and crawfish, christened with an easygoing dressing and crowned by pickled vegetables. One of the restaurant's most popular dishes –– and rightfully so –– is the light-as-air Fried Crab Cakes wherein jumbo lump crabmeat is dipped in a cream cheese sauce and fried to a tawny brown, then adorned with a honeyed Creole mustard glaze. Specialty drinks include the Polar Bear, a delightful concoction of ice cream, amaretto and Kahlùa, and the Orange Blossom, a froth of champagne and peach schnapps. Recommended for dessert are the Sweet Potato Beignets — these crispy puffs have a cinnamon-spice flavor, hugely complemented by a drizzle of hazelnut-orange glaze.
Poor Boy's Riverside Inn,
240 Tubing Road, Broussard, (337) 235-8559.