Cajun Country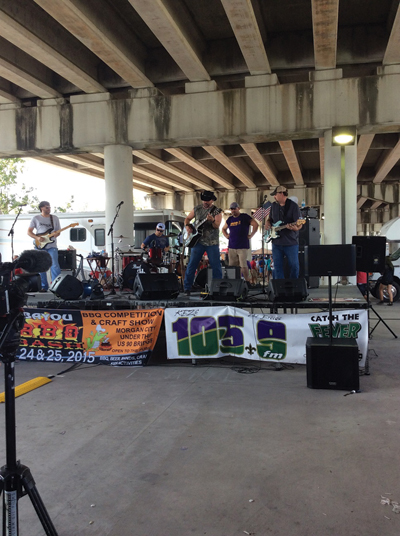 The Bayou BBQ Bash, commonly referred to as Morgan City Under the Bridge, is a sanctioned International Barbecue Cookers Association competition. Teams compete for the title of "Best Company BBQ Team," which brings out the most talented backyard cooks.
Categories include pork spare ribs, brisket and/or chicken. While teams compete for bragging rights as best grillers, 13-15 year-olds will likewise compete in the "Kids Q" cook-off by grilling chicken legs. Children under 12 can test their grilling skills by barbecuing pork chops. There's even a barbecue sauce competition for those who like to get extra creative and experiment with flavors.
There on Louisiana's Cajun Coast, as the heady perfume of grilling meat and dripping juices rise, food booths will feed the hungry, beer and cold drinks will comfort the thirsty, and live music will keep the tempo of the day moving. Barbecue sampler plates may be purchased; there are also arts and crafts booths, including one representing the Quilter's Guild. For athletes or those who want to burn some calories before they dine, a 5K run, the "Run for the Ribs" will take place.
Bayou BBQ Bash: Morgan City Under the Bridge
July 22 —July 23
Under the Highway 90 Bridge
Morgan City
ibcabbq.org
---
Delcambre
A PRINCE OF A PORT
The Port of Delcambre straddles two Louisiana parishes, Vermilion and Iberia, centered on the communities of Delcambre and Erath. Resting near Vermilion Bay, it's a watery sort of crossroads that transports the sumptuous seafood bounty of Louisiana waters. Bayou Carlin (Delcambre Canal) links the area with the nearby Gulf of Mexico that teems with multitudes of fresh shrimp. The area is rich with verdant farms and cattle herds, all rendering fresh products nurtured by creative people.
Beginning in the spring and lasting until December, on the first Saturday of each month, the Delcambre Seafood and Farmers Market is held at Bayou Carlin Cove. This open-air market is a delightful assortment of locally grown, caught and crafted Louisiana products.
Brother-In-Law Hot Sauce makes its spicy presence known by selling pepper jelly perfect for making salad dressing or scooping over cream cheese with crackers for a snack; briny and spicy, the pickled okra and mirlitons are a crunchy palette-pleasing accompaniment to lunchtime sandwiches; the barbecue rub is perfect tenderizer for grilling meat or poultry.
Allons Manger Food Truck, with its apt name (In French it means, "let's eat!"), will slake the appetites of shoppers by serving Cuban; Cordon Bleu and bacon cheese sandwiches. Shrimp Tacos, Spicy Grilled Shrimp Rolls and the 50/50 (pork and beef) Burger provide plenty of fuel for shopping and strolling. Menard's Outdoor Kitchen provides delectable boudin balls and homemade beef jerky.
Bayou Tiege Bait Shop provides live crickets and worms, other fishing bait and tackle.
There's also absolute comfort food offered by Ellen Bourque in the form of lemonade; tarts; pralines; canned goods; and fresh items like eggplants, okra,tomatoes and herbs – well-worth taking home.
Warmers and wax bars, washer whiffs and dryer bars are there through the creativity of Scentsy, and Hebert's Honey Company happily presents its home-produced honey, pepper jellies and pecan pies.

The vivid cobalt blue bottles of Vermilion Prairie Farm hold treasures like goat milk lotion. Bars of goat milk soap are there for the taking. Ivy Cottage creations produce beautiful handmade religious-inspired jewelry. Interspersed among the bounty of all this cottage industry are the lettuce, tomatoes, yard eggs, herbal teas, tomatoes, peppers and eggplants produced by the Acadiana Growers Alliance.
Delcambre Seafood & Farmers Market
Bayou Carlin Cove
6055 South Railroad St.
Delcambre
(800) 884-6120