Cajun Justice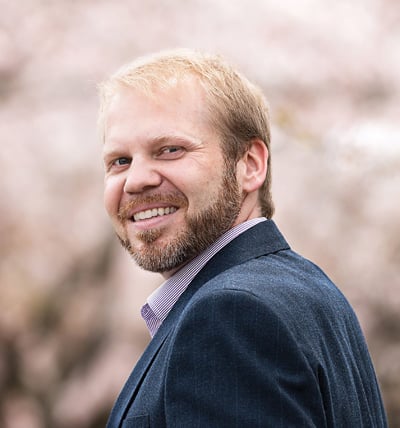 When Tucker Axum, III, 36, submitted his 30-page book proposal outline to the national MasterClass co-author competition, in which the winner would write a novel with one of the most famous authors in the world, he truly didn't expect to win. He spent $90 on the MasterClass to brush up his writing skills. So when he received a call from James Patterson — the first person to sell 1 million e-books, the man who has had 11 of his books turned into films for both the large and small screen, the writer who co-authored a novel with President Bill Clinton that is due to be released in 2018 — Axum was taken aback.
"It was a complete surprise," says Axum. "There were so many people involved in the competition and it was a very talented group. I'm a member of a MasterClass alumnae Facebook group, so I've seen their work. The competition was tough."
Though he just moved to Southern California weeks ago and his work takes him around the globe, his whole life is rooted in Louisiana — Lafayette to be specific.
"I grew up in Lafayette, graduated from Lafayette High School, got my bachelor's in Criminal Science with a minor in English from UL at Lafayette, worked in the university police department and met my wife in Lafayette — Lafayette is home to me," says Axum. "I always go back to Lafayette."
He is coy about his career, divulging only that he is a "criminal investigator for the federal government," which just lends more credibility to his ability to write a sizzling thriller with James Patterson.
So what was the book idea that hooked one of the most prolific, wealthiest and record-breaking authors in the world?
"It's about a secret service agent who is kicked out of the service after a sex scandal," says Axum. "He takes a routine security job in Japan and finally realizes inner peace through Eastern religion and philosophy. When his twin sister disappears into the seedy underworld of sex trafficking, he must race against the clock to rescue her — introducing his personal brand of Cajun justice to the insular Land of the Rising Sun."
The publish date of the book hasn't been finalized, but Patterson gave him some crucial writing advice for the next step in the author collaboration process.
"He said, 'I want you to enjoy the experience, so have fun with it,'" says Axum.
---
What to get for someone who likes love and laughter
"Last Christmas in Paris: A Novel of World War I" by Hazel Gaynor and Heather Webb, William Morrow Paperbacks, 400 pp., $14.99. An historical novel in letters between a journalist and a soldier.
"Midwinter Break" by Bernard MacLaverty, W.W. Norton & Company, 208 pp., $24.95. A retired Irish couple go on vacation to Amsterdam and explore their relationship.
"We Are Never Meeting in Real Life: Essays by Samantha Irby," Vintage, 288 pp., $15.95. Gut-bustingly funny observations on American culture filled with universal truths.
---
What to get for teens
"Sparks of Light" by Janet B. Taylor, HMH Books for Young Readers, 448 pp., $16.99. Second in a series that's been hailed as Outlander for teens and young adults which follows Hope Walton, a member of a time-traveling family who races into the past to stop ne'er-do-wells from stealing a dangerous device from Nikola Tesla.
"Renegades" by Marissa Meyer, Feiwel & Friends, 576 pp., $19.99. First in a series about a syndicate of prodigies that have established peace where chaos reigned. Nova, a villain seeking to overthrow the Renegades, befriends Adrian, one of her enemies, but maintains her villainous plan.
"Long Way Down" by Jason Reynolds, Atheneum/Caitlyn Dlouhy Books, 320 pp., $17.99. A novel that takes place in 60 seconds —the time it takes a kid to decide whether or not he's going to kill the guy who murdered his brother.
---
What to get for the attention-challenged
Drink Dat New Orleans" by Elizabeth Pearce, Countryman Press, 208 pp., $18.95. Plan your next pub-crawl with this funny guide to the best cocktails New Orleans has to offer. Bonus historical trivia!
"Don't Let Go" by Harlan Coben, Dutton, 368 pp., $28. A detective's girlfriend is presumed dead until 15 years later when her fingerprints show up at the scene of a grisly homicide. A page turner in the truest sense.
"Heating and Cooling: 52 Micro-Memoirs" by Beth Ann Fennelly, W.W. Norton & Company, 112 pp., $22.95. The author's life as a woman, mother and writer told in bite-sized pieces.
---
What to get for kids
"50 Cities of the USA" by Gabrielle Balkan and Sol Linero, Wide Eyed Editions, 112 pp., $30.00. A delightfully illustrated kid's travel guide that features tips, trivia and suggestions for visiting dozens upon dozens of American cities — including New Orleans.
"An Artist's Night Before Christmas" by Joan Waites, Pelican Publishing Company, Inc., 32 pp., $16.99. The latest in the children's book series that follows the wildly popular success of Cajun Night Before Christmas.
"The Getaway (Diary of a Wimpy Kid Book 12)" by Jeff Kinney, Amulet Books, 224 pp., $13.95. The Heffley family attempts to escape a cold winter by vacationing at a tropical island resort. Naturally, sun poisoning, stomach troubles and venomous critters rear their ugly heads in this hilarious book.