"Cajun Night" raises funds for educational services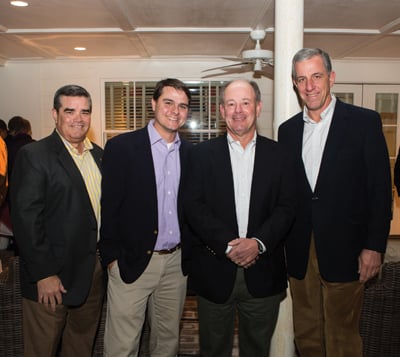 Southern seafood was the belle of the ball at Chartwell Center's "Cajun Night" on March 1. Sidney and Norwood Thornton hosted the dinner at their home in anticipation of the Sporting Clays Classic Fun Shoot the following day. "Cajun Night" is the main fundraiser for the Chartwell Center, which provides educational services to people, age 3 to 21, with autism and related disorders. They follow established recommended practices and their mission is to allow those they serve to realize their full potential and function with maximum independence.
The casual cocktail and dinner party was held beneath a tent outside the Thorntons' home. Benz Caterers, in conjunction with T.A. Down Brokerage, LLC provided a meal of southern seafood and gumbo appropriate for the Lenten season. These cozy dishes warmed guests on the brisk March night.
Clay shoot participants mingled and made game plans, and those not participating in the shoot got an opportunity to socialize as musician Paul Daily set the tone for the evening. Norwood Thornton, with Puglia's Sporting Goods, donated a Beretta A400 Xtreme shotgun to be raffled off. Chartwell student Sami el Dahr was given the honor of choosing the raffle winner and saw Charles Perez going home with this fabulous prize.
---
Event at a Glance
What: "Cajun Night," benefiting the Chartwell Center
When: Friday, March 1
Where: Home of Sidney and Norwood Thornton