Cajun Riviera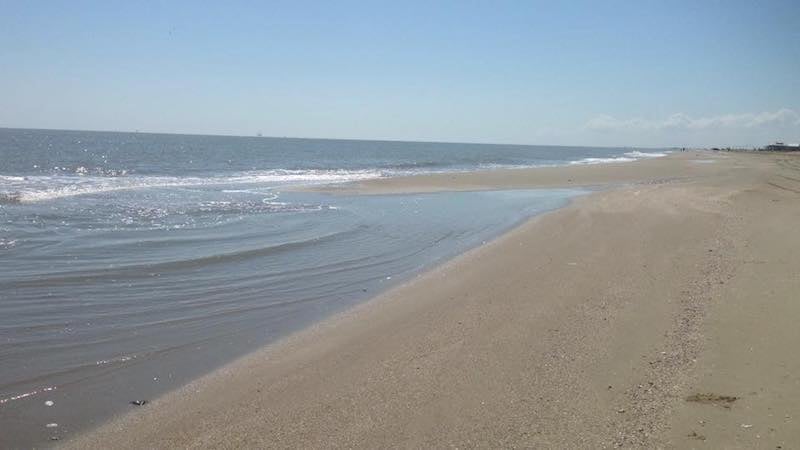 For more than half-a-century, Holly Beach has been known as "the poor man's paradise" – hence its longstanding nickname the 'Cajun Riviera.' Families who are part of those 'generations past' who've made memories here still call it the 'Cajun Riviera', all in fun; but don't be too quick to joke about this Gulf Coast gem in Cameron Parish.
Holly Beach straddles about 15-miles across the coastline with seemingly never-ending water views with a backdrop of variants of tan-colored sand. Despite the water's muddy tone, its gulf waters and breeze are inviting to visitors in the summer heat. Playing in the waves, shelling, crabbing and fishing are some of the more popular activities at Holly Beach. Perhaps one of the most inviting things, however, is kicking back and listening to the ebb and flow of the hypnotic waves – sounds that will melt your cares away.
The area known as the 'New Beach,' which is a stretch of the coast on the farthest east side of Holly Beach, has some of the fluffiest sand and possibly the best shelling in the area. This beautiful topography includes sand dunes and is the result of dredging from the Gulf, which basically created a blown beach as Holly Beach was a victim of coastal erosion and was being washed away. You can walk and pitch a tent in this section, but – unlike other parts of Holly Beach – driving on this newly-dredged strip is prohibited by law.
Pitching a tent, camping and driving on the beach is something visitors have done at the Cajun Riviera for decade. Still, for those who don't want such a raw and natural experience, camps are available for rent, some of which face the Gulf and giving those seeking refuge some positively breathtaking views.
The operator of the Pickled Pelican (as of this blog posting) is the only beach house with totally unobstructed views and with no structure between it and the water. The Pickled Pelican has the reputation of being the most upscale property and largest rental in Holly Beach.
This beach house has three bedrooms and five bathrooms, and each bedroom has its own private bath and private entry to a balcony. Perhaps another favorite feature is the large open floor plan with a large glass window – almost floor-to-ceiling – that nearly goes across the width of the house. This indoor vantage point offers stunning views of the Gulf while you enjoy the cool air-conditioning, while the expansive raised sun deck faces the water allows you to take in the Gulf breezes outdoors. This house stands 23 feet above sea level, which is five above the standard required height.
You will long for nothing at this beach house – there's even a supply of propane to boil crabs, plus a BBQ pit, and a gas grill on the balcony upstairs. Downstairs, meanwhile, there's an open cooking area and underneath the house there's 5,000 square feet (with a bathroom) to enjoy outdoor activities in the open air. Oh, did I mention there's even a freight elevator for your convenience?
You should know Holly Beach is still rebuilding after being hit by hurricanes and their catastrophic storm surges. Hurricane Rita's wrath decimated Holly Beach in 2005 and destroyed everything in this quaint water-front community, including family fishing camps that were sandwiched between the gulf and nearby marshes. (Note: The aforementioned lodging camps are among a handful of newer cabins available for visitors.)
There's one place near the beach with which you will want to be familiar, and that's Meaux's Seafood. This little colorful business is where you can buy everything you need for a seafood boil, including the seafood itself. And yes, Meaux's also sells bait and fishing supplies. (Tip: Loretta Meaux is a longtime resident of the area and can give you all the tips you need to make your trip more memorable.)
If you're hungry, a great place to stop for some delicious seafood, fried chicken, hamburgers and biscuits is Bayaks Country Store on the Gulf Beach Highway in neighboring Johnson Bayou. They also sell frozen bait and some fishing supplies. T-Boys Cajun Grill in Creole is another option, and a local favorite for fried seafood, Cajun meats like tasso, burgers, boudin and more.
Holly Beach is one of the most affordable beach vacations in the country! You can explore the Creole Nature Trail (which extends from Sulfur to Holly Beach), visit the historic Sabine Pass Lighthouse or put in your kayak at the Sabine Lake boat launch. (Tip: A Lighthouse Run will be held in October to help raise funding to restore the historic lighthouse. The event includes a 5K, 10K and a one-mile walk entirely on the sand at Holly Beach.)
Whatever you do on your visit to Holly Beach, don't forget to bring home some nice sea shells as a souvenir from this one of kind place that has more than earned its title of 'Cajun Riviera.'

*Pickled Pelican
For more information go to:
cameronparishtouristcommission.org
facebook.com/BayaksCountryStore
facebook.com/T-BOYS-CAJUN-GRILL